Blissful Beyond Ballabhgarh
by Shikhar Parjan
2009-07-18
---
Rail-fanning report on an afternoon spent outside Ballabhgarh (
BLB

) Haryana: (18 Jul 2009) 2 -5 PM

(Note: While I dearly miss the forthcoming Convention, please consider this as my 'virtual tour' of Delhi vicinity to non-Delhi members)

While Delhi/New Delhi area has a plethora of converging lines, due to urban sprawl, it is always challenging to find spots to rail-fan without the clutter of Industrial areas, slum clusters and other assorted banes of pleasant rail-fanning. On 18 Jul, without any specific plan, I headed out on the Delhi-Mathura Road, heading South, trying to find a spot where I could catch some decent action, undisturbed. After crossing Faridabad, and Ballabhgarh townships, with their dense clusters of assorted Industries, and about a couple of km after the point where the highway crosses over the rail tracks, I found large openings on the roadside, and a rural ambiance start to assert itself with slow-paced carts, farm workers and a more relaxed setting.

After crossing the BLB overpass, I paused and turned left off the highway, and I drove in the general direction where the tracks appeared to be about a km to the east, based on the sound of distant horns. This area is about mid-way between BLB and AST, as the gang members who have been to Asaoti can confirm. The road was now 'partly existent' and a wide earth track wound its way behind open industrial lots. It was a typical July afternoon, not too muggy, but still and the clouds coming and going to break the monotony.

I came behind a large container complex â€" which is the Inland Container Depot (ICD) located near Piyali village, where, in addition to the 3 track layout heading south towards MTJ â€" Up, down, and bi-directional, there was another 3 loop lines about 25 m away from the main lines. These lines seemed to be stabling lines, and they merged into a single line, going into a gate with a guard post at the ICD. The main line had gantries spanning them, while the stabling lines had the catenary masts on them. This location is at Milepost 1497/4. At this point, the road track crossed over at a level crossing, with a hut, a newish looking mosque compound and to keep it company, another newish temple being constructed nearby where the mooing indicated bovine presence at the 'gaushala' (cow shed)… blissful settings indeed.

I had parked the car behind the crossing, where, just like AST, the gate is kept 'CLOSED†instead of OPEN as the default condition â€" easier to open it whenever the rural traffic appears rather than have it open and close all the time. I sauntered across, and asked for water at the gateman, where, typically one finds a shady grove, with a hand pump and a couple of huge earthen pitchers for the gate staff. There were a couple of guys sitting there, with the gateman in a khaki dress and a tall guy with a 'gamcha' wrapped as a headgear and a shirt-pant and a weather-beaten gang man. Obviously, they wanted to know who I was, what I wanted etc. to which I replied that I was into Nature and railway photography, and if it would be OK if I could click, without causing any inconvenience. Requesting permission, even though technically they are not the decision makers, is an act of courtesy and it usually helps bridge the conversation, instead of directly snapping away. The level crossing was a well-maintained simple structure, in cheerful pink and a solid barrier which could not be tampered with. An added bonus is that the track is ram-rod straight, and hence there is no clutter and the gantries merge into the horizon at both ends.

Seeing my harmless intent, they relaxed. Unfortunately, for some reason, I came across as someone from Vigilance/Supervisory staff category â€" and have been asked such by LPs etc. which amuses me no end. As it turned out, the white-'gamcha' guy told me he was with the RPF and was on duty there â€" even though he was in civvies, so blindly appearing and clicking would not have been taken too kindly, and I was glad to devote some time to that. I walked away from the crossing to put some distance between me and the crossing staff and to let them be in their comfort zone. The gang man headed out towards AST with a hammer sounding his progress as he went about striking the rails into the distance.

I had seen a Jan Shatabdi go towards MTJ as I was about 500 m away from the crossing. Soon enough, around 2:20 PM, the bidirectional line had a Red-White-Blue 27012 Mughalsarai (MGS) WAG7 from ECR pulling in a long BTPN rake, with a separator wagon in between, towards Delhi The groaning and the wafting aroma of hydrocarbons indicated a loaded rake.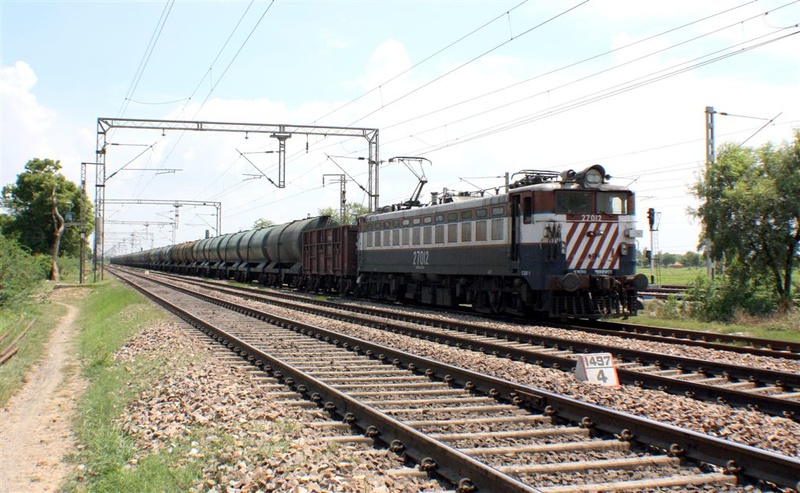 On the Up line, came a classic Maroon liveried with golden lightning bolts WAG 5A 23090 from TKD shed, pulling a loaded BCNA rake at a good speed. There is something nostalgic about classic maroon liveried locos, as they remind me of the VB raked days and this classic look is timeless, and the gold adornments add to the charm.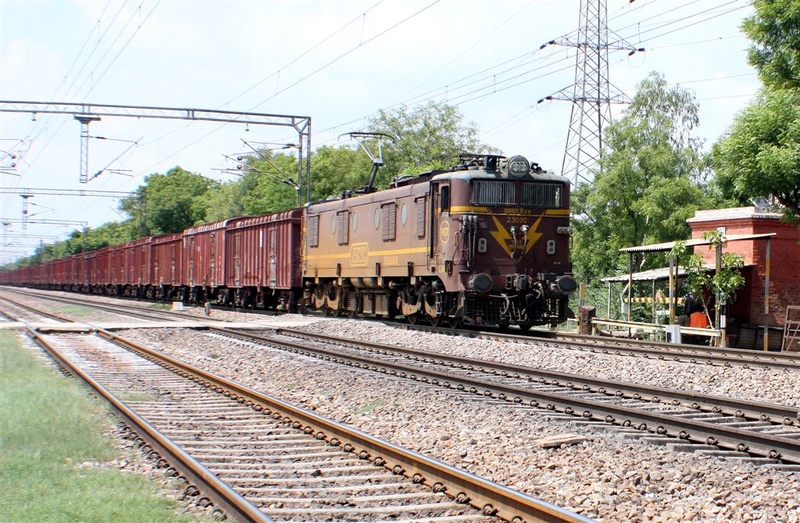 Given the time of the day, I expected mostly freight traffic that is usually held up at TKD yard being released after the morning expresses have shrieked past them, and the occasional incoming straggler express or those trains having an afternoon arrival slot into NDLS. After the MGS hauled freighter, the bi- line brought in another classic liveried maroon WAG5 HA 23751 from Valsad shed, with a new paint job and gold lightning bolts the numbers had the stenciled look of an electronic display on the side. The rake was a long LNG consist, with clean looking white wagons with a red stripe running across them.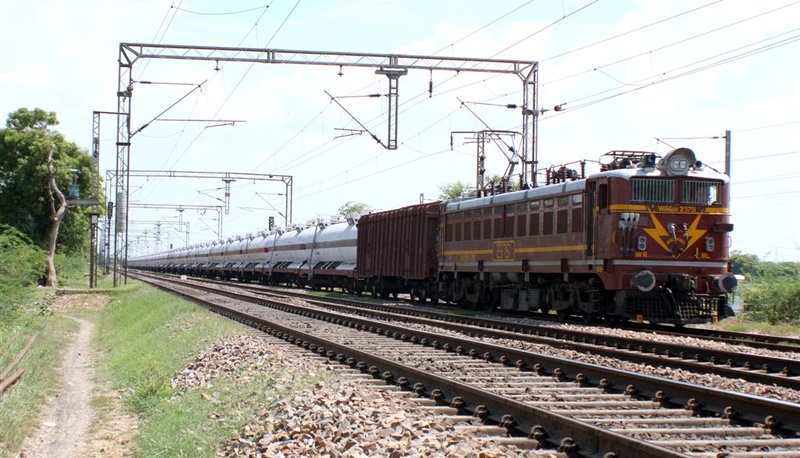 Barely had the freighter gone into the distance, that I heard the panting roar of a diesel chugging hard from the BLB overpass end. Sky-blue and white TKD 11173 WDM3D came in hard with an express bearing Ujjain boards, possibly either 4310 Ujjaini Express, or more likely the 4318 DDN-INDB Express, as both have a similar 1345 h departure slot from NZM. (You can clearly make out Ujjain in Hindi on the brake van board, but not the other end name). On either side of the main fuel tank of the loco, at the catwalk level, were 2 elongated jerry-can like containers, with hoses leading to the undercarriage, (possibly sanders, but seemed pretty high for that purpose). I also noticed a rather dangerous looking token catcher under the driver's window.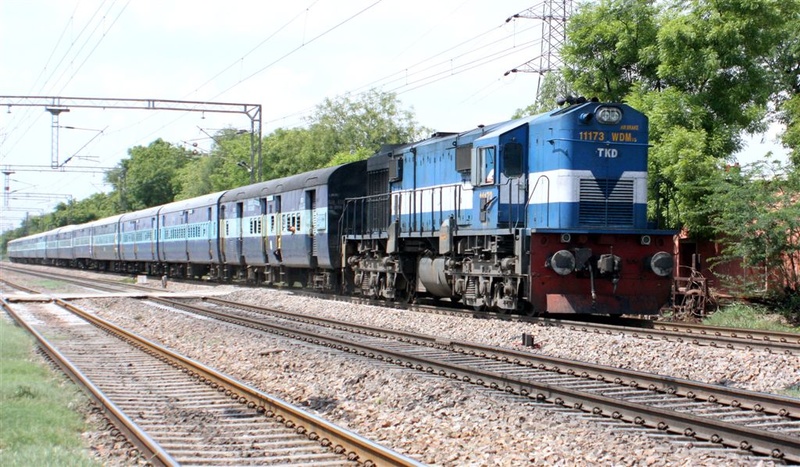 This was followed closely by, on the same down line, a Sky-blue and white 28007 WAG 7, from JHS shed in a WAP like shell body, hauling a multi-colour container rake towards MTJ side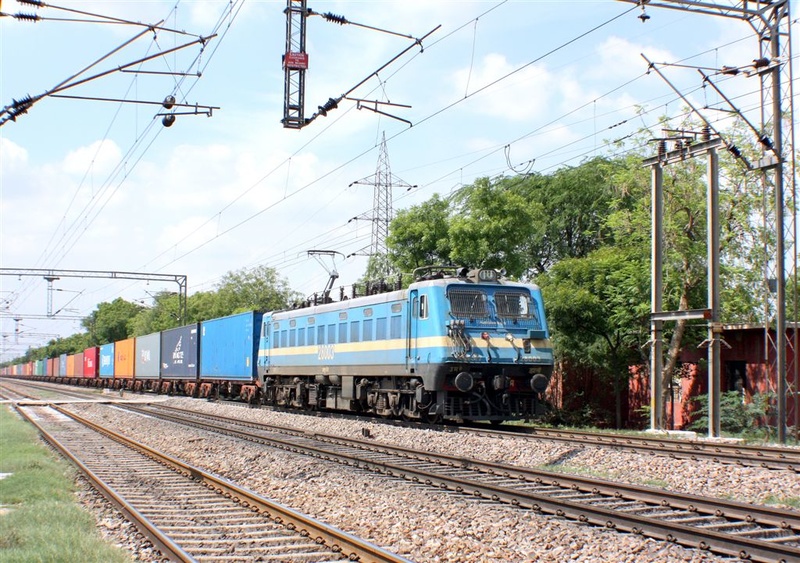 A short while later, the Up line had another Sky-blue-white WAG7 27621 from NKJ shed, but in the conventional WAM4-like shell heading towards NDLS.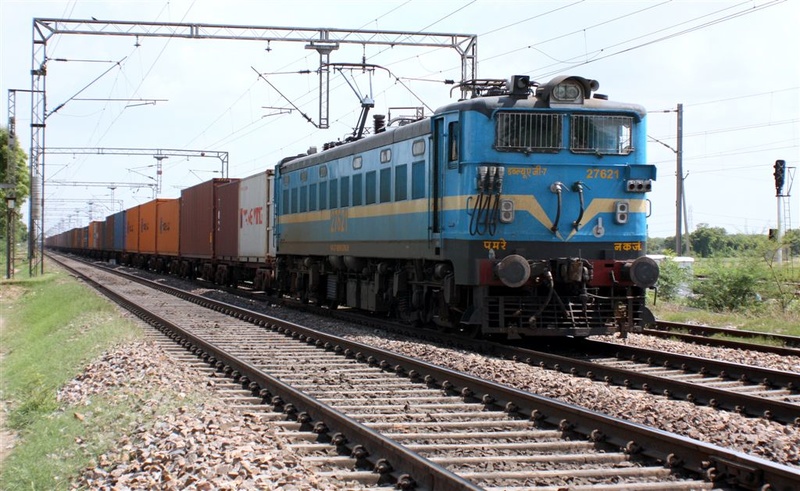 I suspected that the 3 lines on the ICD side had a lone shunter operating somewhere towards AST end, as out of nowhere, a part empty container rake had been parked, with the Guard cabin towards the ICD. I chatted with the gateman and he told me that the ICD would take in the rake and loading would happen at night. In the distance, I could see a constant movement of flat trailer trucks bringing in TEU containers which were being piled in a neat looking mountain of TEUs.
By now action was picking up, and there was hardly any time, that a train was not approaching or departing. Even as the LV of the container rake cleared us, I could see in the distance, on the bi-line chasing the container rake, a sky blue TKD WAG7 27638, hauling in an express towards NDLS, and the driver gave a friendly wave.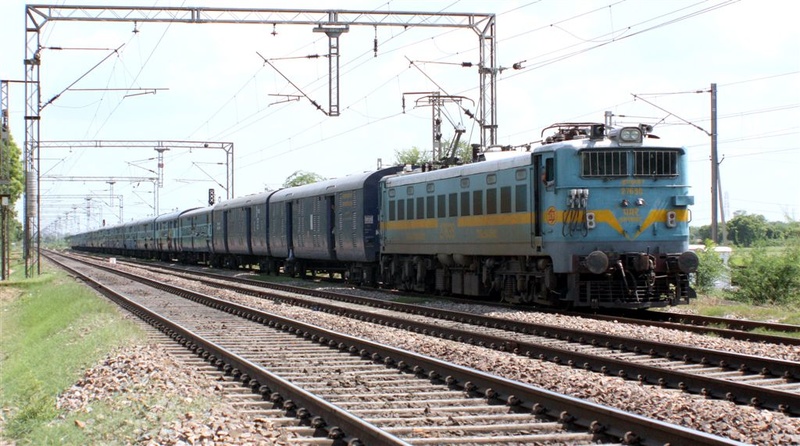 I was soaking a hanky in cool water, and did not note the details of the train, and as there were 2 parcel vans attached close to the loco, there was no easily visible name board as seen on GS coaches â€" but it was thrilling enough to see Freight locos like WAG7 merrily running around with Expresses, thereby increasing overall loco utilization â€" hats off to that! (Note: I will update the links as I am pretty sure the forum will have the wizards who would figure out what info is missing and I will be happy to update.)
On the down line from NZM end came in the usual Blood red livery indicated BRC ownership WAP4E 22209 (AB only), with the 2918 NZM-ADI Gujarat Sampark Kranti.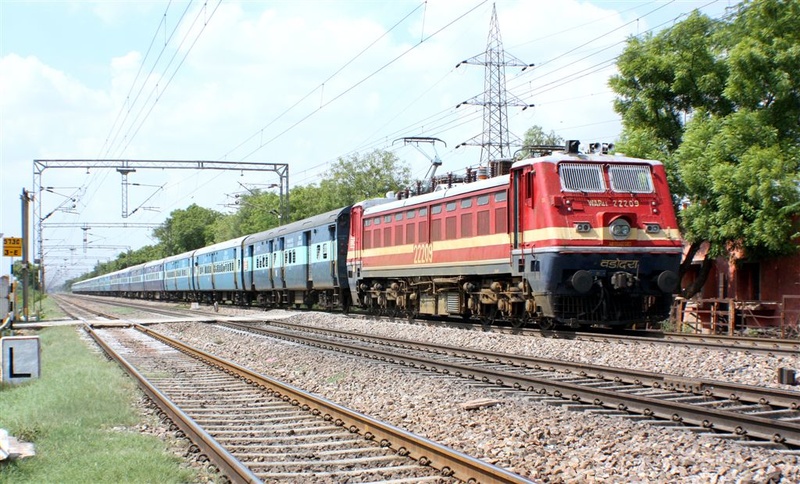 This was followed by an equally easily recognizable ET-shed banner clad 20618 WAM 46P Air-Braked Cream and Orange loco with rear view mirrors, and with the 2191 NDLS-JBP Sridham Superfast Express.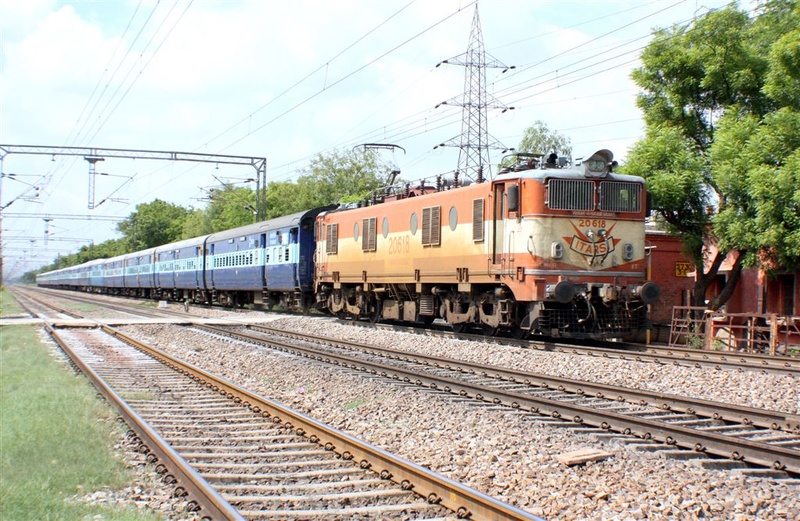 The third train to come down the down line was hauled by a BRC 20566 WAM4 without any MU cables, and with about 6 cities listed on the destination board, thought the rake had WR markings.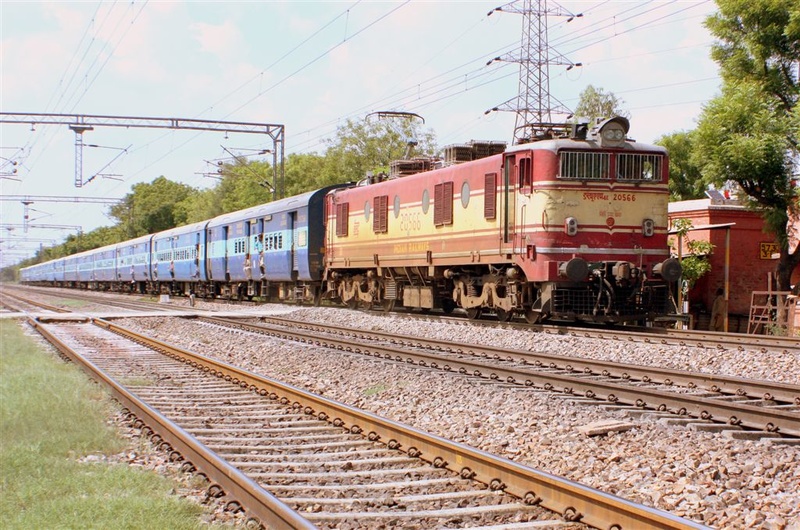 The Up line thereafter brought in a coal rake hauled by GMO 27414 WAG 7 Tigerface in a red-white-blue livery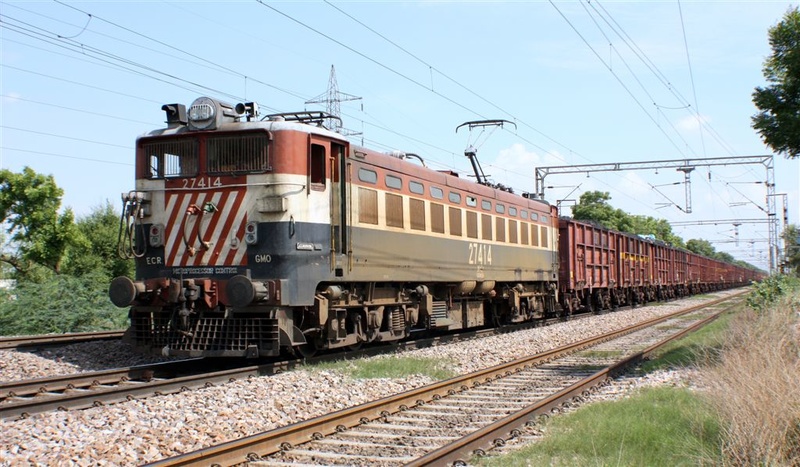 The bi-directional line followed this up with another impressive Diesel (in my book, any fast running diesel is impressive, but these guys were flying) â€" 14978 WDG3 A from KTE in Orange Cream livery â€" but without any destination boards on the first few coaches, headed towards Delhi.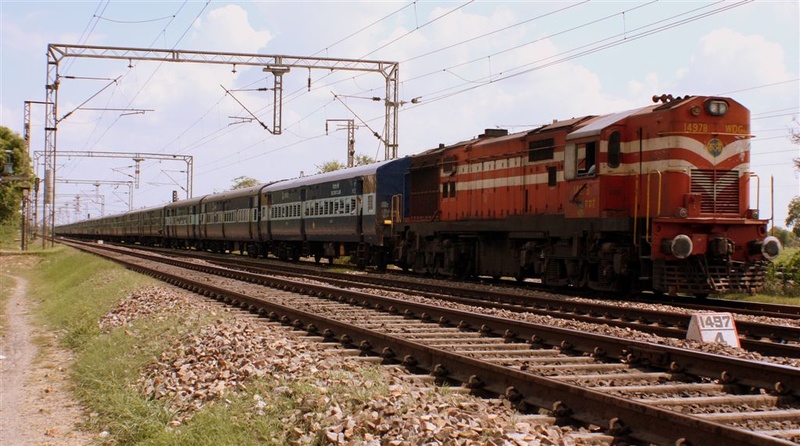 When I turned around towards Delhi side â€" I saw that all three lines were busy â€" the bi- line (closest to me) with the KTE hauled express, the GMO coal freighter in the middle on the Up line, and a sedate CNB 27178 WAG 7 in a sky blue cream livery with a container load on the down line (farthest from me).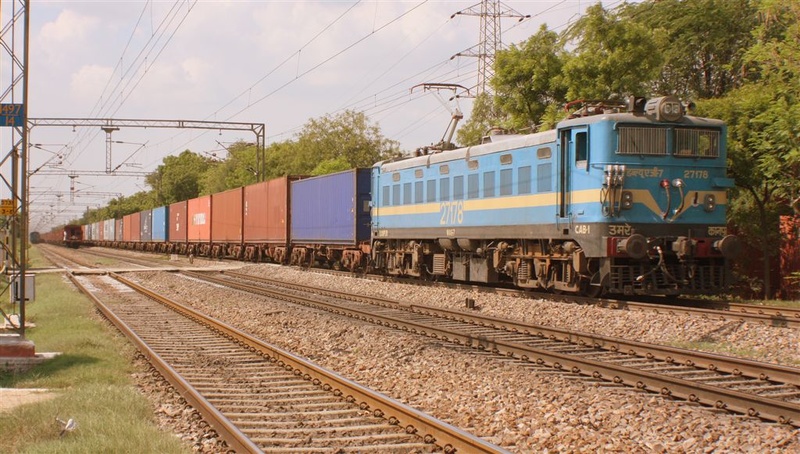 Much as I admire Expresses, nothing to beat a powerful, growling freighter, in times like this… As afternoon turned into early evening around 4-PM, in came a Bhilai based Orange Cream WAM 4 20541 with multiple destination boards, headed toward Delhi on the bi-line. Interestingly, the locos did not have the darker brown-black hues of BIA, nor was there any sign of the hominid logo â€" whose knowledge caused a 15 minute grilling session by a freighter LP about my interest in these things a few days later â€" indicating this was a possible transfer. The cow catcher had some red marks on it, and I can only guess and hope that it was harmless paint, than any other human or bovine connection.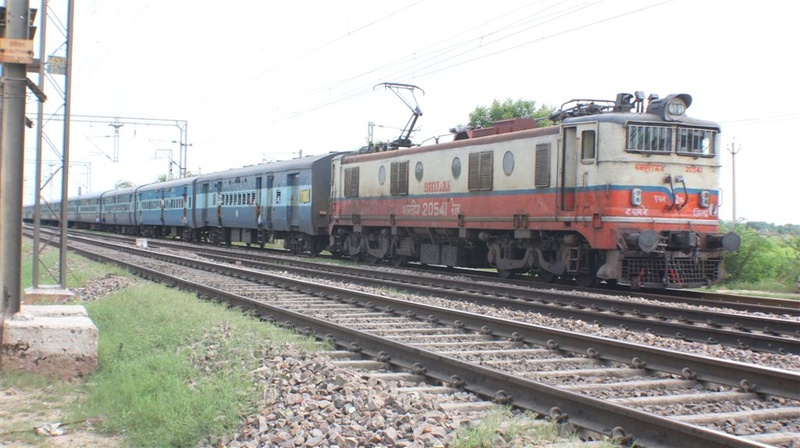 As railfans, our indication of obvious things is definitely rail driven, and for me, a sign that evening was approaching was not the clock or the sun, but the up line arrival of a NDLS-destined EMU (Electric Multiple Unit)from Palwal. These are the most temperamental beasts around here â€" one moment they can be expected to be empty, and at the next station, practically the entire humanity would clamber on board â€" this time there was hardly anyone hanging outside the doors, given that it started a couple of stations back and was heading towards Delhi on a Sat. It had a neat symmetry in that the coaches were paired, with blue, green and distant brown color in neat sets across the rake.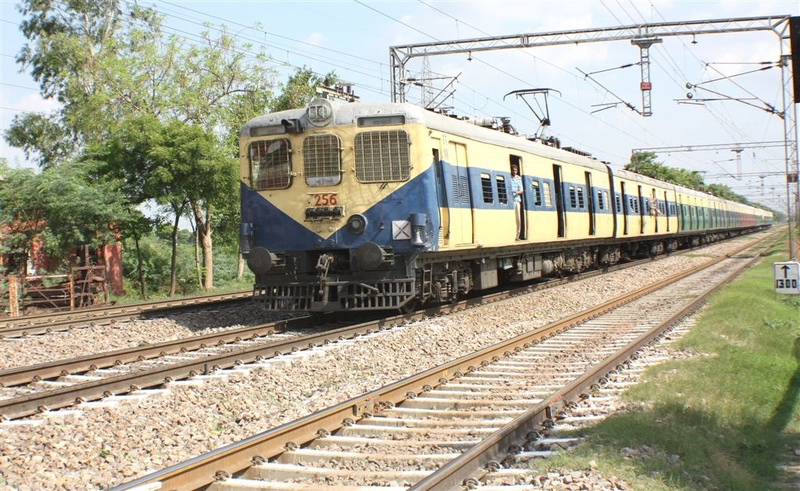 By the time I was done with the EMU, a GZB WAP1 22059 near original look loco rushed by with a HCPV attached to an Express, and a barely legible brown sign with white letters on a SWR owned rake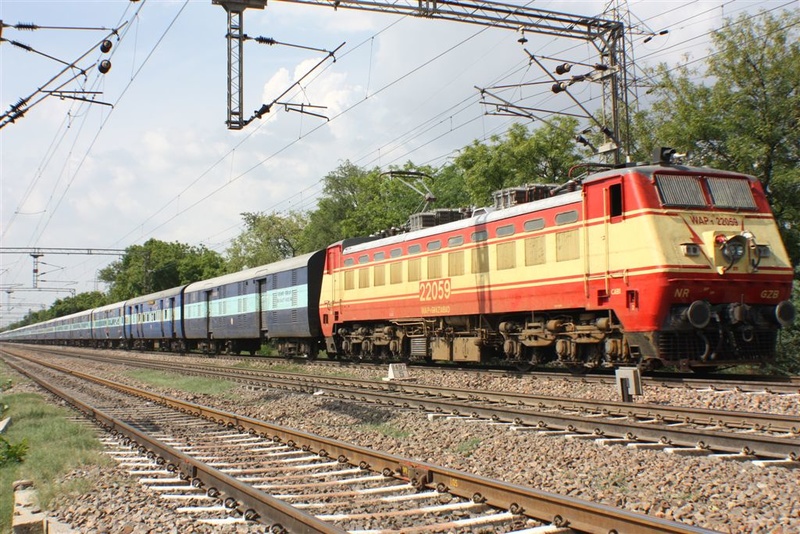 The up line had three freighters appearing â€" with two freighters in a spate of 6 minutes both hauled by Sky blue and cream WAG 7s, the first one led by Erode 27643 with a BTPN rake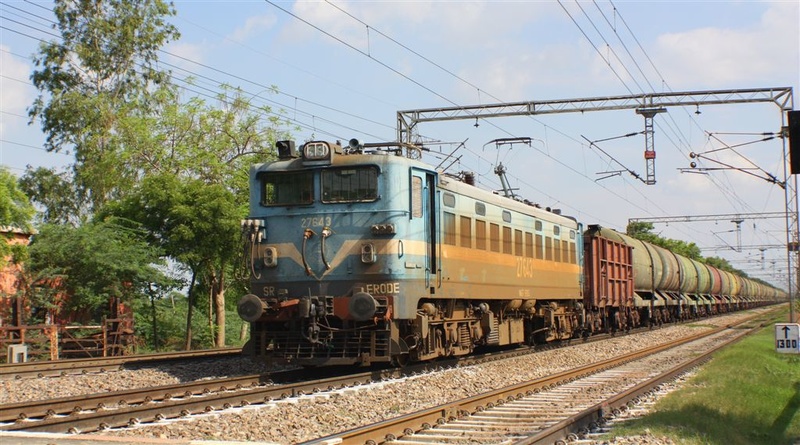 and following it a similar LDH based 27262 with BOXN freight wagons.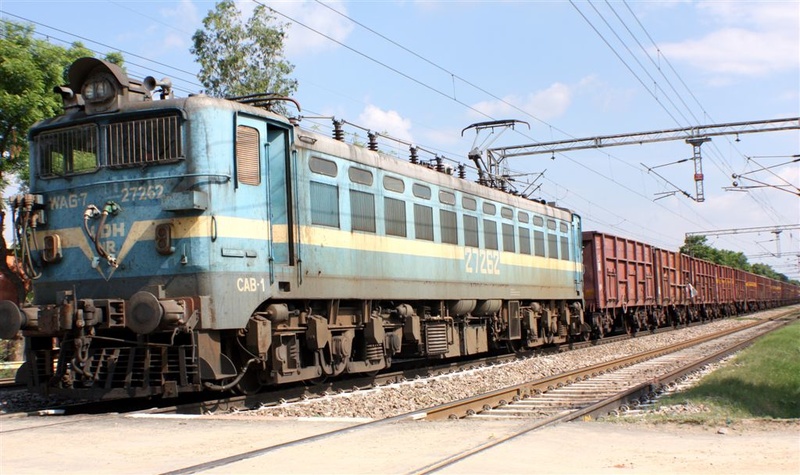 The third freighter was a red-white-blue 27379 GMO WAG7 with a container rake towards Delhi.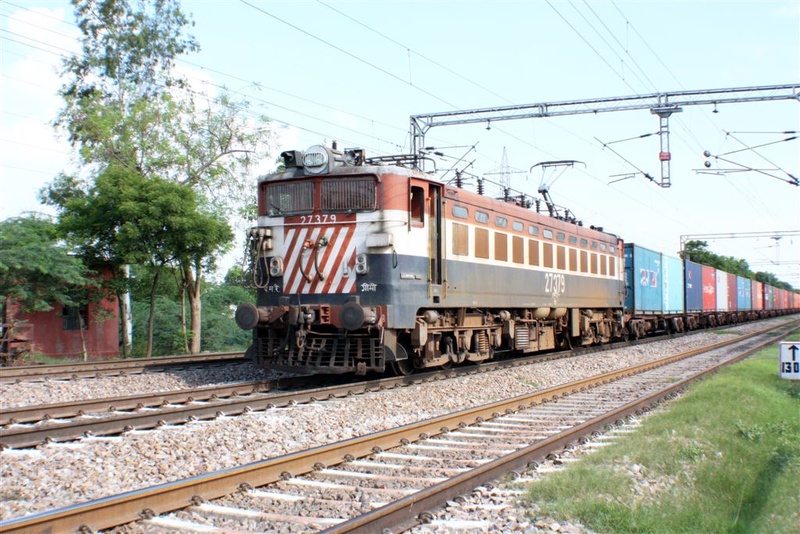 The down line had a newish-looking single windscreen â€" without a grille even â€" Green and cream EMU (Electric Multiple Unit)with SSB-NDLS-PWL boards on it, and coming from Delhi side, it was pretty crowded as well. A short while later, it was a meeting with the Devilish looking beast with streaming Itarsi banners and dual lightning bolts â€" 20666 WAM 4 6P with the JBP bound 2412 Gondwana Express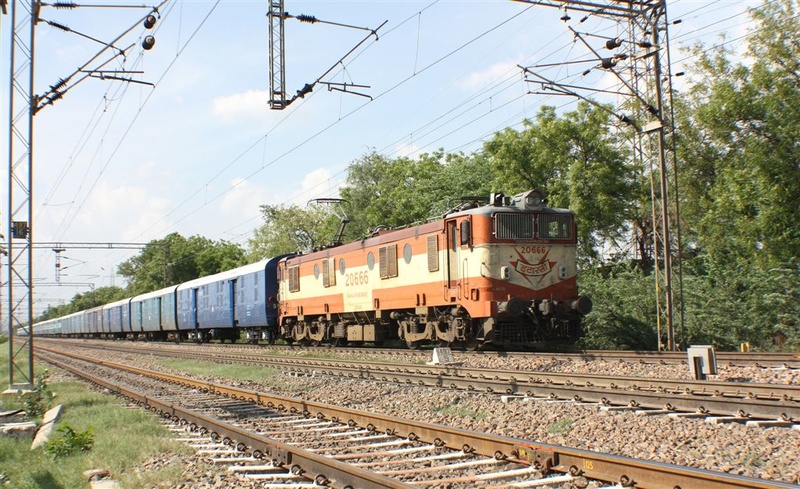 Two freighters came down the Up line - the first one in Sky Blue cream livery â€" CNB based 27248 WAG 7 with a load of coiled steel wire and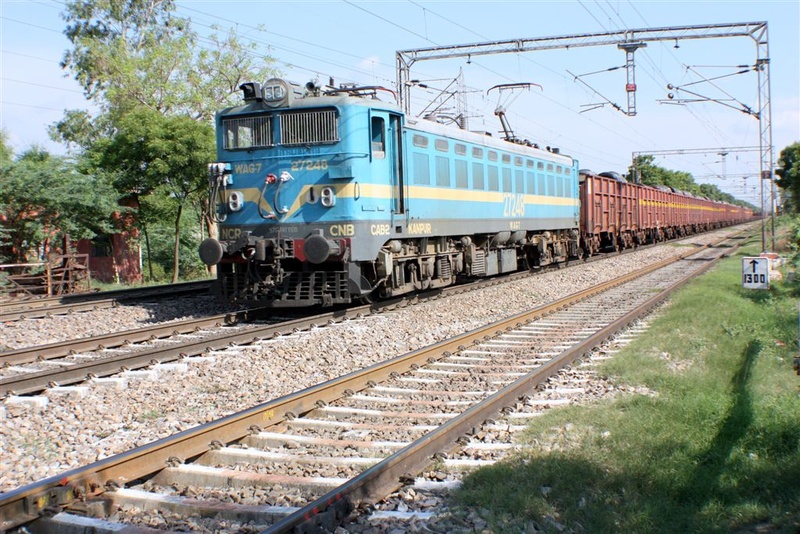 LDH Cream-brown WAG 5 HR 23292 with a Northbound Container rake.
But the greatest, and riskiest adrenaline rush was yet to happen â€" and I discovered first hand, how easy it is to let the rail action, heat and photography distract you, with split-second, dangerous consequences. As the LDH WAG 7 hauled container was rambling by, you can see a blue and a brown container in the distance â€" it's the only blue one in the sea of brown containers hauled by the LDH freighter. I was pretty close to the bi-line then, almost on it, as seen in the LDH loco snap; and my ears were now used to the typical high pitched whine of containers going by. I turned and not 20 feet away on the bi-line â€" right next to me -was another oncoming WAG9 hauled container freighter, which had crept up, and in the noise of the other container rake, its own noise had been completely masked… My time stamps indicate that between the clicking of the blue and brown container and spotting this monster barely a few seconds had passed by.. There was no sound, that I could make out, and I am thankful the LP did not blow the horn â€" as it would have startled me for sure… I was shaking for a few moments after that, and REALLY mad at myself for not remembering that the bi-line would be the most dangerous one, with its sudden change in direction of the oncoming traffic. The Ajni WAG9 31061 gave me a silent, baleful look as it went by..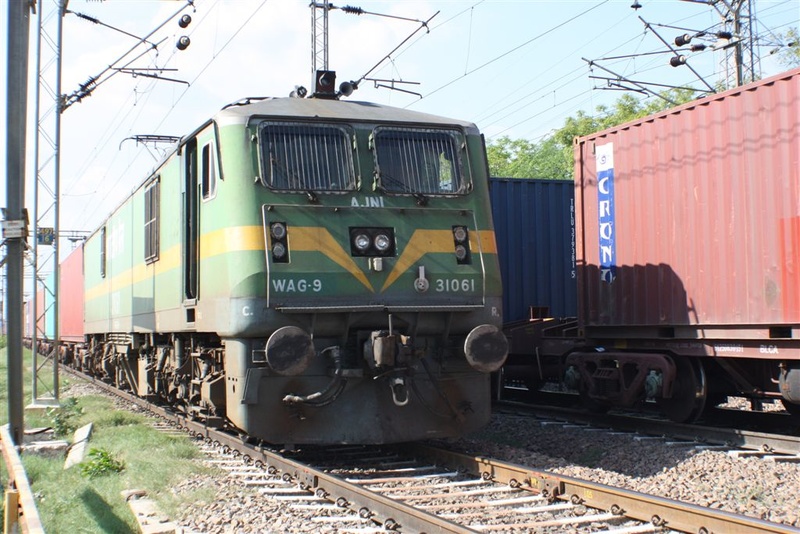 .. Only goes on to show how the slightest lapse in concentration can nearly prove fatal in a moment
Soon, as a confirmation of the direction change on the bi-line occurred when a PWL-bound SSB-PWL EMU (Electric Multiple Unit)in the common cream and green livery went by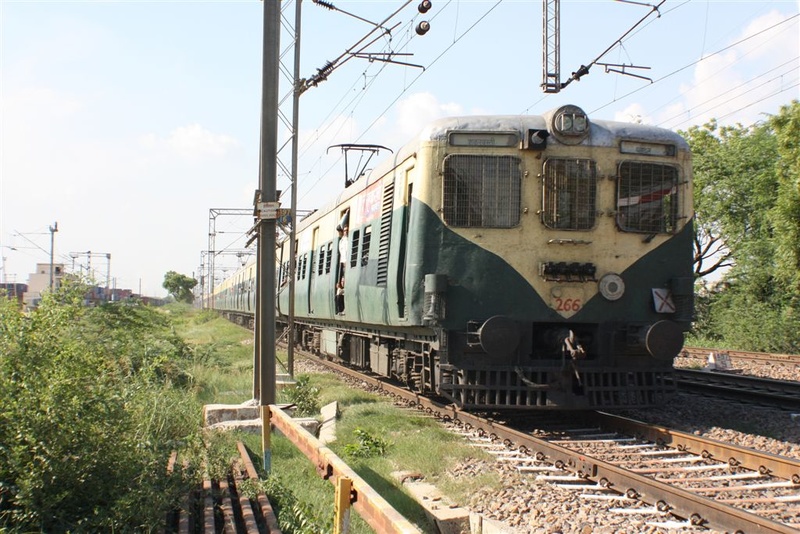 I was glad that the quicker moving EMU (Electric Multiple Unit)did not come before the Ajni freighter as the first train with the different direction on the bi-line. The adrenaline rush, as expected had now resulted in a massive energy crash, and now hunger pangs were raising their head. The GRP dude came by, and I asked him when the August Kranti Raj would come. He said it is expected close to 5 PM, when he too would get off duty. Another Itarsi liveried loco was hurtling down on the Down line, and it turned out to be ET's 20625 WAM 4 â€" banner scroll and all â€" with the 2190 NZM-JBP.Mahakoshal Express.
Back around 94, I remembered taking this train and it used to leave NZM around 1 or 2 PM, and never this late.
Another EMU (Electric Multiple Unit)came by from PWL, just as empty as the one that went an hour ago before it this one had double panes in the driving cab and mostly green and cream coaches and a sole brown and cream coach in the distance.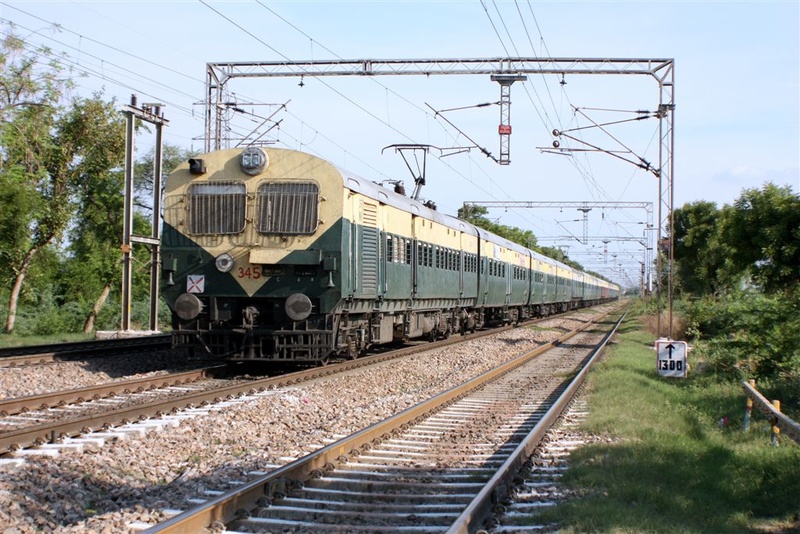 The GRP guy asked me if I could drop him at BLB on my way back, and I was fine with it â€" with the condition we let the Mumbai Raj go by first, at which he smiled.
Soon enough, from beyond the dark, distant shadow of the overpass, came a blinking light. The unique staccato noise â€" which only a Raj or a NDLS-BPL Shatabdi can generate; came singing over the tracks, much before the airwaves brought the roaring crescendo to us. In the evening sunlight, in came the magnificent spectacle of the White Stallion â€" GZB 30235 WAP-7 in a smooth shell, hauling LHB Grey-red coaches and a grey-blue EPG car and the 2952 Mumbai Raj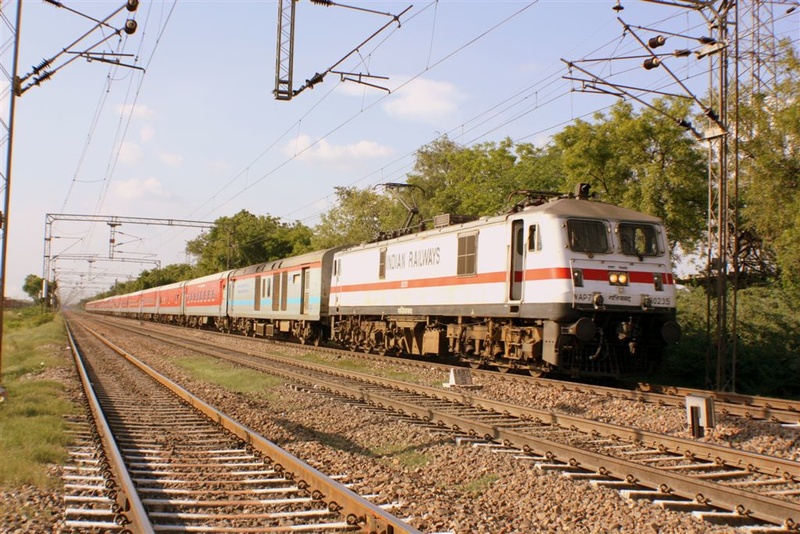 … the roar, even across 2 sets of tracks was deafening as the WAP was pouring power into the ever-hungry traction motors â€" and the rake was flying near MPS long before it had reached us… It was gone in a matter of seconds…
Seeing the red-grey beast disappear, I sighed and beckoned the GRP guy to follow me, as we headed back towards BLB.. a long, satisfying, scary and exhilarating day concluded..
---