Diarrhea, Dunes & Dual Gauging
by Bharat Vohra
2010-01-12
---
As of this writing, the state of Rajasthan's Metre Gauge (MG) network is made up of four isolated sections. The line from Ahmedabad (in Gujarat) to Udaipur (including the small ghat section from Zawar to Umra); the branch from Bari Sadri to Mavli and thence on to Marwar (including the storied Kamblighat â€" Phulad ghat section); the Jaipur â€" Loharu section via Ringas and Sikar, with a branch to Churu; and what is referred to as the 'Canal Loop' â€" a section in northwest Rajasthan. Having done, for the most part, the first three, it was the Canal Loop that eluded us both. Due to a calendar malfunction, Mohan had missed it on an earlier attempt, and for my part, I was inching to travel on the last remaining vestige of Northern Railway's (NR) once extensive MG system.
The 'Loop', in its original MG form, entailed a section originating and ending at Hanumangarh (HMH), via Shri Ganganagar (SGNR), Sarupsar (SRPR) and Suratgarh (SOG), when traveling in an anti-clockwise direction. Contrary to popular belief, a lot of it dispelled by none other than R.Sivaramakrishnan, the 'Canal' in the Loop can be credited more to the Gang or Bikaner Canal, not so much to the Rajasthan or Indira Canal!
I quote, from a previous mail by him to the group, 'Prompted by the British, Nawab Sir Sadiq Muhammad Khan Abbassi of Bahawalpur constructed systems of canals during 1922 to 1933 taking off from five headworks on the right flank of R. Sutlej for perennial and non-perennial irrigation, depending upon available flow. Maharaja Ganga Singh of the adjoining state of Bikaner constructed the Gang or the Bikaner Canal in 1925-27, which was perennial, taking off from the left flank of R. Sutlej to irrigate the areas of his state bordering Bahawalpur. Large groups of migrants, mostly from Punjab, were settled, on both permanent and seasonal basis, in the uninhabited canal areas of both the states for raising crops like wheat, cotton, sugar cane, pulses and mustard. It should be noted that the canals of the two native states were not interlinked.'
Apart from building an elaborate canal system that literally transformed the region, the State of Bikaner also contributed immensely by laying down several MG lines, the first of which connected Jodhpur with Bikaner in 1891. In 1902, this was extended to reach Bhatinda via Suratgarh & Hanumangarh. In 1931, the last section of the 'Loop' was completed between Shri Ganganagar and Sarupsar, with a branch taking of from there, southwest to Anupgarh. By 1943, the MG network of Bikaner State Railways totaled 883 miles, a little more than the present day WR route between Bombay and Delhi!
---
It is yet another foggy January day in the capital, as we both arrive at Old Delhi (DLI) station with plenty to spare for train 2481 â€" the Intercity to Shri Ganganagar. Before setting out from our respective homes, and fearing the havoc caused by prevailing weather conditions on train schedules, we call 131 and a recorded voice informs us that #2481 is scheduled to leave on its departure time of 13:10. We reach the empty platform and on inquiries with the tea vendor it dawns on us that 2481's imminent departure is in fact dependant on the incoming rake of #4732 Bhatinda â€" Delhi Express, whose status no one seems to know! Mohan frantically punches away on his 'smart phone' and trainenquiry.com continues to show 2481 'on time'! Despite all the advances in information technology IR claims to have made, reliable train running status still seems light years away for its 17 million strong customer base!
It is a good twenty five minutes past 2481's scheduled departure and the PA system finally comes alive, announcing 4732's arrival on a different platform! A mass exodus ensues, with some passengers making a beeline for the tracks and the rest for the nearest foot over bridge (FOB)! IR seems to have learnt little from the horrific stampede at New Delhi a few years ago!
Lucknow's 16123R takes charge of the rake made up of 15 odd coaches and we take our seats â€" much to the chagrin of a squatter â€" in a scruffy 2nd class Chair Car #97658. On the adjacent yard lines, a Shakurbasti WDS4 waits between assignments on the throat to the carriage depot, and RA87, an Inspection Car, is at the end of a long passenger rake, sporting both desert coolers and air conditioners â€" a first such sighting for me!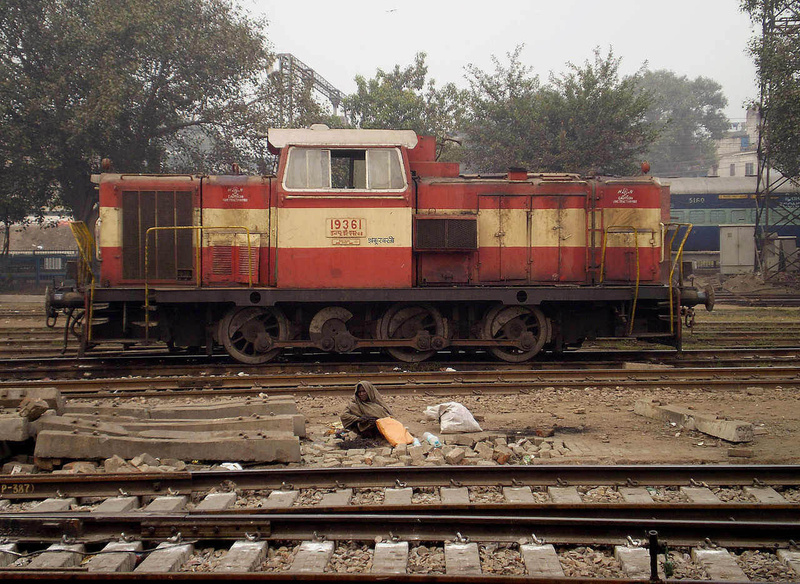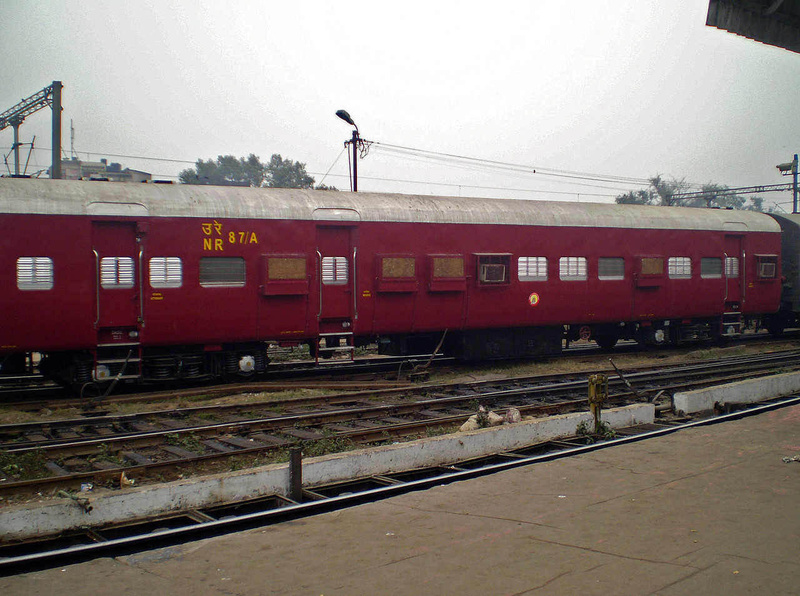 It is 14:00 now and 2481 is finally on its way, some 50 minutes behind schedule. Meanwhile, an east bound BCN freight goes through DLI without stopping, and emerging from the same direction is an LHB Rajdhani rake, which takes us by complete surprise! It is the late running Guwahati â€" New Delhi Rajdhani, routed through DLI for reasons unknown to us, and there is a parallel run for some distance till the Sadar Bazar bifurcation is reached.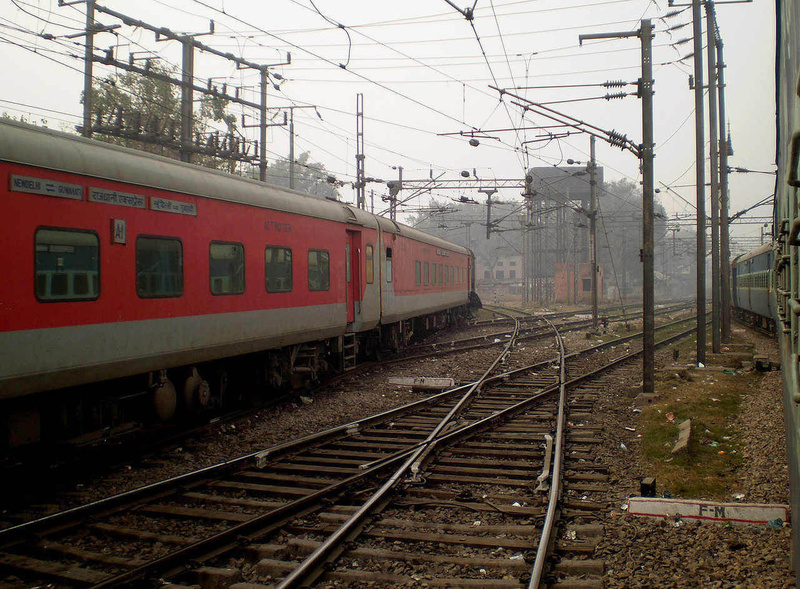 The run to Shakurbasti (SSB) is sloppy, taking 30 minutes to cover a measly 11 km! At Sarai Rohilla carriage yard, the Palace on Wheels rake is spotted, with a hideous new livery of gaudy yellow, and a new name â€" Royal Rajasthan on Wheels! Closer to SSB, some traces of the abandoned MG freight line (to the cement sidings) can still be seen, and on our departure from the station, there is a motley selection of stock in the sidings, closer to the DMU car shed.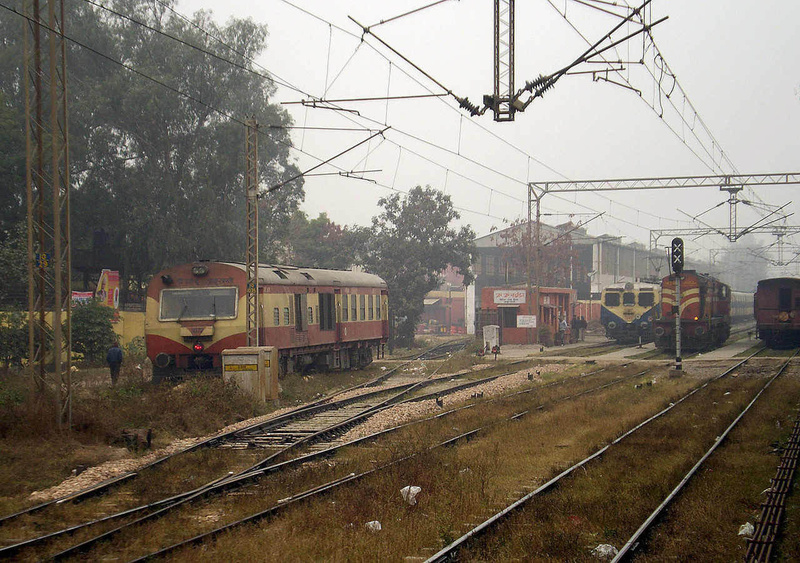 The northern extremes of Delhi seem to stretch for longer than I remember them and a little past Bahadurgarh â€" 30 km from DLI - we leave the NCR (National Capital Region) behind and cross into Haryana. The SSB â€" Rohtak (ROK) section is a double track dieselized mainline, but catenary masts are already in place and will keep us company till ROK is reached. The section abounds in freight traffic, most of it made up of BCN's, with the odd Tanker or Container train in between. Passenger traffic is thin, at best. Despite the slow run to SSB and subsequent halts at Bahadurgarh and Sampla, 2481 has only lost a further 10 minutes on its schedule, pulling into ROK an hour late.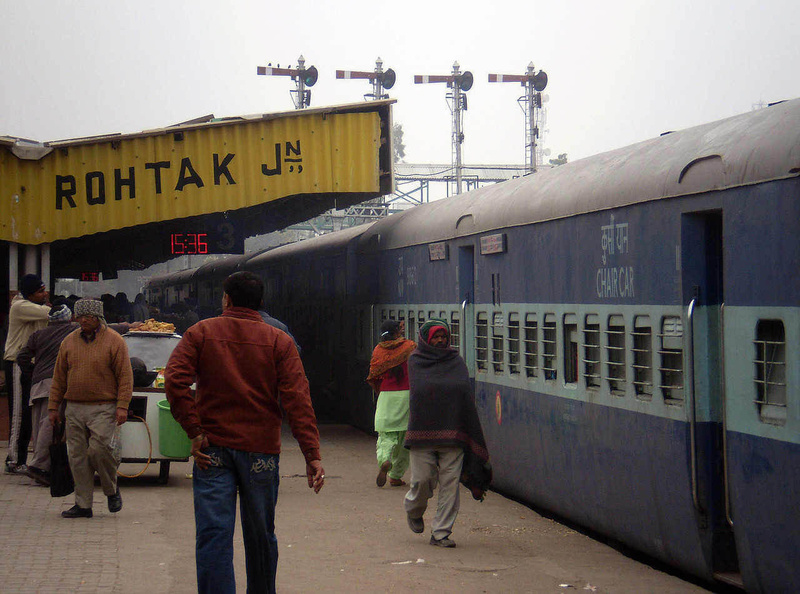 Thankfully, there are no signs of electrification yet at ROK, and the MACL signals have given way to LQ Semaphores, at least within station limits. A noticeable change from the last time I was there is that all level crossing's (LC) have been eliminated, replaced instead with road over bridges (ROB) - a sensible move, no doubt.
Despite being a Junction, serving lines in 4 different directions, ROK is relatively small, with 10 tracks and 3 platforms making up the station area. Other than our train, there is a passenger rake stabled in the yard, another one â€" in the process of being overtaken by us â€" on an adjacent platform, and a lone WDP1 on a lay over. Maybe the 5th line to Rewari â€" when it comes to fruition â€" will change all that!
The crew gives it their all and we are flat out on the run to Jind, covering 58 km in 37 minutes, slicing off the time we had lost on the DLI-ROK section! The junction fares much better to, with 4 platforms (including a stub end), 2 FOBs, and about 13 tracks - all this despite just serving the mainline and a branch to Panipat! On our approach, an 11 coach train departs in the direction of Panipat, headed by a WDP1, freeing up space on the stub end platform. As we pull in to Pf 1, every other platform is occupied and abuzz with activity â€" Pf 3 with a west bound stopping passenger, which again the Intercity overtakes, and Pf 2 with an empty passenger rake being pulled in to position by another Lucknow diesel.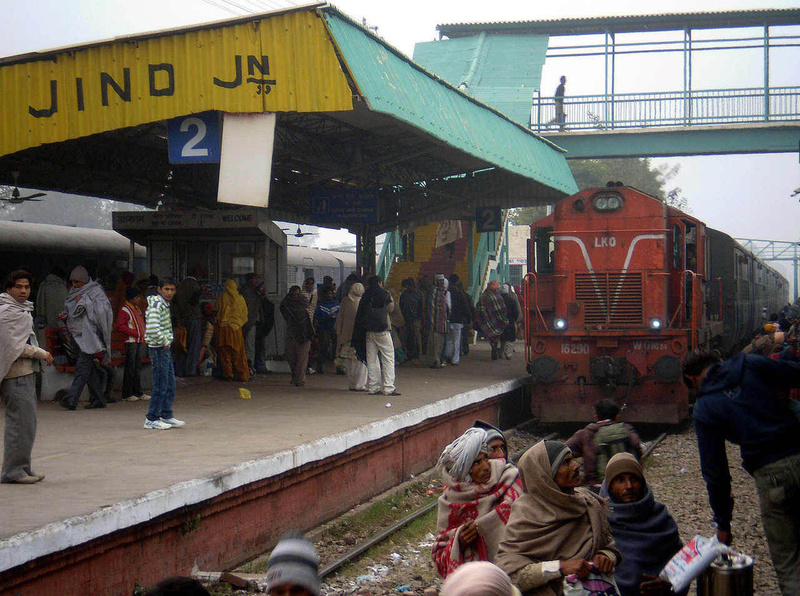 A couple more passenger rakes are stabled in the pit lines, but just like at ROK, there is no freight stock to be seen anywhere, despite the presence of a yard and goods sidings â€" the traffic having just died off after Rohtak! We look around but there are no signs â€" not even a turn table â€" of the old steam shed at Jind. The only redeeming feature, apart from all the diesels milling around, is a plethora of elegant semaphores!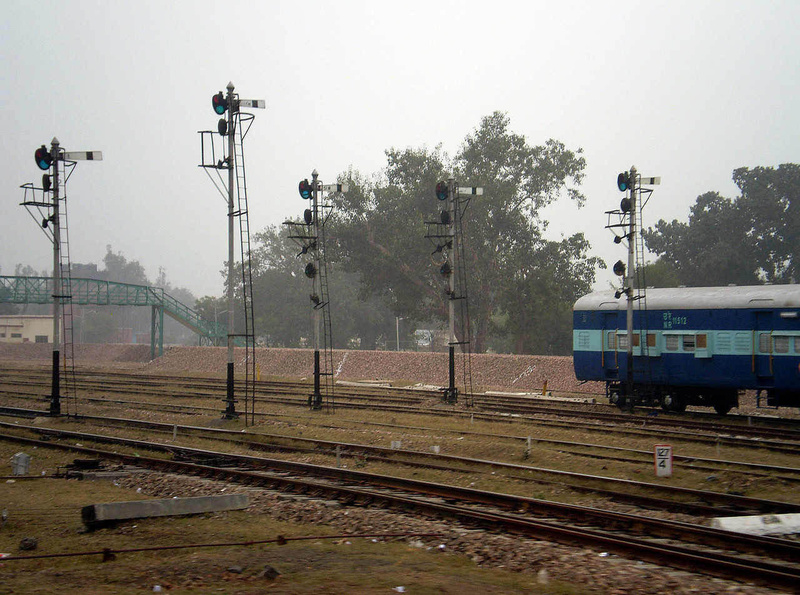 Narwana (NRW) is the next big Junction en route, and is reached 47†late, another 3†being made up on the 33 km section preceding it. Despite boasting 4 platforms, NRW is the smallest and least busy of the Junctions on the DLI â€" Bhatinda (BTI) section, with 6 tracks in all, no carriage maintenance facilities and every one of its platforms unoccupied! The only other activity apart from 2481's arrival is the passage of an east bound container freight headed by a Vatva DG3. On our exit from the station, we see the branch to Kurukshetra leaving the main line in a north westerly alignment.
A caution order on the NRW â€" Jakhal (JHL) section undoes the time made up in the previous one and JHL arrival is 50†late. A few km's prior to station limits, the branch line from Hisar is sighted, approaching the main line from the southeast but continuing to run parallel, albeit on a separate alignment - including 2 bridges - for at least a few km. An unusual occurrence, indeed!
Jakhal (love the name!) turns out to be the largest of the Junctions on the DLI â€" BTI section, with 15 tracks making up a decent sized yard, 3 platforms and 2 FOB's. It also features a handsome station building, recently whitewashed, and a riot of colour and activity on its main platform.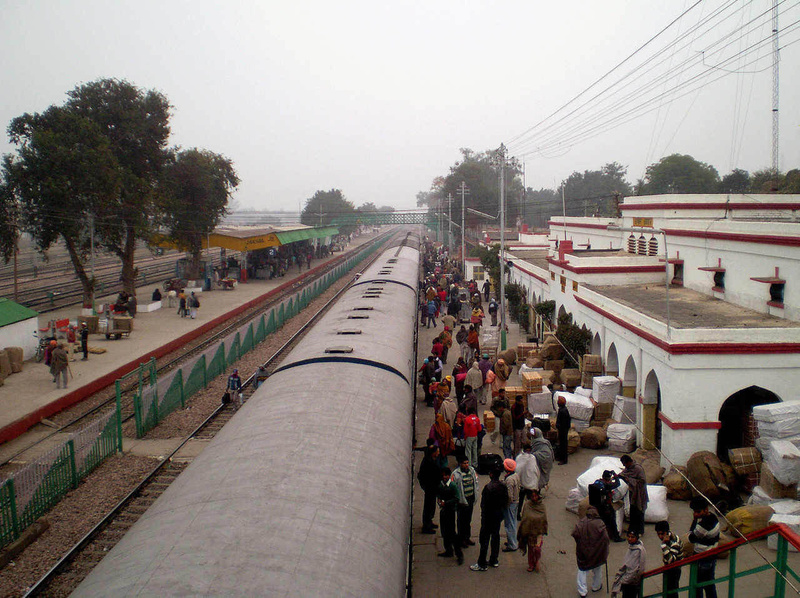 Despite the grandeur of it all, and the fact that it has as many lines branching out as did Rohtak, there is little to be had in terms of rail activity. A lone SSB DS4 is seen idling in its west yard, and a Ludhiana DM2 brings in a 7-coach working from the Dhuri side.
The branch to Dhuri takes off a little west of JHL's station limits, and as we continue on the main, we immediately cross into the state of Punjab. We now begin to worry about making the connection with #9224 Jammu â€" Ahmedabad Express at BTI. In our current location, web connectivity is sketchy on Mohan's phone, but texts are still going through, so I send one to Samit in far away Calcutta, to track the progress of 9224. He replies saying 9224 is about 30†late. That's cushion enough to begin with but to our good fortune, the timetable allows a very generous 2 hours to 2481's schedule, for covering the 100 km between JHL and BTI. No doubt, 2481 will make up some more on the run.
A large fuel depot - in full military camouflage â€" is the first major sign that we are approaching the town of Bhatinda. Soon enough, the freight bypass line takes off from our alignment, heading west to join up with the Hanumangarh line. Closer to the station, the branch line from Sirsa, which in days gone by was MG, joins us from the southwest and that is followed immediately by the one from Hanumangarh, on which we will soon travel on the 9224.
Bhatinda arrival is 35†late, and important as the town might be, I am left a little disappointed with its station â€" expecting something a lot grander! After all, as far as non-electrified routes go on IR, this is the 'King of Junctions', so to speak, what with lines fanning out in 6 different directions! Like the other great junctions on NR's vast BG network, I was expecting at least a grand old building and a station shed â€" no such luck! There is one saving grace though - the interlocking tower â€" which dates from 1890 and definitely lends the station some character.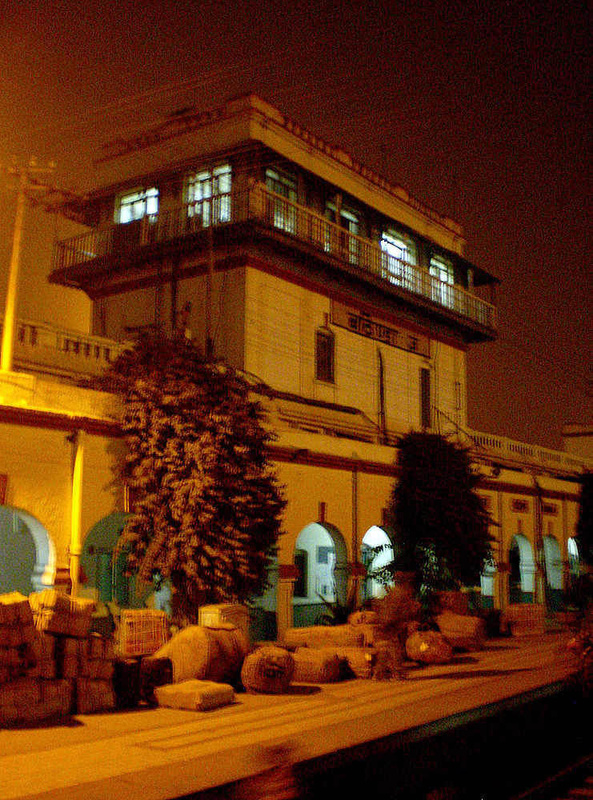 The last time I had passed through BTI was on the Punjab Mail, in the dead of night, so I am determined to see the station this time! A quick stroll on the FOB reveals 3 island platforms, serving 6 tracks, with 3 of them offering double occupancy, effectively 9 in all. Only a handful of these are occupied but all of them are equally filthy! Laid out in a north-south alignment, the platforms lie sandwiched between the carriage yard to the west and the freight yard to the east. A larger freight yard exists just north of the station, close to the point where the lines to Shri Ganganagar and Kotkapura bifurcate.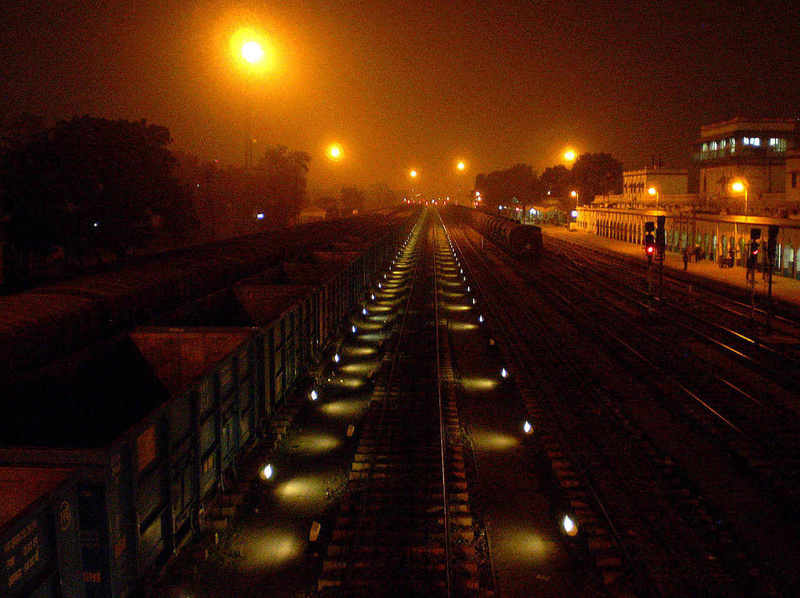 Semaphores are long gone and so are traces of the old steam shed or MG station, where lines once branched out in 3 directions â€" Kotkapura to the north (then the northernmost MG station in India!), Hanumangarh to the southwest and Sirsa to the south! According to Mr. Bisht, who was posted to BTI as Asst. Traffic Superintendent in the MG days, there was also a large transshipment facility in those days. An Accident Relief Train (ART), located at the south end of the station, is about the only carry over from that era, when, amongst other things, over 50 steamers were homed at Bhatinda!
Train 9224 is announced on one of the main platforms and since we have a few minutes to spare, we decide to grab some harmless looking poori-aloo (deep fried Indian bread and potatoes) from one of the platform vendors. It is very greasy and not particularly filling but we will have to make do with it for the night!
As we settle into our seats on the side lower berth of coach S6 #942422, Vatva's DG3 #13459 leads our train out of BTI 45†late. Our destination â€" Hanumangarh (HMH). Mandi Dabwali is the first of two scheduled halts on the 92 km run to HMH, and is infamous for the horrific school fire of '95, which consumed 500 children. At the next station, Birang Khera, we cross into Haryana momentarily and finally into Rajasthan. Sangaria is our next halt and somewhere between there and our destination, we miraculously lose another 15â€, pulling in to a very cold Hanumangarh Jn. an hour late.
As expected, there are no retiring rooms available, so we make our way out to the town and closer to the chowk (square) we stumble upon Hotel Classic. The receptionist there insists that we'd have to pay 'a/c' room rates for the use of a heater. We give in meekly since it is already quite late and the heater would probably do us some good in frigid Hanumangarh! As it turns out, it is one of those tiny old blowers, which are more adept to making noise and guzzling electricity than providing any warmth!
But the heater turns out to be the least of my worries for the night. Instead, I spend most of my time in the toilet, paying for a very poor choice of meal at Bhatinda! As I battle gripes, exhaustion, and a chilly draft from a larger than life bathroom vent, Mohan can be heard snoring away peacefully, drowning out the sounds from his only competitor â€" the heater!
After a very restless night - for me at least â€" we trudge back to the station early the next morning and line up to purchase tickets for the journey to Suratgarh. Our request for two tickets to Suratgarh, 'choti line se' (by the Metre Gauge) is met with a perplexed look by the booking clerk, who gives us a once over! Most normal people select the BG route, which apart from being faster and offering more trains is also 154 km shorter!!
Tickets in hand, we head over to the platform to get some breakfast. Still weary from the awful night and unable to think of any food or beverage, it is the sight of the well stocked MG yard that cheers me up a great deal. Even though the BG has garnered prime real estate as far as platforms go, Hanumangarh is still very much a metric hot spot, with the MG yard accounting for a majority of the station area.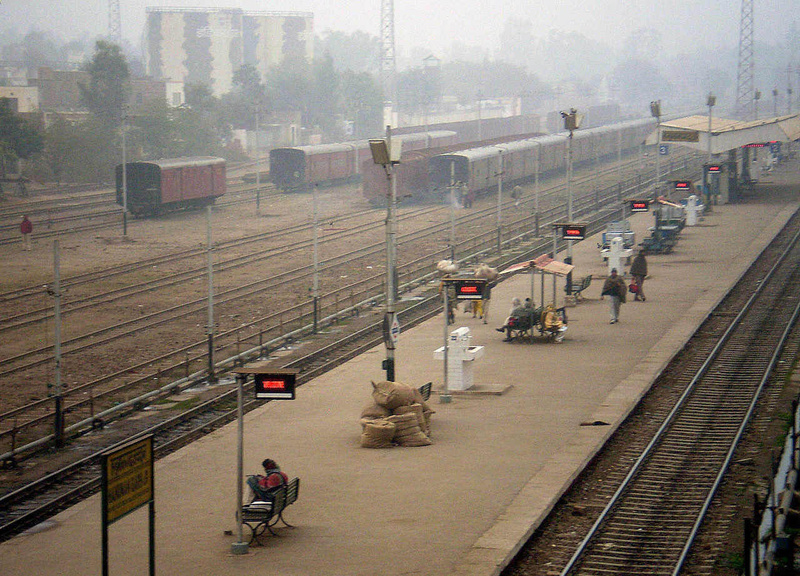 About 12 tracks make up the MG side of the station, with only 1 of these serving as a platform line. The platform is of the double occupancy variety, with a diamond in the middle to allow for crossovers. The BG side has 2 tracks serving 2 platforms and little else to its credit! The rest of the MG yard is made up of storage tracks, carriage sidings, a cutting yard and the trip shed for YDM4's. Two locos are in shed at the time and on a line adjacent to them stand 2 breakdown cranes, both homing to Churu, one of them sporting a Cowans Sheldon builder's plate.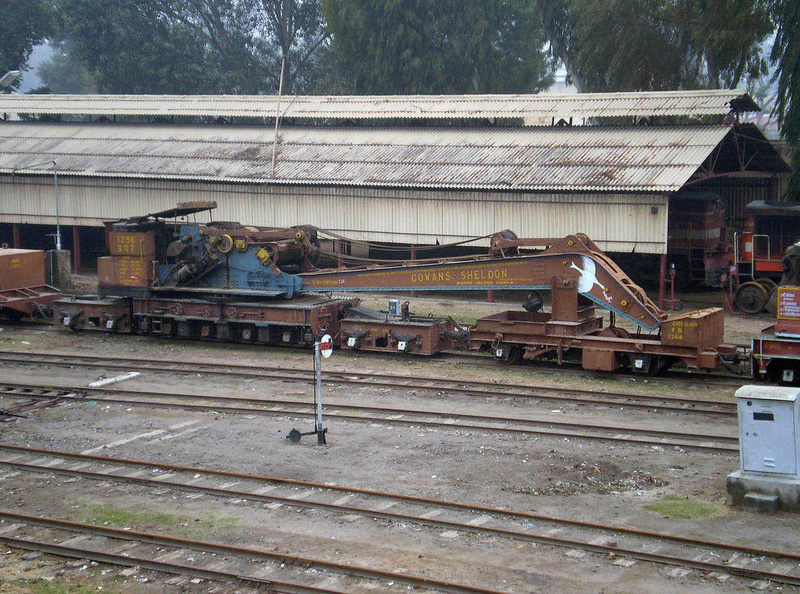 Just south of the trip shed is an assortment of rolling stock â€" a freshly overhauled ARME (Accident Relief Medical Equipment) twin car set, 3 inspection cars, an a/c sleeper car and a couple of 8-wheeler tankers. Evidently, Hanumangarh is the chosen base for the recently isolated 'Canal Loop' section, not only for loco maintenance but also for disaster relief and line inspections.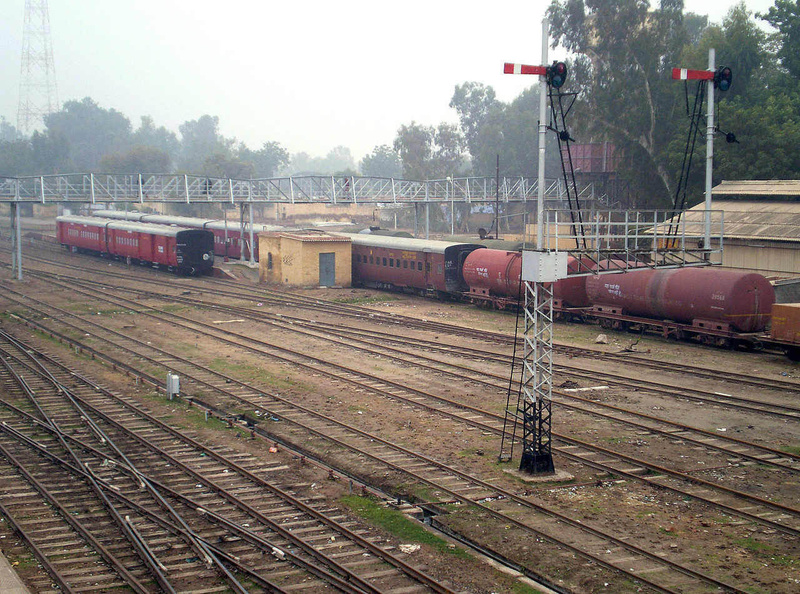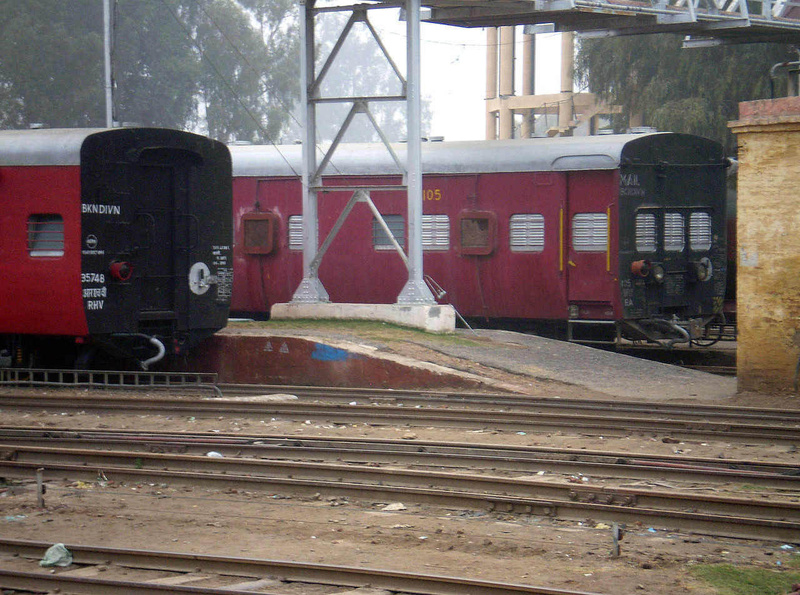 A lot of the stock at Hanumangarh includes recent transfers from Churu, when the Sadulpur â€" Ratangarh section closed for conversion. Some of this stock would, no doubt, be redeployed in this section but a majority of it, sadly, awaits the scrap yard.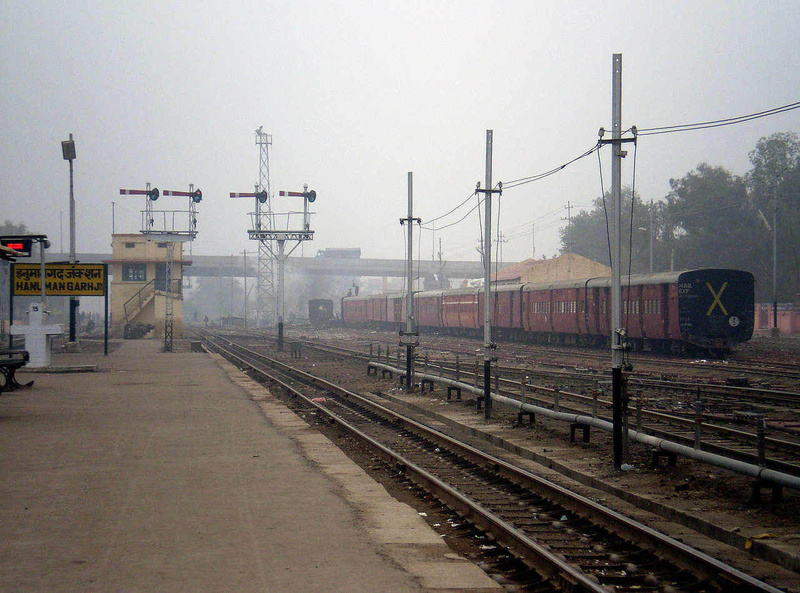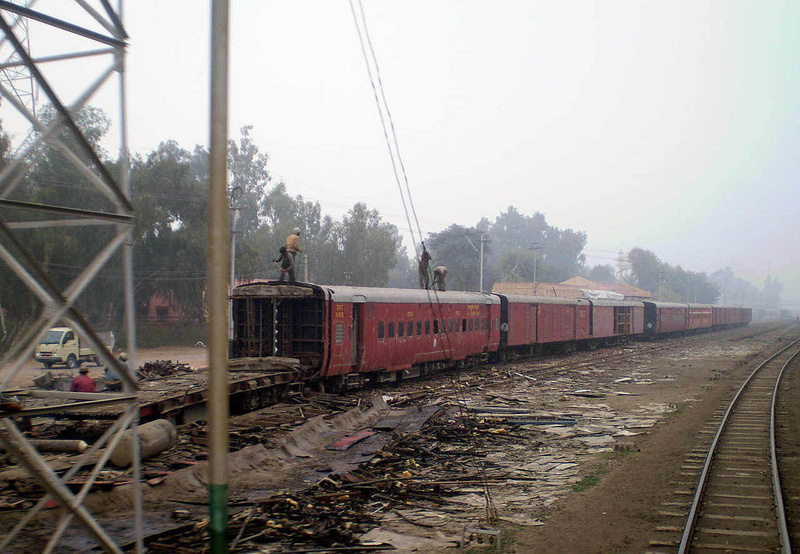 I stock up on bananas, digestive biscuits and several bottles of water for the seven hour journey that lies ahead of us and pray really hard that I don't have to visit the 'facilities' on board or en route! Meanwhile, Mohan effortlessly downs his second cup of piping hot masala chai (spiced tea)!
Departure on train 1SHS to Suratgarh is delayed by 15†on account of the late arrival of 2SHR, the early morning service to Sadulpur. YDM4 #6627, wearing Phulera's rarely seen livery of chocolate brown, is in charge of the 8-coach train, and soon after it crosses us to enter the northern half of the platform, the starter is set and our train departs Hanumangarh.
2 SHR, which originated in Suratgarh in the wee hours of the morning, would have to undergo reversal at Hanumangarh to continue its journey southeast to Sadulpur. The reversal at Hanumangarh facilitates easy rotation of links in and out of the trip shed, while also providing an opportunity to refuel the thirsty YDM4s. The relative alignments of the various lines can clearly be seen as we exit the station in a northwesterly direction - the MG line, southeast to Sadulpur, crossing the BG, south towards Suratgarh & Bikaner, by way of a diamond.
The Sadulpur â€" Hanumangarh section is 180 km long and the Hanumangarh â€" Suratgarh (via Shri Ganganagar) section is 204 km long, giving the 'Canal Loop' a total route length of 384 km. Four pairs of trains cover the route from end to end, with an additional pair providing service between Hanumangarh and Shri Ganganagar. The latter is also the busiest section in terms of passenger numbers, providing morning commuter service into Shri Ganganagar, the most important town served by the Loop. The trains take only 20-30 minutes longer than the bus and of course charge a fraction of the fare!
All trains run in 8 car formation, made up of an SLR each at the end, and 6 unreserved GS coaches in between. GS 6674 looks empty and inviting at first, when we board at Hanumangarh, but fills up in no time at the very first halt station of Jorkian! There are 8 stations on the 67 km run to Shri Ganganagar. Only 3 of these are crossing stations, the rest are halts, made up of nothing more than a contractor run little hut!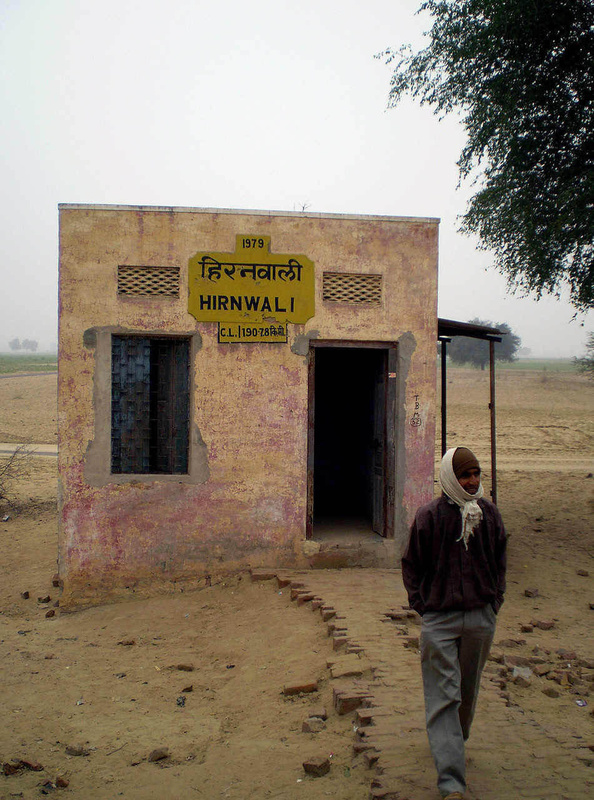 At Hirnwali, the next halt station, we are joined by a rather raucous group of young lads in their late teens / early twenties, eager to know who we are and why we're there. Not completely satisfied with our answers, they get on with their banter, which at first is delightful to hear because they speak a unique dialect of Punjabi, something they call 'desert Punjabi'. But the desert Punjabi soon switches to desert rowdiness as they bring out their cell phones and compete with each other to play the loudest, shrillest tunes possible! Something we would have to endure till Shri Ganganagar!
Looking outside though, things are a lot more peaceful, with plenty of colourful mustard and paddy fields for company. All this greenery is a little surprising at first, given that we are essentially in an arid area, but if you consider the number of irrigation canals nearby, the fertility does make sense. Even so, areas that have not yet come under the plough â€" between the rail alignment and fields, for example â€" are an instant give away to the desert this once was.
We've been on a fairly decent clip since we departed Hanumangarh, with a couple of runs timed in the 55-60 km/h region. We find out later that the max permissible on this section is 65. The track seems to be in good shape, with a fair amount of ballast and a very acceptable ride quality, giving one the impression that the section did have a higher speed capability in its heyday.
Crossing stations are made up of the through and a loop, with LQ semaphores provided at the outer and home signals only. Dholipal is the first such, and features only a little more in terms of buildings and furniture, than Hirnwali did! On its sole platform bench, the markings of its original parent railway â€" NR â€" can still be seen.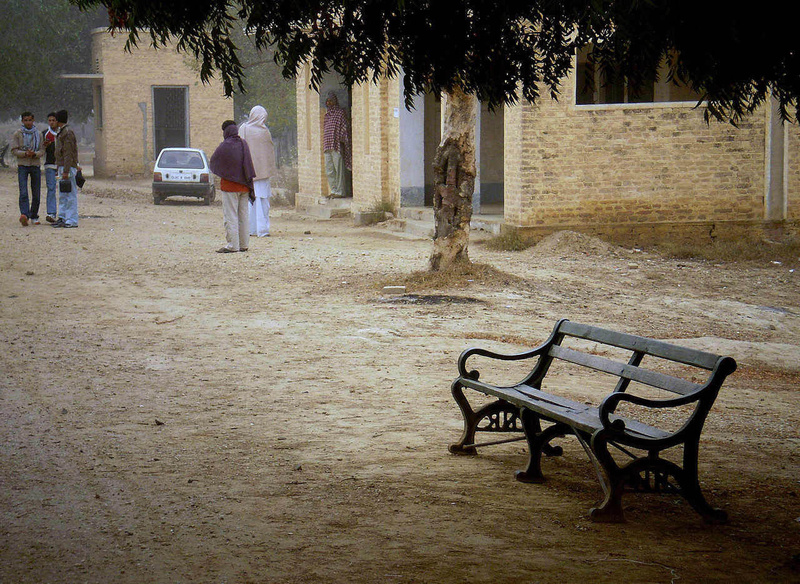 It is 10 o'clock and the sun finally makes an appearance. We are a few stations short of Shri Ganganagar now, and while the vegetation is still made up largely of desert scrub, there is a lot less sand to be seen. Closer to Sadulshahar, we cross a good many orange orchards, and my fellow travelers are quick to point out that the area is well known for its oranges! Who would have thought?! Sadulshahar appears to be the only town of significance en route and also brings with it a lot more passengers! Expectedly, it is a crossing station and boasts 3 tracks, including a now abandoned goods siding.
Between Sadulshahar and Shri Ganganagar we are as close to the Punjab border as we will ever get and the large numbers of Sikh men and women traveling with us is evidence of this. It is difficult, however, to ascertain what kind of Punjabi they speak â€" the conventional one or the desert dialect â€" as their conversations are completely drowned out in the ruckus created by our immediate traveling companions!
The orange orchards continue unabated west of Sadulshahar and closer to Shri Ganganagar, vibrant mustard fields take over from them. At our last crossing station of Banwali, however, the sand reappears momentarily, almost doing away with all signs of ballast on the loop line!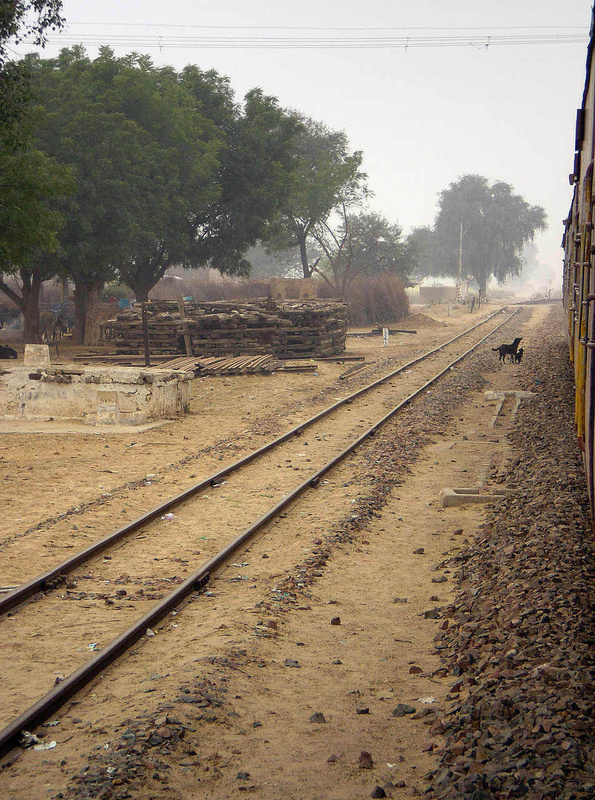 Shri Ganganagar is the northernmost city in Rajasthan and the headquarters of the District of Ganganagar. It commands respect both geographically as also for being the area's most important agricultural centre. The transformation of Ganganagar district following the construction of the Canals has given it the nickname 'food basket of Rajasthan'. No mean feat that! The growth of the town can be evidenced by its outskirts, stretching for several km's before the station is reached!
On the eastern approach to SGNR, the MG pit lines can be seen on the right (north) and a 6 track yard can be seen on the left (south). A standard 8-coach rake is stabled on one of these lines and behind it stands a full length ART consist. It seems unlikely, however, that the Canal Loop's ART is based at SGNR. For starters, Hanumangarh seems like the more appropriate location, and secondly, the line on which it stands leads to a stub end, giving it limited access to stations west of SGNR!
Behind the ART is a rather large goods shed, sadly out of use! On the BG side â€" all to the right (north) of the MG alignment â€" is a small carriage stabling yard and a couple of goods sidings, which do appear to be in use, even in the absence of any freight stock. The BG side has 2 platforms, whereas the MG has just 1 main, with a low-level mini island thrown in between the adjoining tracks. Our train is assigned the tiny island platform, as our second crossing of the day â€" train 2SHL from Suratgarh, behind #6738 â€" is already standing on Pf 1. On the 3rd track, stands a lone YDM4 # 6650, on station pilot duties. Our arrival coincides with the arrival of train 1SHB, the BG passenger from Bhatinda â€" one of 8 pairs of BG trains that call on the station each day!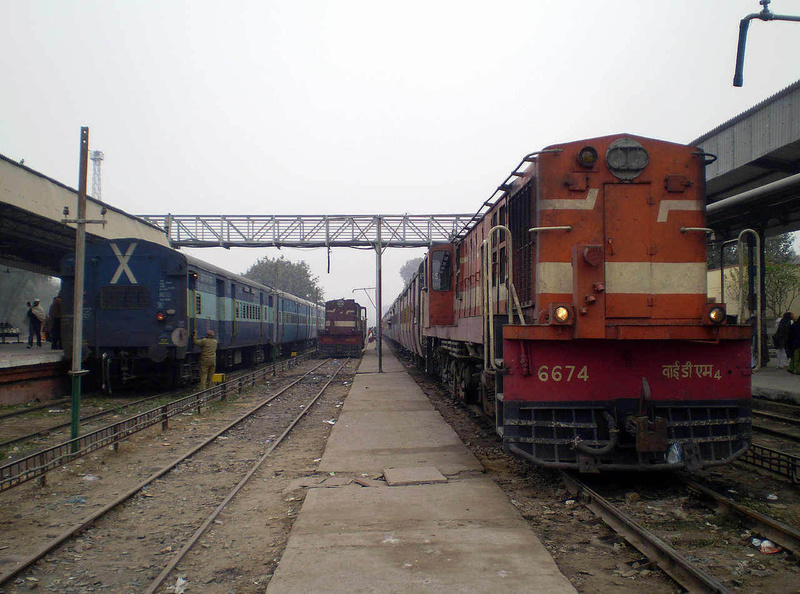 We haven't lost any further time on our run in to SGNR and departure is 10†late. We have new seat assignments now, and much less of a crowd for company, as we will be spending the rest of our journey to Suratgarh on board YDM4 6674! As we settle in, the BG line to Hinumalkote, Abohar and Bhatinda leaves the MG alignment in a north westerly direction, just past station limits.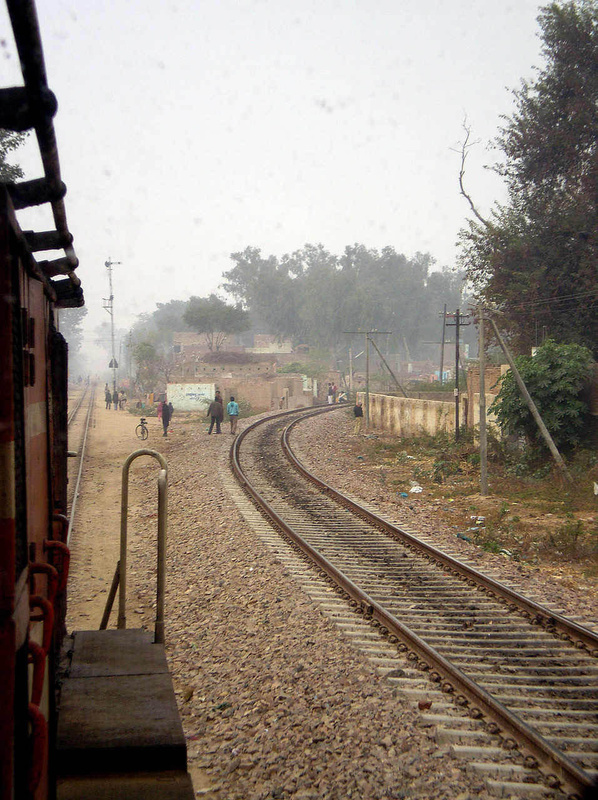 The difference in track quality can be felt almost immediately upon our departure from SGNR â€" not because we're riding in the cab of a YDM4, but because there is hardly any ballast or packing to speak of on the track bed! It is no coincidence then that the speed on this section is limited to 40 km/h all the way till Sarupsar, a good 115 km away! This somewhat explains why 1SHS and other trains on the section have been allotted 12 hours to cover 384 km! Ironically enough, fresh ballast has been stacked trackside for the impending gauge conversion project, whenever that happens!
Once we are past the town's built up area, colourful mustard fields reappear along both sides of the rail alignment, with the odd orange orchard appearing from time to time. To our north, several brick kilns can be seen as well, providing backdrop to the lush yellow fields. As we get closer to Prithvirajpur, the first station west of SGNR, a section of the Bikaner Canal, from where the line gets its name, accompanies the rail alignment for several km's, often matching curve for curve!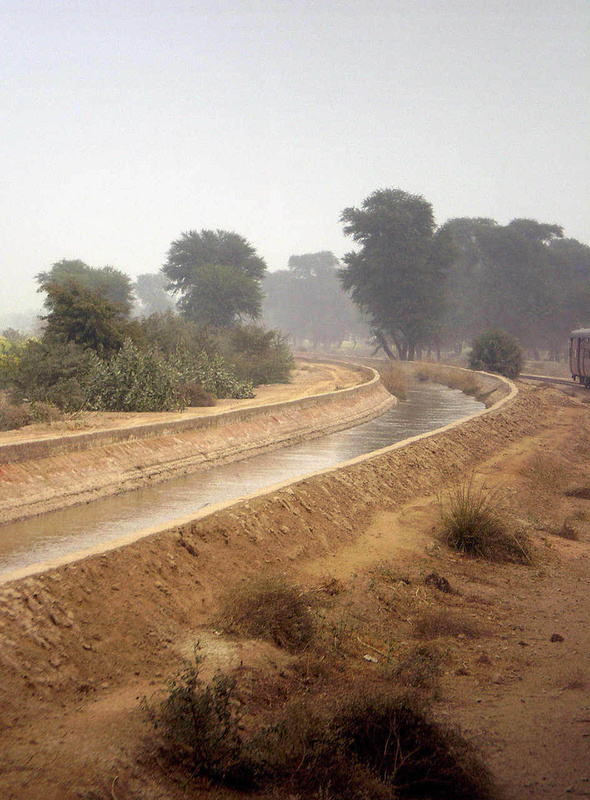 At Prithvirajpur, we see more signs of imminent gauge conversion with a BG spec platform already in place - signs that the SGNR â€" SOG section is higher on IR's priority for conversion than the SGNR â€" HMH â€" SDLP section is. At the next station of Kesrisinghpur, the layout of the points suggests that the MG had 4 tracks, including a freight siding, but only the through and the loop are in place today. Remnants of the siding remain, having been partially covered by the BG platform. As a matter of interest, and till the BG finally makes its way here, today both Prithvirajpur and Kesrisinghpur share the honour of being the northernmost MG stations in India!
Between Kesrisinghpur and Dalpat Singhpur halt, military bunkers can be seen at regular intervals, and at least on two occasions, we spot some Jawans (army men) out on border exercises. We are only 8 km away from the International Border with Pakistan, and closer to the halt station, our crew points out the road that leads to it!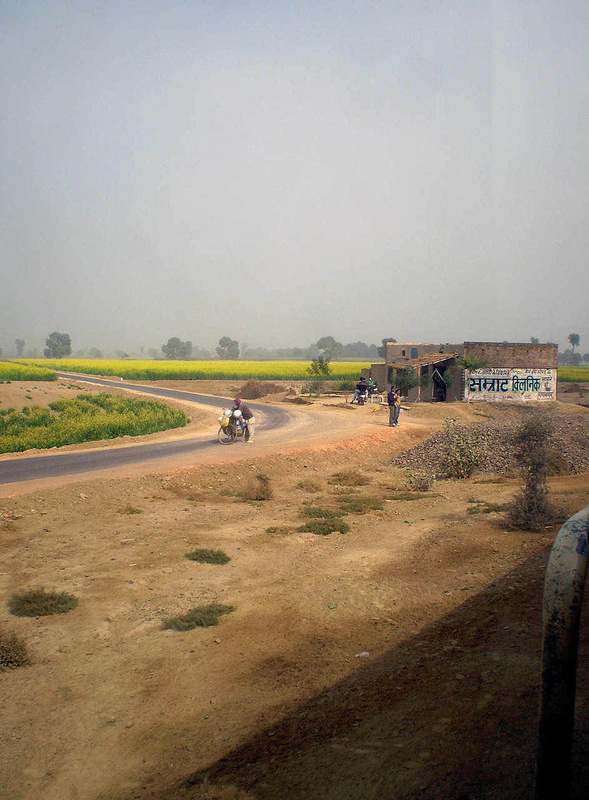 The halt station of Dalpat Singhpur roughly marks the point where we change alignment - from moving in a northwesterly direction to a southeasterly one - thereby progressing towards a 'loop', so to speak. The fourth major crop for the day â€" Sugarcane â€" is sighted just south of Dalpat Singhpur, the tall stalks blocking everything behind them! A few km's later it is back to the staple of paddy and mustard, this time with a tiny little Gurudwara (Sikh Temple) completing the picture!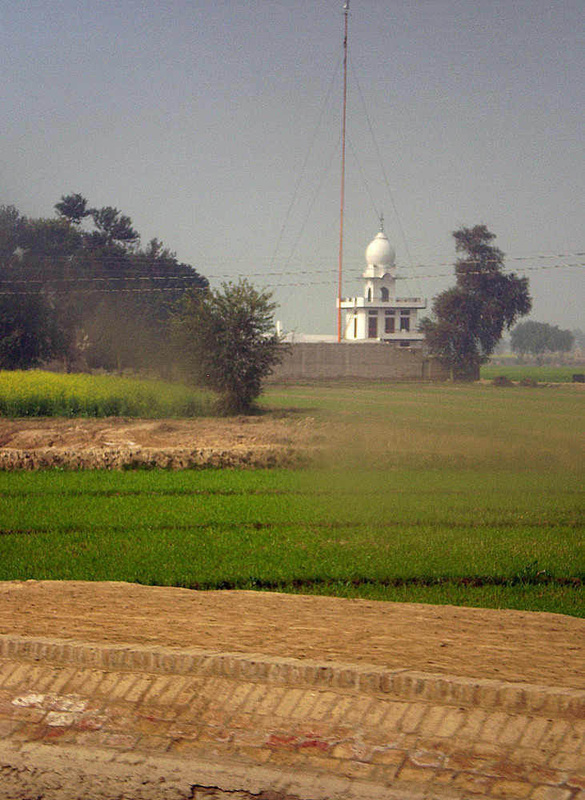 Between Dalpat Singhpur and Sri Karanpur, we pass a postcard perfect hamlet sporting mud huts, complete with their own little aangans (courtyard), livestock and colourful village folk, all nestled within a wonderland of bright yellow fields. There is no doubt that the mustard crop makes all of north India look delightfully pretty in winter, but this part of Rajasthan stands out from the rest of its northern siblings by being a lot cleaner to!
For most of the 12 km stretch between Dalpat Singhpur and Sri Karanpur, there are multiple PSRs (permanent speed restrictions) ranging from 20 to 30 km/h, making the run excruciatingly long. New BG platforms have been constructed at Sri Karanpur as well, dwarfing the MG ones and considerably shrinking the yard, which not long ago accommodated up to 6 MG tracks, including a lead into a now defunct cotton mill. As we pull in to the station, our third crossing for the day, train 2SHS, is already waiting for us behind #6611.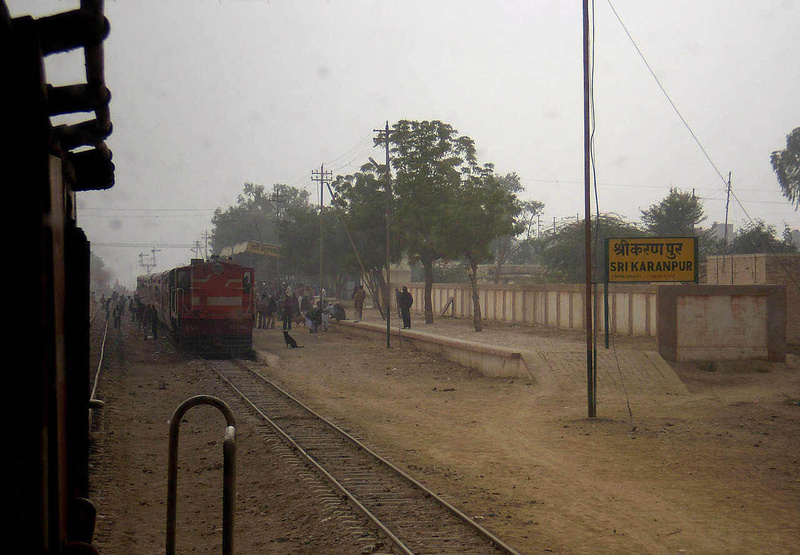 Unlike the HMGH - SGNR section, there are a lot more crossing stations than halts on the SGNR â€" SOG section. Of the 6 halt stations, Zorawar Pura is the 2nd, made up of a kuccha (unpaved) platform, a little hut and a handful of people waiting to board. It is as typical of a sleepy wayside branch line halt as one can hope to find. Opposite the platform is an elderly couple, working hard on their field, providing for the only other activity in the area!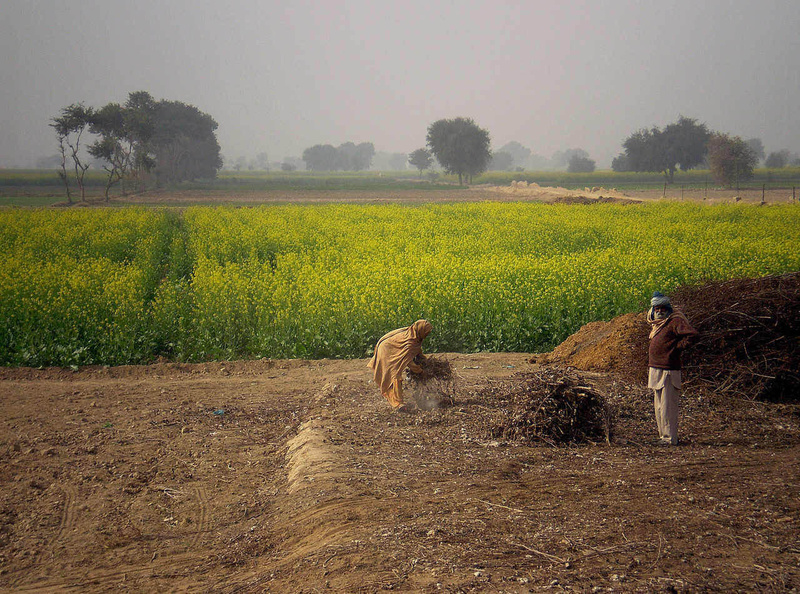 A little south of Gaj Singhpur, we see our first sand dunes and it strikes us how quickly the landscape can change in these parts. Sensing our excitement, the crew informs us that there is a lot more of it to be had further down the line! In the scorching summer months, they tell us, sand can play havoc in the working of trains, not to mention how 'coated' everyone gets, especially during a desert storm!
Rai Singh Nagar is the next big crossing station en route, and other than boasting the now common sight of new BG platforms, it is also home to a significant BSF (Border Security Force) cantonment. While there are very few uniformed men to be seen, the station is chock-a-block with colourfully turned out civilians, most of them uninterested in boarding our train!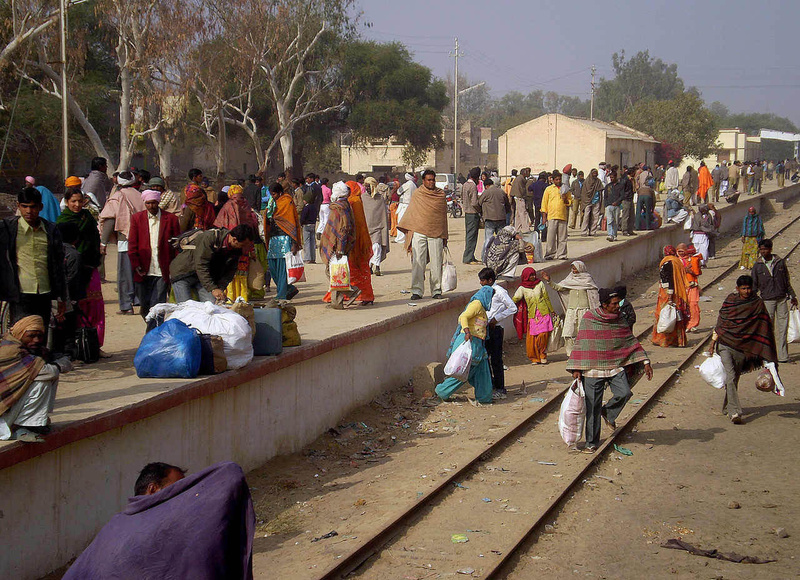 Mohan Nagar is the next point of interest for us â€" not just because it shares its name with my traveling companion, but also because all the 'dune action', so to speak, is centred around it! A couple of km south of Rai Singh Nagar, the dunes makes a second appearance, this time a lot bigger and much closer to the rail alignment!
The crew informs us that gauge conversion is going to be far from easy, especially when transporting raw materials to the present alignment. Access for road vehicles is an obvious issue and the other is that very limited serviceable freight stock is left on the MG to provide an alternative! By the time we reach Mohan Nagar, desert shrub is the only semblance of green we can see, with everything else covered in sand, including the track bed!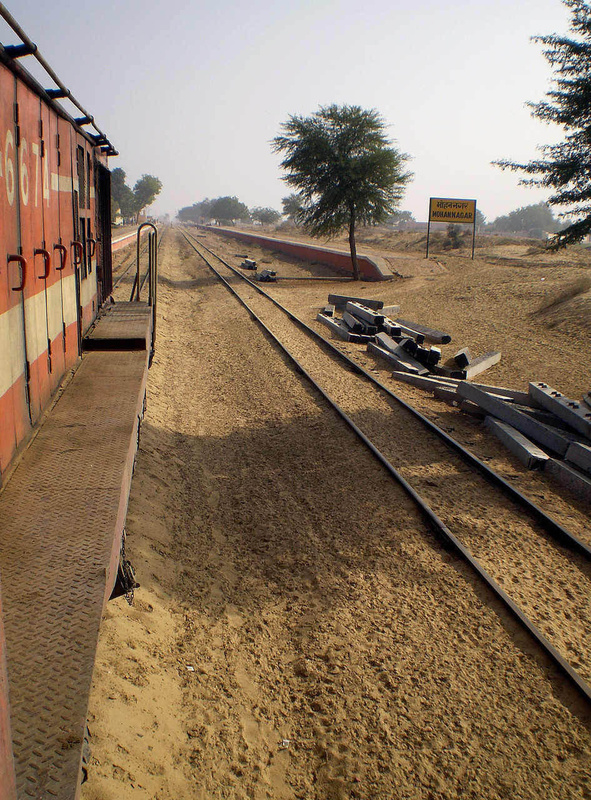 South of Mohan Nagar, as sand dunes completely envelop us, stretching as far as the naked eye can see, we realise that the crew wasn't in any way exaggerating!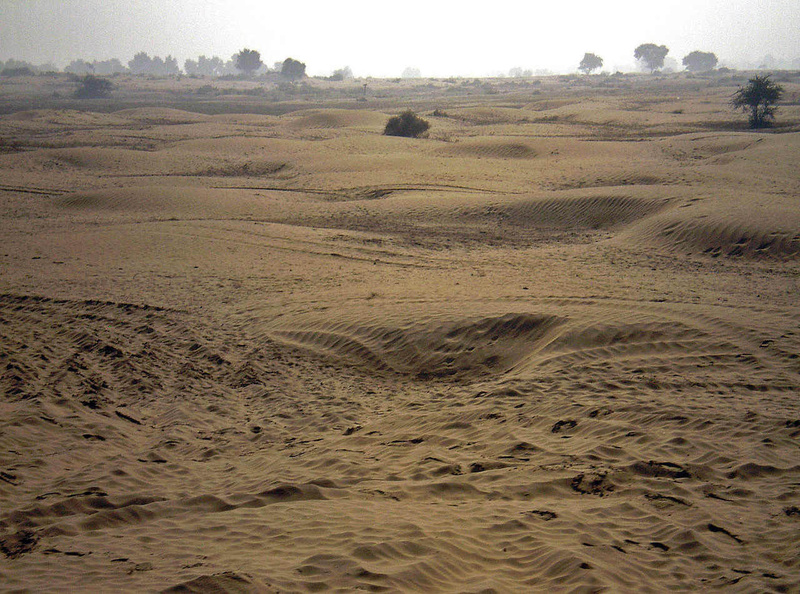 As if the desertscape we're experiencing isn't mesmerizing enough, a pack of Cheetal (Spotted Deer) and Chinkara (Antelope) emerge through the sand dunes and scamper across the train's path! Once they've done so, a few of them stand and stare at the train while the others settle down to graze.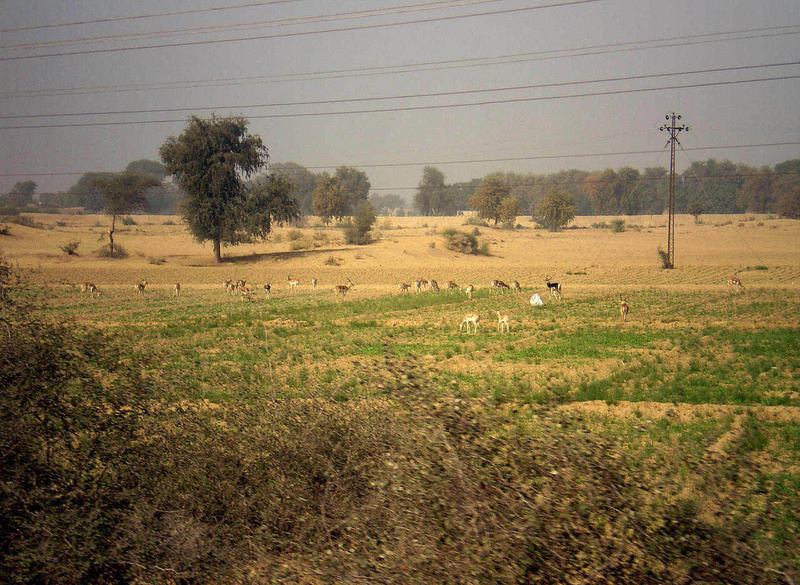 Cheetal and Chinkara are known to have some of the fastest legs on the planet, but nevertheless we thank our stars that the section's MPS is on the conservative side! Both species are revered and protected by Rajasthan's Bishnoi tribe, a lot of who, the crew tells us, have settled nearby. The same community that cried foul after actor Salman Khan went on a rampage a few years ago!
South of Masaniwala Halt, the dunes seem to abate, the desert scrub is more apparent and the mustard fields begin to reappear. Between Masaniwala and Bugia, we cross the Suratgarh branch of the Rajasthan Canal.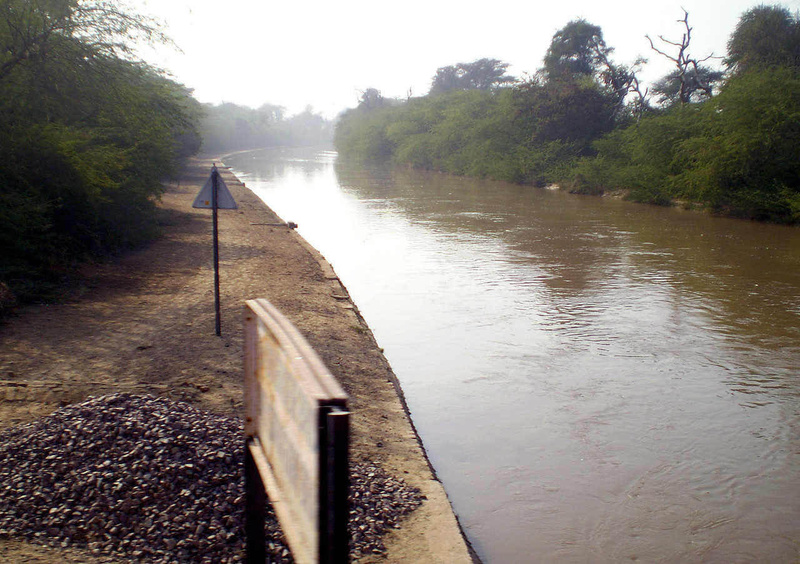 At Bugia, as we pull in for a halt, the local canine's trot along, and once the train has come to rest, sit patiently by the loco. Almost in sync, our assistant fetches some left over rotis (Indian bread) from a bag and tosses them over to the dogs. They don't fight over the food, only wag their tails in gratitude. It is a most touching ritual, and one that we have observed before in Rajasthan - on the Mavli â€" Marwar section, a few years ago.
Jaitsar is the last station before Sarupsar and features another wonderfully tranquil village setting â€" little houses with mud walls, a local talaab (pond), and beautifully attired women folk, standing with their backs to train, in typical Rajasthani fashion!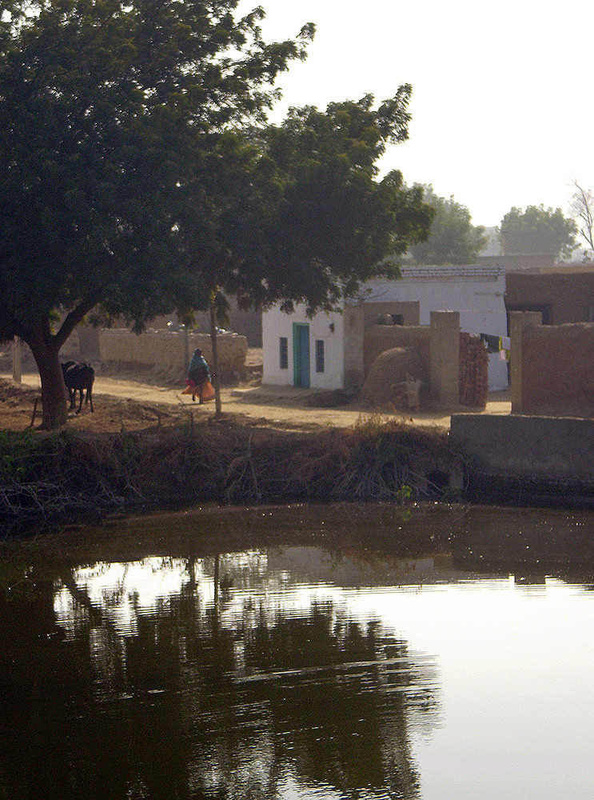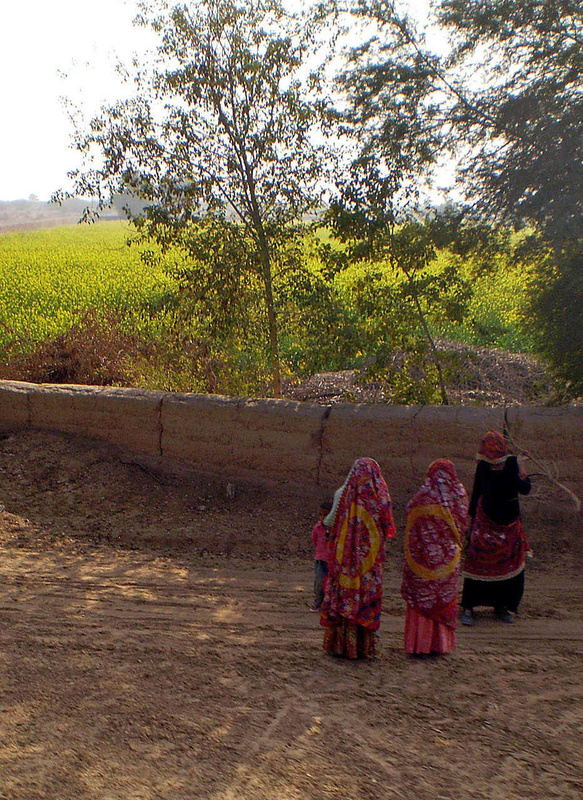 Closer to Sarupsar, the countryside changes so dramatically that it is somewhat hard to believe that barely a few km's ago we were cutting through sand dunes! Paddy and mustard are the chief contributors to this sudden lushness, and behind them in the distance, stand several brick kilns dotting the horizon.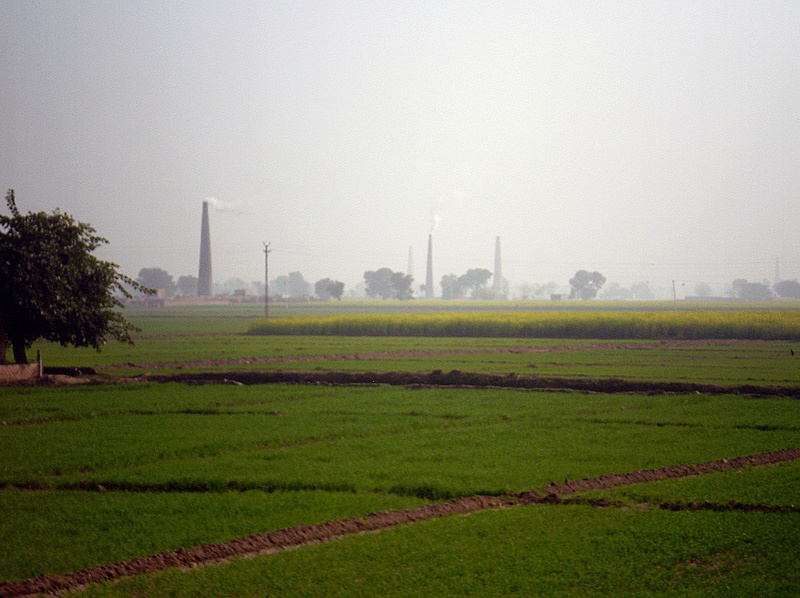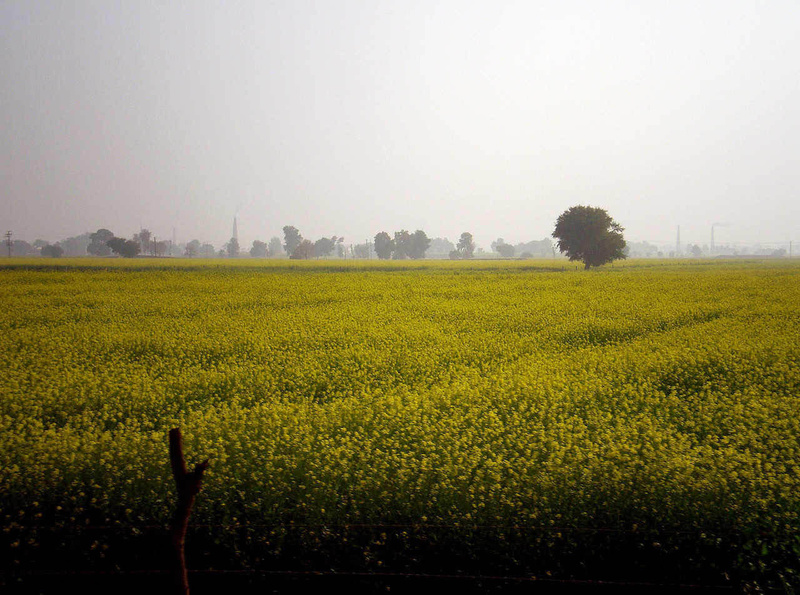 As we clear the outer signal for Sarupsar Jn., the BG line from Anupgarh can be seen, curving in from the southwest, to join our alignment for the final approach to the station.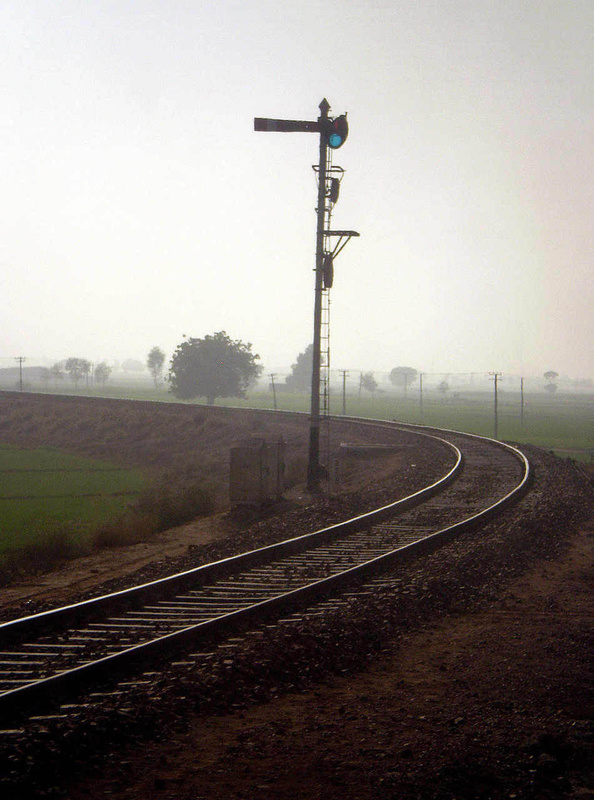 Sarupsar's yard is made up of a single MG and 2 BG platforms, 9 tracks in all - with the BG taking up as many as 6. There is a military siding here which explains the relatively large size of the BG yard. We pull in only 10†late but will have to wait a while for our last and final crossing.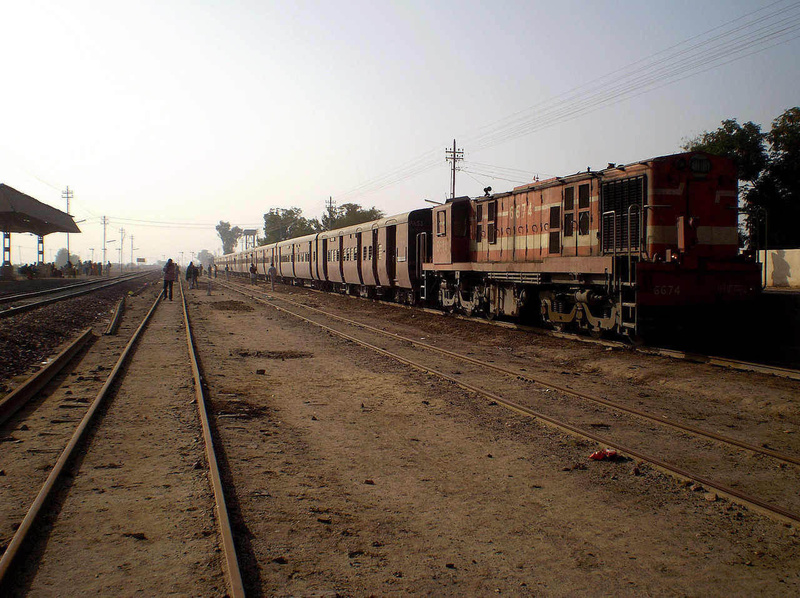 All along our journey, I've had complete cooperation from my stomach â€" thanks in no small measure to the bananas and digestive biscuits that I procured at Hanumangarh! But as if to be on cue, once we've come to a complete halt at Sarupsar, I grab the last remaining bottle of water and make a beeline for the toilet of the front SLR! I step out, much relieved â€" not just from the visit to the toilet but the sheer timing of it! As I clamber aboard our YDM4's cab, Abu Road's 16825 brings in the late running 4SA, a 10-coach passenger bound for Anupgarh - our last crossing for the day!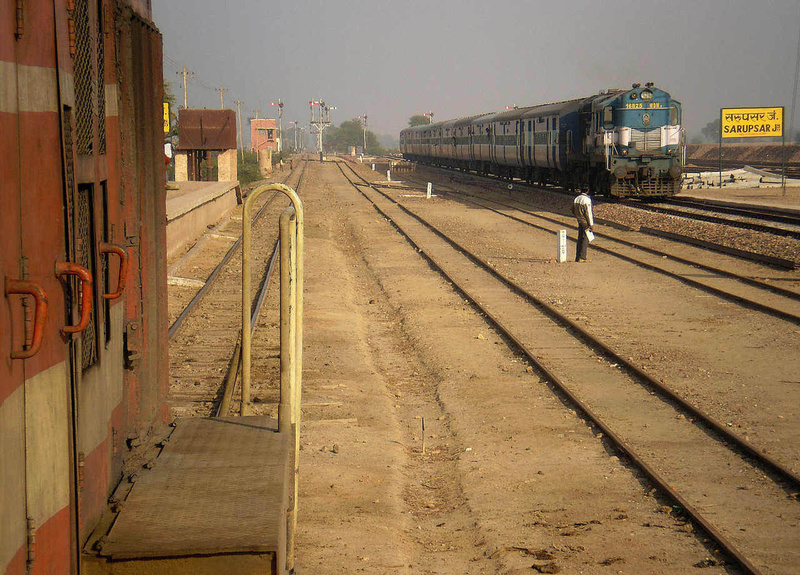 Thanks to the much delayed crossing, departure from Sarupsar is eventually 66†late. The good news is that the time-table allots almost an hour for the 22 km run to Suratgarh! What's more, the MPS is now up to a staggering 65 km/h on what is IR's only remaining dual gauge section!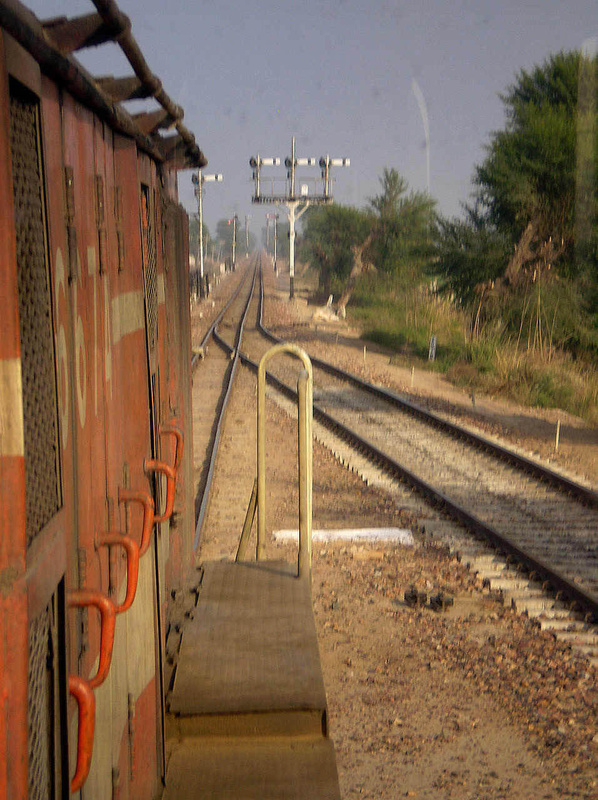 Even though they share a common rail, for some strange reason, speeds on the BG are higher by 10 km/h. Further baffling is the fact that despite being a single line section, individual semaphores have been provided for both gauges!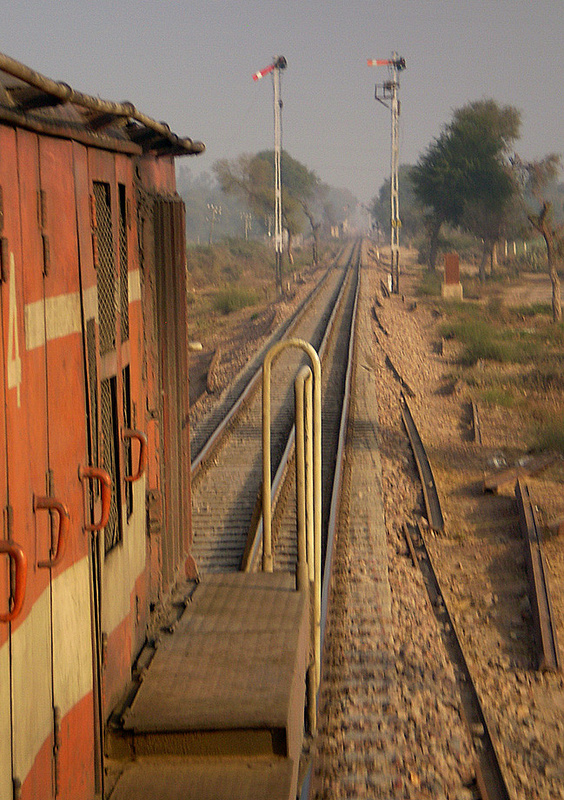 There are two halt stations and a single crossing station between Sarupsar and Suratgarh. At the crossing station of Bhagwansar, the BG side comprises two platforms and four tracks, and on one of these stands a military special of several flat wagons and 3 military carriages, including a 3AC car. Between Bhagwansar and Suratgarh, we cross an offshoot of the Ghaggar River (or Hakra), which also supplies water to neighbouring Pakistan.
On the approach to Suratgarh Jn., a bypass line leaves the alignment to join up with the BG main, north to Hanumangarh and Bhatinda, thus allowing trains from Anupgarh to skip Suratgarh completely. Considering that the section's two passenger trains both originate from Suratgarh, the bypass only seems to serve military specials or the odd freight â€" apparently there is some mineral loading on the Sarupsar-Anupgarh section! Just short of the home signal, the MG splits from the BG, bringing to an end our dual gauge run!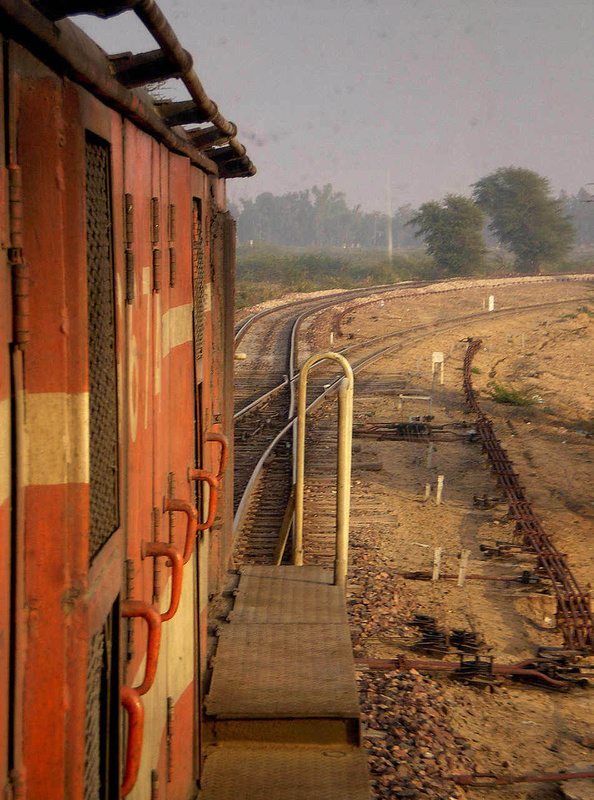 We pull in to Suratgarh Jn. 30†late at 16:25. We thank our crew, exchange contact information and then decide to mill around Pf 1 for a bit. A cursory look at the destination board on the front SLR explains the rake link for our train - 1SHS will return to Shri Ganganagar the next morning as 2SHS!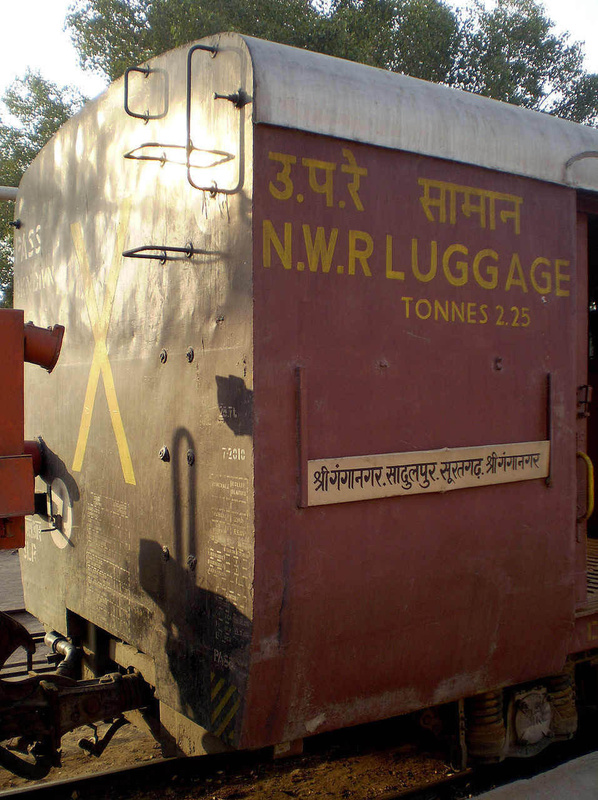 Within minutes of our arrival, a shunting crew takes over #6674 and leads out the rake of 1SHS to the pit lines, which are located south of the platforms. The MG side of Suratgarh Jn. has 2 platforms, on either side of a wide low level island, with an elegant station building in the centre and several bougainvillea trees around. On Pf 2, passengers await the rake of train 4SHL to Hanumangarh.
I stroll over to the south end of the yard where the MG pit lines are. #6457 is yard pilot at SOG and waits patiently for the rake of 4SHL to be prepared by the carriage staff. There are two more rakes in the pit line area, including the train we came in on. Walking further south to where the MG depot is located, and looking back, it is easy to assess the general layout of the yard, with the BG station area visible in the distance.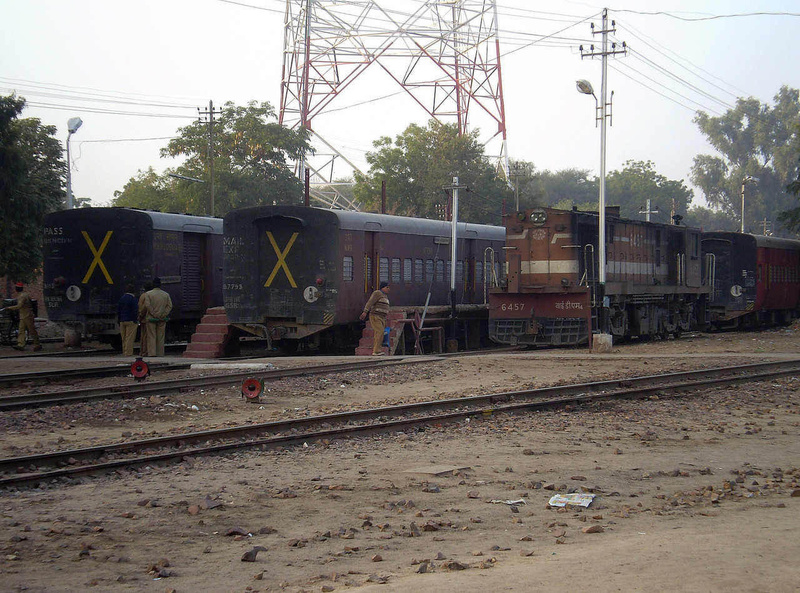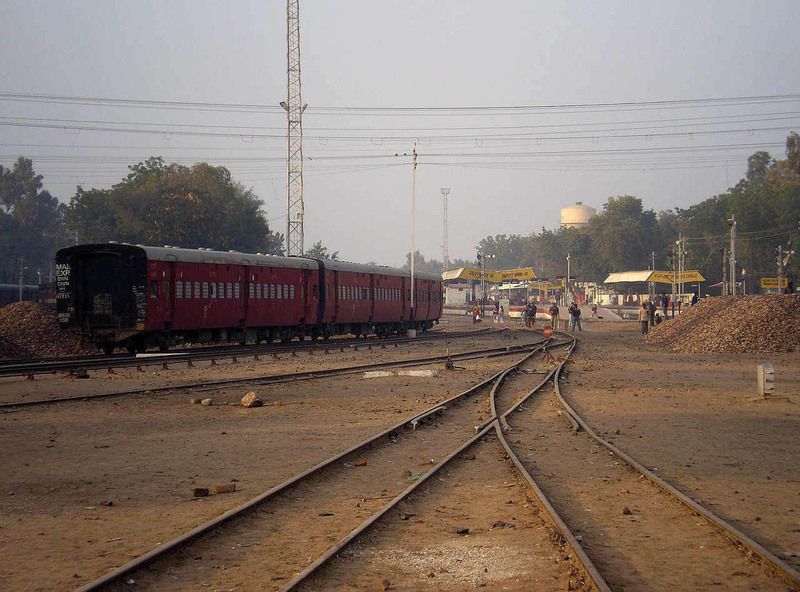 The MG yard is the bigger of the two, having as many as 12 tracks â€" 2 for the platforms, a loco run around, another for an ARME unit, carrying Churu markings on it; 4 more for the pit line and depot; a couple for storage of rolling stock, and on the north end of the yard, 2 for a goods siding which lies in disuse today.
On the BG side, there are 3 platforms, a through track, a stabling line for mixed use and a goods siding, again to the north of the station and seemingly inactive! While the BG station area isn't much to speak of, Google Earth later reveals a decent sized freight yard â€" possibly serving the thermal power plant there - well south of the station and completely out of view. On the stabling line, located at the south end of Pf 5 stands # 18797 - a very weathered WDM3A from Bhagat-ki-Kothi (BGKT) â€" sans crew and idling away to glory!
To break the monotony â€" don't get me wrong, I love the sound of a diesel idling but absolutely abhor wastage â€" along comes a Lucknow WDG4 #12212, with a south bound coal laden BOXN-HL train, most probably headed for the thermal power station at Suratgarh. A lone FOB connects the BG to the MG side and is located at the north end of the platforms. We get there in time to see the departure of train 4SHL, which is already 20†late at its point of origin! As the semaphore arm drops and the train begins inching out slowly, a double header from Katni brings in yet another south bound coal working, following close on the heels of the last one.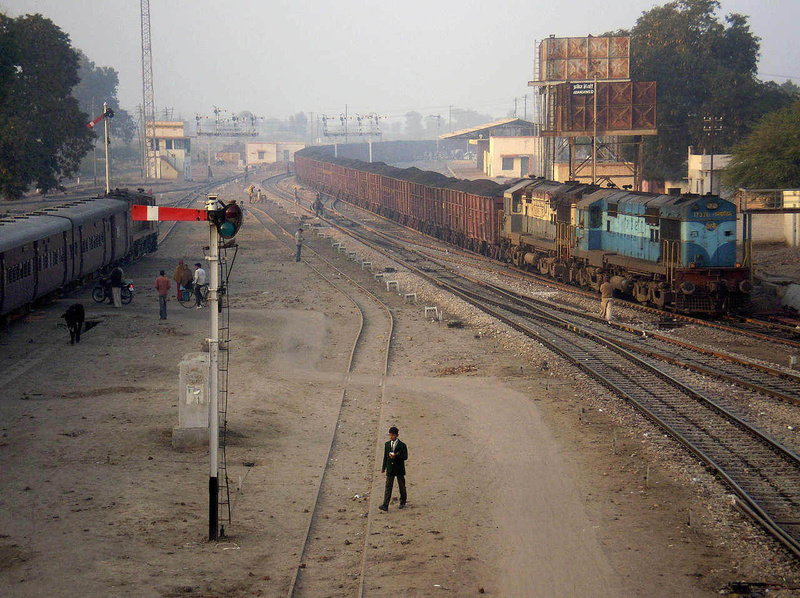 On what is certainly one of the best PA systems I've heard on IR, # 4888 Barmer â€" Kalka Express is announced running late by 30 minutes. It is the train we will be taking back to Bhatinda and since we have some time to kill, we decide to step out into the town for a bit. Suratgarh is home to a large army cantonment, as also a forward air base, which explains the presence of several dozen men in fatigues, dotting the bustling bazaar (marketplace) adjoining the station. The market in turn offers them everything from fresh food carts to vegetable and fruit vendors to general stores to clothing supplies, chemists, the works! It is full of life, a lot of colour and an assortment of tempting aromas!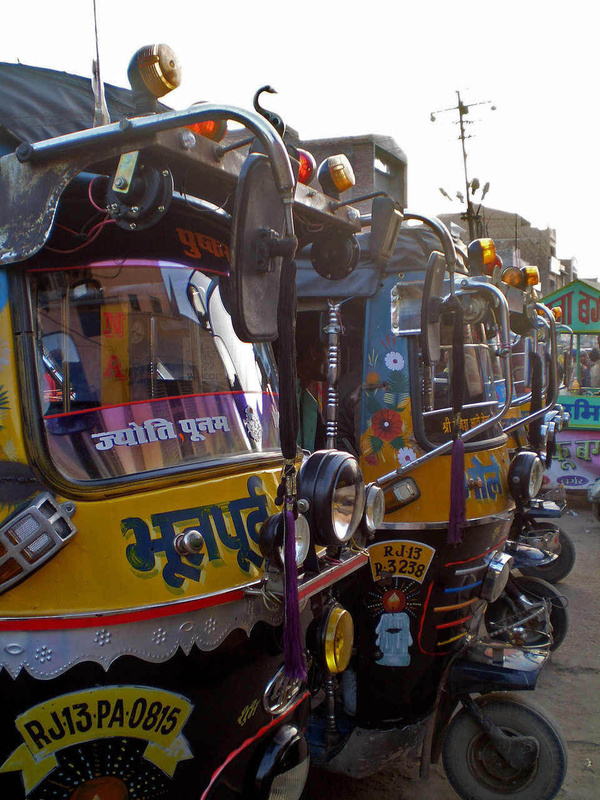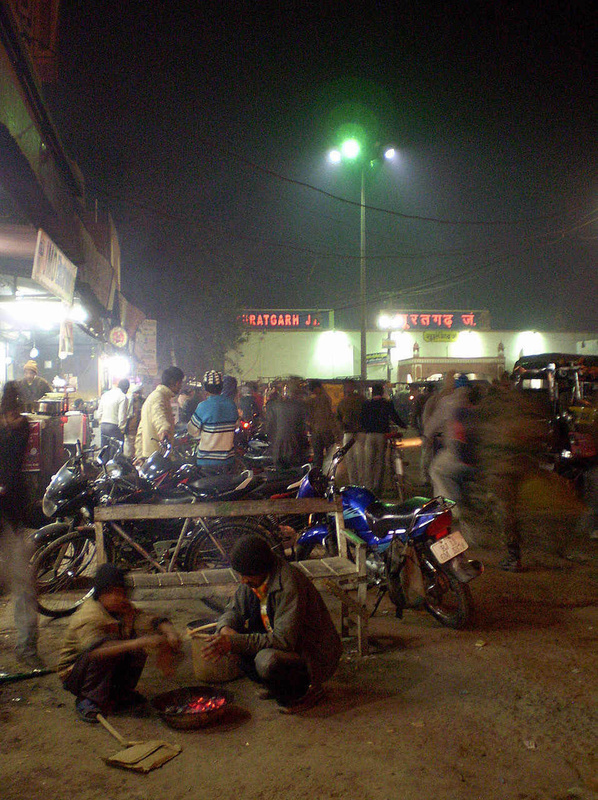 Mohan leads me to Hotel Maharaja, where he has in the past, spent an evening between trains. The lighting is duller than what one would expect in a lounge bar, making the task of writing notes rather laborious. To add to that, a repeat telecast of some random cricket match blares out of the television set and the ban on indoor smoking clearly doesn't apply to this fine establishment! I decide to concentrate instead on the food - some Dal (pulses), Roti, yogurt and Limca, while Mohan feasts on his Tandoori Chicken, Pakodas (fried snack) and Beer, as I look on longingly! A leisurely dinner later, we stroll back to the station, where the MG side has literally turned in for the night!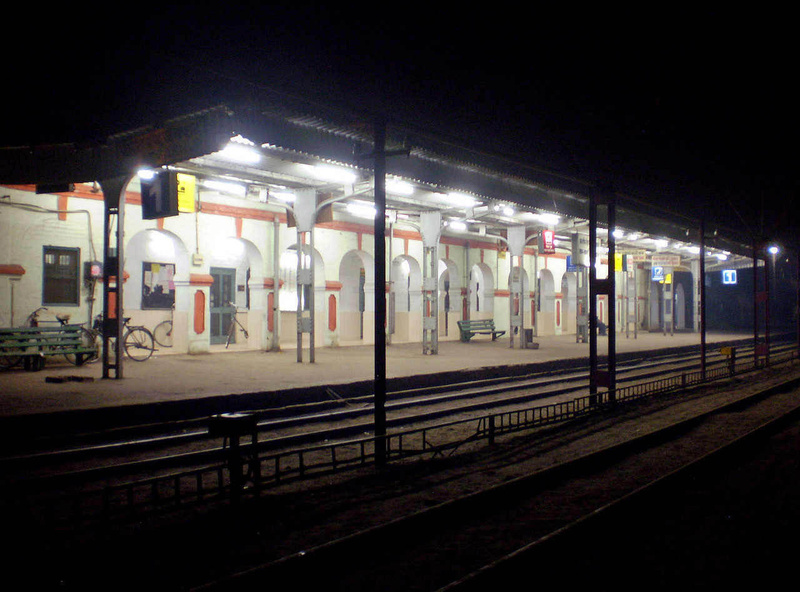 Meanwhile, the BG side, especially platforms 4 & 5, are abuzz with activity, with multiple arrivals and departures â€" the incoming Bhatinda â€" Suratgarh passenger, a northbound Holiday Special, the Jammu â€" Ahmedabad Express â€" essentially everything except the Barmer â€" Kalka! On Pf 3, the rake that brought in the evening service from Anupgarh is backed out by a DMx from BGKT, with none of its marker lights working and only its SLR facing headlight switched on â€" a complete violation of safe working practices, no doubt!
It has been an exhausting day thus far and the cold has finally begun to get to us as we sit out in the chill of the open platform watching all the action. We move to the platform shelter and hustle around a tea stall to get some warmth and just wish our train would show up sooner rather than later. Over an hour into our wait, Abu Road's 18616 brings in the late running Barmer â€" Kalka Express, with a most confusing formation, as it runs amalgamated with a selection of coaches bound for Haridwar! Our plan is to 'upgrade' from SL to 3AC and sources at the station inform us that we're more likely to get that accommodation in the Haridwar portion of the train. Thankfully, we manage to locate said 3A coach in the short halt that #4888 has at SOG, and to ease matters some more, a cordial TTE writes up the paperwork in a jiffy and assigns us a side lower and side upper.
Departure is eventually 55†late and within minutes its lights out for us. The 3 plus hours of sleep that follows is as sweet as can be, no doubt brought on by our sheer exhaustion, but also aided by coach 07104, which is in great condition overall, sporting new flooring, reading lights, and above all, some of the best sound damping I have experienced on IR â€" not a squeak to speak of!
We pull in to a foggy and bitterly cold Bhatinda Jn. at 30 minutes past midnight, having lost another 25†en route. Our hope is to get on to the southbound Punjab Mail but our bookings are for the perennial late runner, Udyan Abha Toofan Express! As it happens, the Mail has already left and our next best option is the Avadh Assam Express, which, although has a later scheduled departure than the Toofan, is rumoured to be running closer to its right time! I use the word 'rumour' as I've come to the conclusion that it's about all you can hope to expect from IR when it comes to train running status!
The next four hours is spent outdoors, in close to freezing temperatures, as the only waiting hall on offer is hopelessly crowded and very thoughtfully designed to be open on three sides! We scout every bit of the station for the so called 'upper class waiting room' but no such facility appears to exist. Four rounds of tea and half a dozen trips to the enquiry counter later, we pause for a moment to reflect on it all. Amongst the hordes of passengers waiting it out in inhuman conditions for their respective trains to appear, we are possibly the only two who are well versed with the working of the railway, and, to our good fortune, IT enabled, so to speak. Even so, hitting up trainenquiry.com on a smart phone or raising our voices at the clerk, who shutters himself behind the enquiry counter, gets us the same result each time â€" dated, inaccurate and completely misleading information. 'Bol to diya, bas pandrah-bees minute mein aajayegi' (I've already told you, it'll be here in 15-20 minutes).
Back on the platform, as misled crowds continue to gather in hope, beneath the supposedly state-of-the-art train status monitors (which, no doubt, cost Ambala Division a small fortune!), it takes them a few minutes to realize that the information displayed on these 'real time' screens is about half a day old! Having given up completely, we stare vacantly at a Tuglakabad DP1, which has been idling away incessantly ever since we got there, without any crew of course, but thankfully with its markers on!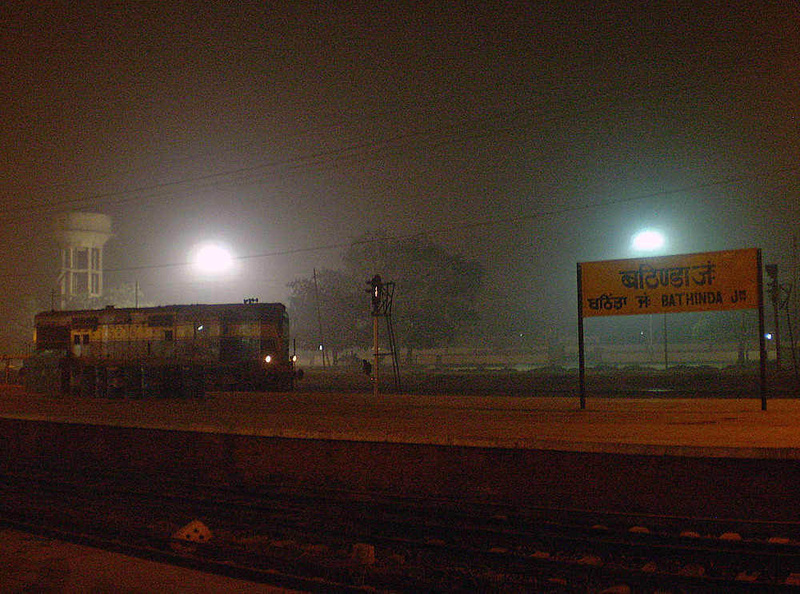 Three hours into our wait, the Avadh Assam shows up and there is a great deal of excitement on the platform but unfortunately no room for us on the train! It would have to be the Toofan for us! After several more pandrah-bees minute increments, in what surprises me as a link for train 3008, Tuglakabad's DP1 15021 brings in the 4 hour late running U.A Toofan Express! The 3A coach on the Toofan isn't nearly as slick as the one on the Barmer-Kalka but all we're looking for at this point is some sleep and a much needed respite from the miserable conditions outside. Departure at 04:25 am is 4 hrs 10†late, and all we make up en route to New Delhi (NDLS) is a measly 10â€, taking 45†to cover the SSB-NDLS stretch, with an eventual arrival at 11:05 am!
EPILOGUE
The state of Rajasthan was, not long ago, quite easily the bastion of IR's Metre Gauge network. Today, with its total metric mileage reduced to a paltry 1239 km, it is only a shadow of its former self. Without even taking into consideration the likes of the Rajputana â€" Malwa or the Jodhpur Railway, that is still 200 km less than what the Bikaner State Railway had under its wings, 67 years ago!
---