The Lines that United the Provinces
by Bharat Vohra
2008-09-26
---
Come 2010 and the Metro system (DMRC) in Delhi will have a stop practically opposite my house! Central Secretariat, Connaught Place, New Delhi Station (NDLS), Old Delhi Station and Delhi University will be a lot more accessible and only minutes away! But on the 26th day of September this year, with DMRC's Badarpur line still a couple of years from completion, I am forced to contend with Delhi's god awful traffic en route to the station. 2554 Vaishali Express departs NDLS at 19:50 and for those of you who know Delhi well enough, I only make the outer circle of Connaught Place by 19:40! It is a race to the finish for me.
55 minutes after having left home, I'm bombing it down the platform where the station clock already indicates 19:50! Mohan, seemingly quite unperturbed by my absence thus far, has already made himself comfortable in a somewhat overcrowded four berther of coach WGFAC 07005, flicking away the pages of the timetable as he does so. I storm in to cabin B to find four other occupants, excluding Mohan and myself! Instead of being relieved at having made it in the nick of time, I am most distraught to see this population explosion in a first class air-conditioned compartment!
Departure is eventually 5" late and Mohan attributes it to the late placement of our rake. Meanwhile, with the conductor not having made an appearance and our fellow passengers showing no signs of movement, we decide to get on with it and unabashedly pour out red wine (calling it grape juice for the benefit of our co-passengers) and dig into our kebabs - marveling all the while at how the folks at Barauni (read coaching depot!) have managed to make the interiors of our barely 9 month old coach so sordid in the short time they've had. Torn carpets, broken lights, a malfunctioning door, a very moody air conditioning system (which requires the use of noisy fans by night) and as an icing on the cake. roaches!!!
And all this while I have imagined the Vaishali to be one of the `crack' trains on this route! That may well have been the case in the days when it still homed to NER, not so the case today. whichever weird sounding new railway it belongs to! Nevertheless, this is a real shame and least expected of the highest available class on IR. And have I mentioned the overcrowding? I guess I have.
While all this is going on, the burbs of Delhi, the town of Ghaziabad and Aligarh pass by in a flash. At Aligarh, the cramped interiors get the better of me and I take a quick stroll to the front of the train to discover that Kanpur's 22545 is in charge. Returning to the coach, I seek the services of the long absent conductor, who, within minutes, dispatches two of the four wrongly seated passengers into a lower class. With that bit of chaos out of the way, all we have to do now is brave the dysfunctional aircon and the roaches (who probably thrive on the lack of cooling) and try and get some sleep!
At around 6 the next morning, we awake to the characteristic low rumbling that is caused when a train crosses a bridge at even lower speed. It is the Ghagra River. a tributary of the Ganges. offering us our first view of some of the post monsoon destruction caused by flooding in these parts. The swollen waters of the river have pretty much taken over the landscape for as far as the eye can see and having crossed the bridge, we pass what almost certainly would have been farmland, lying completely submerged all the way to the tree line on the horizon.
Further away from the river, as we work our way east, the areas less affected by it comes into view. Intermittent water bodies are visible everywhere. probably remains of the flooding. but what prevails more than anything else is the sheer lushness of the region. Sure it may not have the glow of the north east or for that matter even the west and south of our country but it is easily the richest shade of green I have come across in all my travels through this state. Western UP, which we had traveled through the previous night, seems completely drab by comparison. Sugarcane and paddy are the most visible crops in these parts with a generous sprinkling of Lotus ponds in between. Finally, we have something pleasant to look at. We can now pay less attention to our dreary interiors!
The section from Barabanki to Gorakhpur (GKP) via Gonda (GD) is mostly single track with limited doubling before and after GD and works on-going at multiple locations along the way. At some places, fully laid ballast and track can be seen, at others, bridges are nearing completion, while some just have their earth work in place. Kind of surprising, given that it was one of the first routes on NER to be converted and sees a considerable amount of traffic today. A study of the timetable reveals no less than 46 passenger trains a day and on the conservative side, at least a third as many freights. In fact, on our run to GKP this morning, we see a lot more freights than passengers! Clearly this attempt at doubling is a prime case of too little too late! The railways have obviously let this one slip under their radar.
Freight traffic on the line is made up mostly of BCN rakes carrying food grain, fertilizer and cement. The only other type of stock we see are tank wagons, of the 4-wheeled variety, with BTPN rakes being the exception, rather than the rule. Expectedly, GD locos dominate here, with a few from NER's other BG shed, Samastipur, making up the rest of the mix.
Despite the heavy traffic on a single line section, train control is exceptionally smooth. Aided by MACLS signaling, no doubt, the section controllers are some of the most efficient I have observed on IR. At no crossing station are we made to wait over ten minutes. On at least two occasions, we are put on the through, with a train overtaken on one of the loops and another waiting to be crossed on the second loop.
Gonda is reached about 30" late, with the lead line for the shed visible on our entry and the MG mainline to Mailani right behind it. Once we dock on our platform, the MG can be discerned in the distance, with a couple of rakes preparing for departure and a handful of YDM4's milling around. On the BG side there is little activity with a 4 wheeler tank rake in the yard and a flock of colourful diesels at the east end of the platforms. Amongst these vibrantly liveried locos are two from far away sheds, New Katni and Ratlam.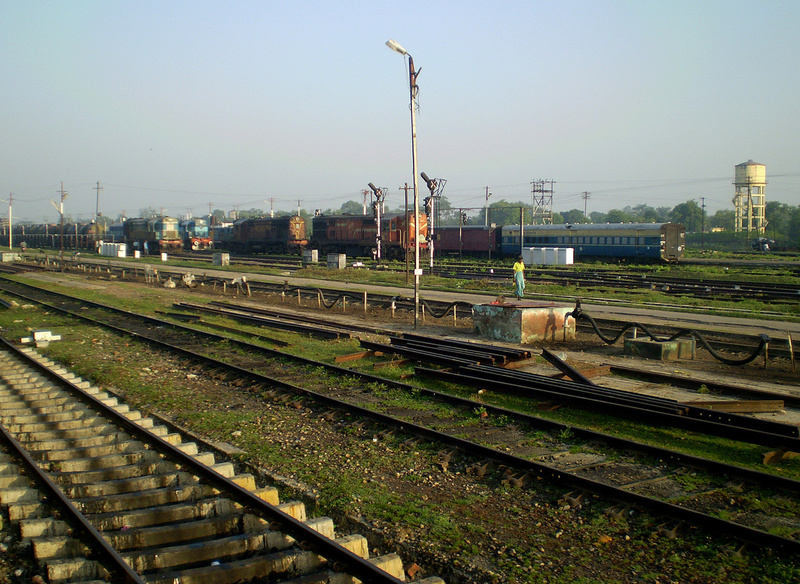 The BG has 3 platforms while the MG has 2 but the BG's island platform. where our train is berthed. appears broad enough to accommodate another set of platforms within it. On the whole, the station, and the yard that follows, definitely has an air of spaciousness to it. The yard is big for sure and even sports fancy, airport style flood light masts! It's a different matter that none of them actually work. but that we will only find out later in the day!
The MG lines are to the north of the BG yard and a succession of BCN rakes ensures that they remain mostly hidden from our view. However we do manage to sight a sliver of a BC set being backed into the yard by a YDM4 and that is enough to bring a cheer to us! Just short of the East cabin, where a gaily painted GD WDS6 works the yards, the MG lines veer away sharply to the north, taking with them a gaunteleted section of track, which, as it turns out later, leads to an oil reserve facility, a little distance away.
With speeds in the 90-100 km/h range, limited stops and some good train running, we don't really lose any more time. Mankapur Jn. is our next point of interest but it turns out to be a complete drab. Not only is it a tiny station but we even miss seeing its branch line - south east to Nawab Ganj & Katra. What does stand out though are the ruins. or at least they appear to be. of an old palace, with fine architecture, just before the station.
Basti, despite it not being a junction, fares a lot better than Mankapur, with 3 platforms, double that number of tracks and a well attended station. To add to all the excitement, a BCN train crosses us as we wait out our halt. Basti, a district HQ, is also the biggest town en route and the heavily built up area before and after the station only serves to reinforce this fact.
There is less water in the countryside now and the green has also somewhat lost its sheen. signs that we are possibly approaching larger habitat. The Rapti River is crossed soon enough and two stations later we roll into Gorakhpur, 35" behind our scheduled time.
A 140 Ton ART is spotted on our entry to the station and closer to the platform stands a shiny ARME twin car set, labeled `SPV' or self propelled vehicle, just in case there is ever any doubt that it was dependent on other motive power. Diesels, numbering about 8 in all and representing Gonda, Malda, Andal, Raipur & Jhansi can be seen in the yard. a lot of them huddled around the refueling points to the west of the station, some at the heads of soon to depart passenger trains, and the less fortunate amongst them assigned menial pilot duties.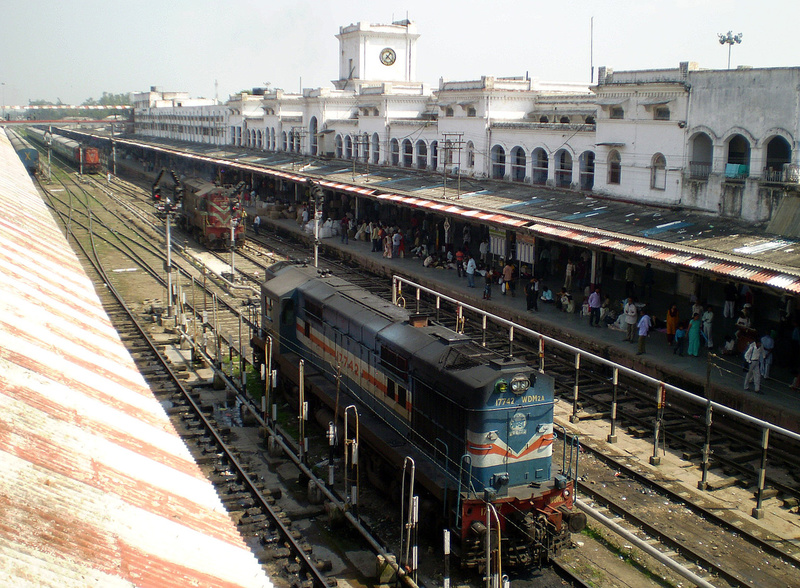 Having severed our electric link at Lucknow, we walk to the head of our train to see who has brought us this far. #17856, a Jumbo from ERs Mughalsarai shed is at the helm, with its `Jumbo' end facing the wrong way!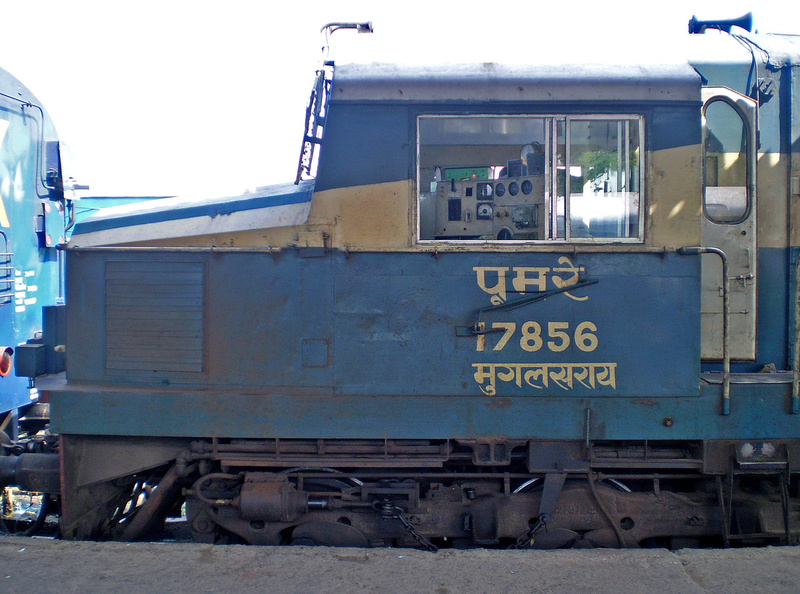 Gorakhpur is a generously laid out station with its BG side having no less than 7 platforms. There are actually 5 but the first 2 serve as split platforms with a diamond in between to allow for double occupancy. A host of covered carriage sidings lie to the east of the main platform and further east, in the direction of Barauni, is the old carriage yard. Two foot over bridges (FOBs) take you over a 10 track yard to what remains of the MG side. two tracks and one split platform. period! The erstwhile MG workshop, which now overhauls BG coaches, runs the length of GKP yard, lying to the immediate north of the MG platform.
Being the headquarters of the North Eastern Railway and an important town in its own right, Gorakhpur boasts a very impressive looking colonial style station building, which presides over a humongous parking area, populated mostly by two wheelers, and a spacious, uncongested station road running in front of it. Since retiring rooms are obviously unavailable we are forced to make our way to the Adarsh Palace Hotel across the road, where, if nothing else, at least the views overlooking the station make it all seem worthwhile.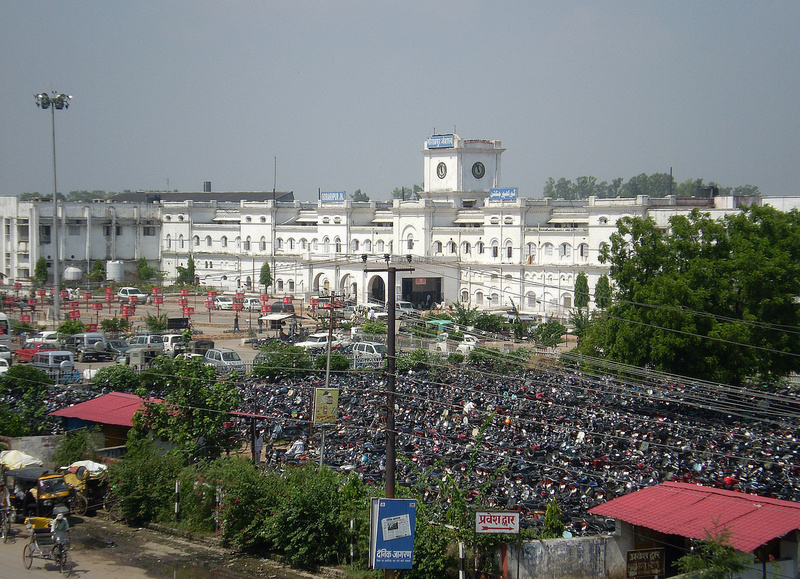 After making full use of the bathrooms and absolutely no use of the beds, we check out of the hotel a little over an hour after we have checked in, much to the irritation of the reception clerk! We hire a cycle rickshaw outside and proceed on an hour-long tour of the railway offices and staff colony at GKP. Little does the unsuspecting rickshaw wallah realize that we will, in a matter of sixty minutes, make his day, if not his week 
Gorakhpur has long been on the agenda for me and for good reason too. It is the only zonal headquarter (of the original nine) I hadn't visited yet, and like Ferozepur, is a place my grandfather had been posted to, on two separate occasions. I had heard several splendid tales about its very peaceful railway colony; the large bungalows contained within and of course their mango-laden trees. By the time the rickshaw ride ends, I am not in any way disappointed. in fact, it seems little has changed in the colony and its surrounds - if the stories I had heard as a kid are anything to go by.
Our tour starts with the offices, which, unlike other HQs I have seen, consist of several buildings, most of them no more than a couple of stories in height. These buildings are laid out over several acres of land and occupy an area equivalent to a large university campus. Unlike other bigger cities in India, where HQs are situated, land availability was clearly not a concern here. The General Manager's (GM) office, for instance, is a single story, colonial, all white affair.
The GM's office isn't the only one with its own dedicated building, two gates and a drive through. most of the heads of departments or HOD's enjoy this privilege too. The important offices are on either side of a single avenue and the entire office area is laid out on a grid. The main avenue continues south for a bit more and leads to the GM's house. a stately mansion in its own right, with high boundary walls ensuring that we can only get a fleeting glimpse of it! Opposite it, is, what I believe to be, IRs only golf course!
North of the main line lies the staff colony, where, leaving aside the GM, all the HQ officers and staff reside, along with their peers from the neighbouring carriage workshop. The houses here are equally attractive to look at and boast both colonial and postcolonial constructions, complete with generously allotted lawns and kitchen gardens. Unlike the GMs house, their views are unhindered.
Between the staff colony and the workshop stands the very graceful albeit abandoned building of the Senior Railway Institute. Earlier that day, while checking out our Jumbo, we had spied this building from the east end of the platforms. Enquiries with an elderly `khalasi' revealed that it was where, in the old days, the `sahibs' and `memsahib's' held their fetes, dinners and dance balls.
Continuing west, along the length of the station yard, we ride along the walls of the carriage workshop, which, during my grand father's days was one of the premier MG workshops in the country. Not only did it overhaul carriages but built several as well, including some fine saloon cars, one of which I had the privilege of traveling in while my dad was posted to the NFR.
The approach to the MG side of GKP, north of the BG platforms, sets the tone for what lies ahead. Relative to other stations in the country, the road itself isn't that congested or dirty, but at places, little or no tarmac exists, rendering the road practically useless for road worthy vehicles. That isn't the only cause for slowdown though. Just when the MG platform is within sight, one has to traverse an active track - the BG lead for the workshop - where a GD WDS6 is seen marshalling some stock as a dead YDM4 stands adjacent to it. Since we are in no particular hurry, this bit of hold up doesn't matter much to us but I can't help think of some hapless soul rushing to catch his or her train and getting held up by yard movements! Catch this happening on the BG side!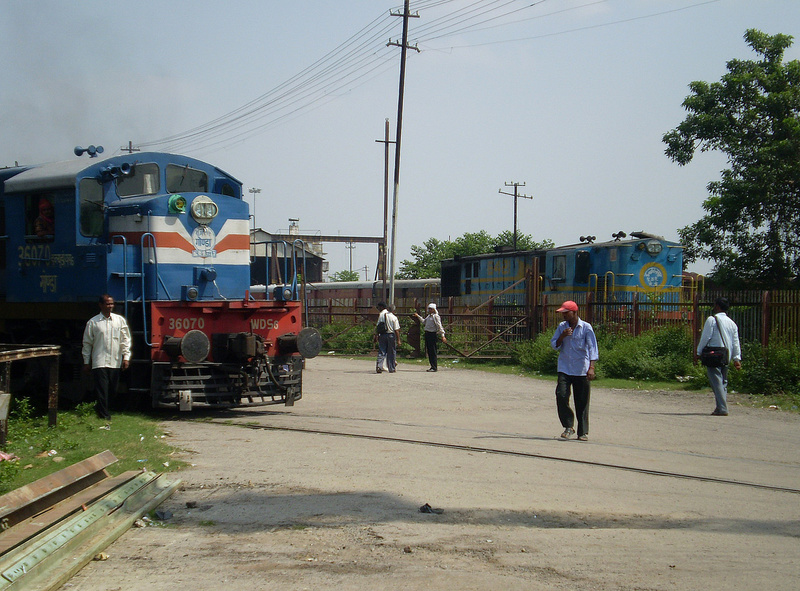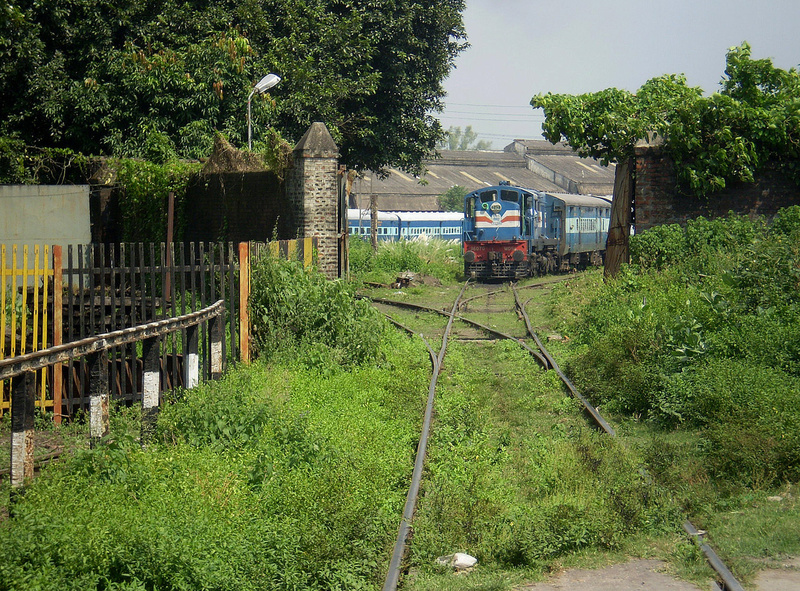 Gorakhpur, once an all MG bastion, has, over the years, not only lost its importance as an MG hub but also, lost several platforms to the BG. What it has gained though is a new status - that of being an MG terminus! With the MG network fragmented all across UP and Bihar, GKP is now the eastern end of lines that stretch as far west as Lalkua. The other two truncated MG systems of the formerly extensive NER network are centred on Chappra and Narkatiaganj.
The sole MG platform at GKP, was, not so long ago, an island platform. Evidence of its now non-existent `other' side can be seen in the demolition of the same. Tracks have been ripped up, part of the platform broken down and remnants of creeper wrapped signal masts visible everywhere. What remains is an overcrowded, tattered and filthy platform, used as a thoroughfare not just by bicycles but also by motorcycles!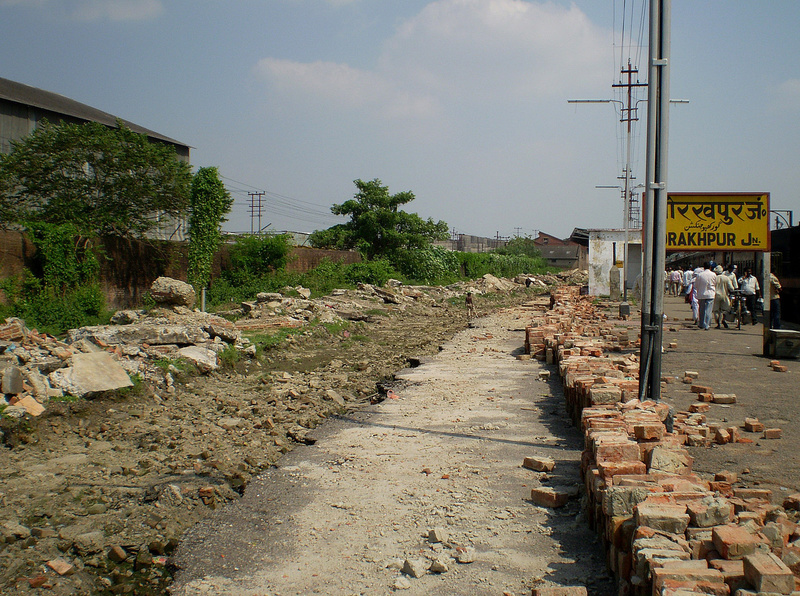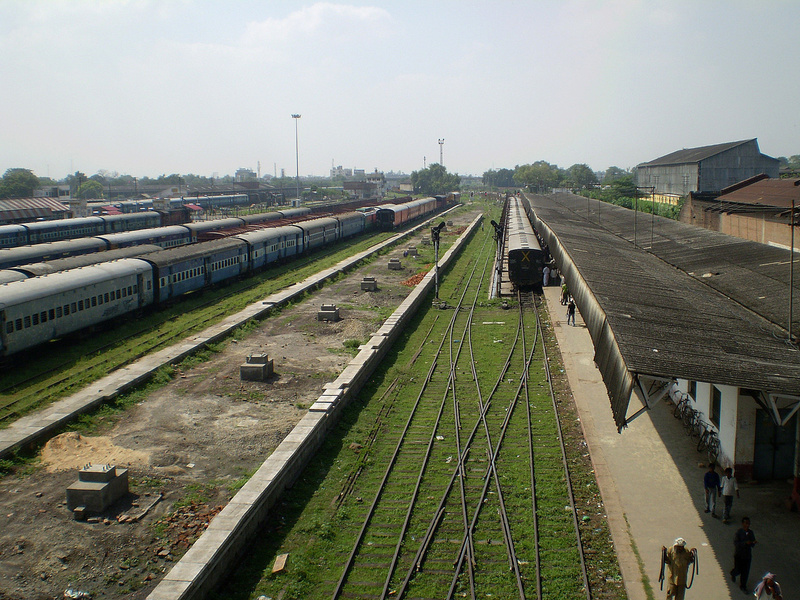 The 10-coach rake of # 5321 Kapilavastu Express has already been placed at the head of the double occupancy MG platform. Izzatnagar's (IZN) YDM4 6461 is in charge and we find seats in GS 01439, a tired looking coach homing to GD depot. Departure is more or less on time at 1400. As we pull out of GKP yard, we pass the same YDM4 we had seen earlier - on our way to the station - and behind it, the GM, NER's earmarked inspection car. no doubt, a boring replacement for an older, more exotic saloon.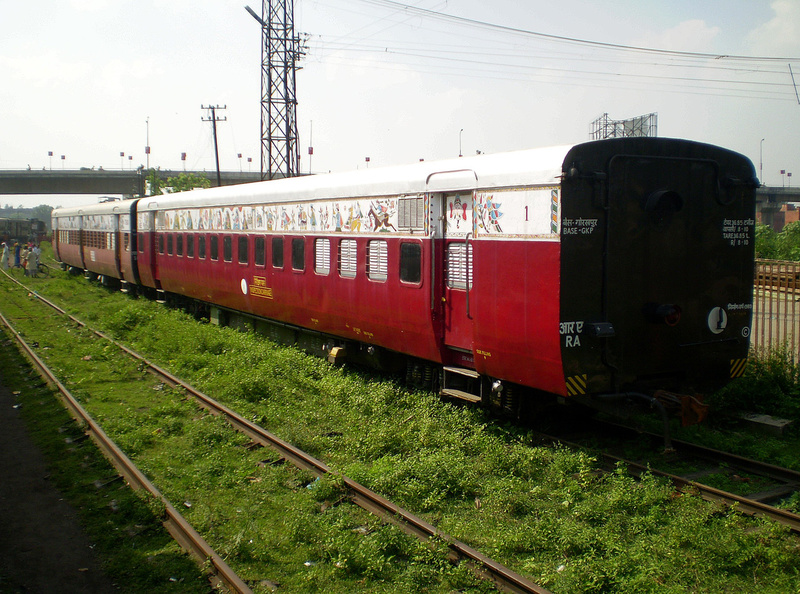 While loco and carriage maintenance facilities have been created at Chappra and Narkatiaganj for the recently isolated sections, the overhauling of all MG stock in this region remains the forte of Izzatnagar Workshop, close to Bareilly. For this reason, all inbound and outbound POH stock is transported on BG flats to GKP. The re-transfer of this stock back to the MG network takes place via a ramp just west of the station and we spot this on our right as the train rounds the curve out of Gorakhpur.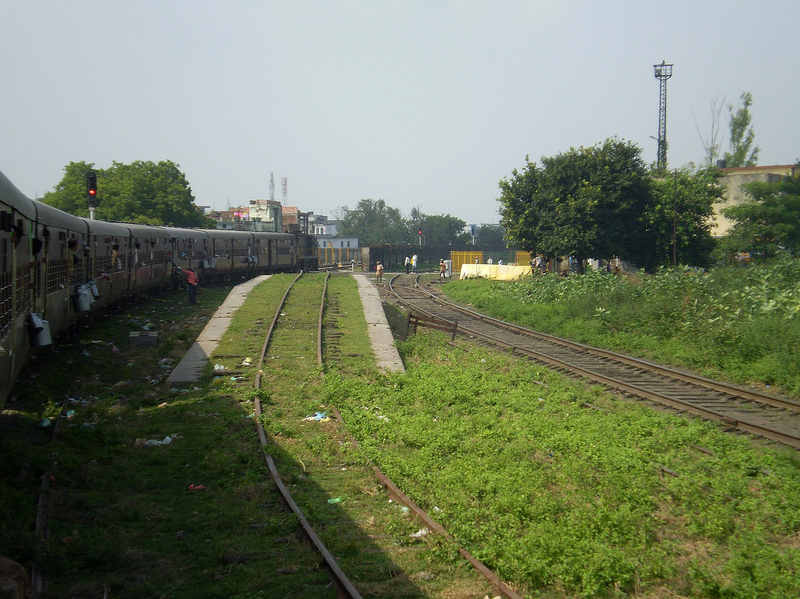 Gorakhpur, in its MG heyday, boasted a very large steam shed. second only to Gonda. with a holding of over 70 locos. The steam shed is long gone of course but the area it once occupied now serves as GKP's newer and bigger BG carriage maintenance facility. the one on the east end of the station having outgrown its use. Motive power seen at the carriage depot both home to CR sheds, somewhat far off Jhansi and very distant Pune!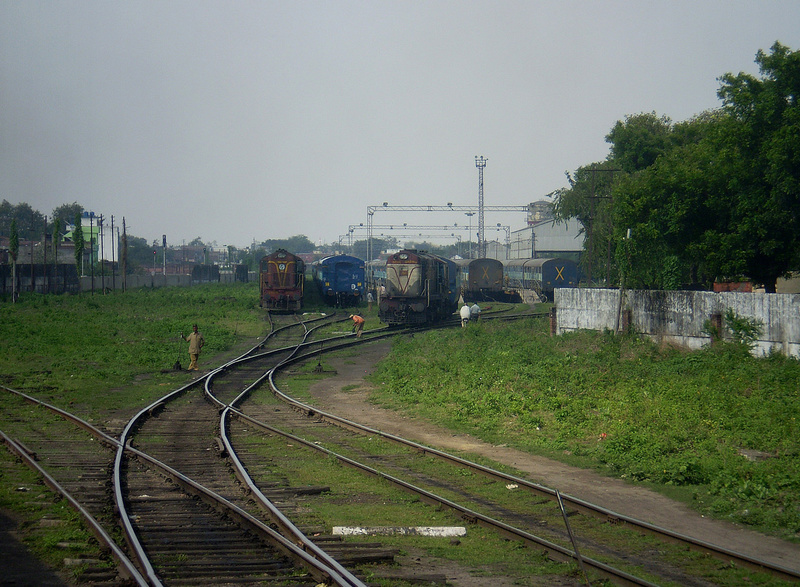 The BG line accompanies the MG till Nakaha Jungle, the first station out of GKP. The station has 5 tracks on the MG side and a couple on the BG side, most of them serving freight sidings. Stone and cement appear to be the principal commodities here and the MG has no less than 2 freight rakes stabled, one of them powered.
Nakaha Jungle is also where we have our first crossing of the day - a GKP bound passenger train awaiting us on the loop as we sail through on the main. A little farther ahead is an abandoned urea plant, and shortly after, a carriage-cutting yard for the BG. This also marks the end of BG sightings for the day. We won`t see the broader gauge until much later that evening.
MACLS signaling ends just short of Nakaha Jungle, with LQ semaphores taking over for the rest of the route west. At most stations along the way, starters and advance starters are non existent but signal gantries for the `home' continue to be in place, supporting just a single semaphore mast. a clear indication that this section has gone through various levels of downgrading over the years. Built in 1886 and the longer of two routes connecting GKP to GD, the `loop' as its often referred to, spans 34 stations over a distance of 220 kms. The shorter BG route via Basti, on the other hand, was once NER's MG mainline connecting Kanpur in the west with Amingaon (which later became a part of NFR) in the East. While not quite the preferred route to Gonda, the `loop' does have some of the most colourful sounding station names we have ever come across on IR. And Mohan sums up this bit of etymology the best..
The metre gauge loop from Gorakhpur to Gonda has a few stations whose names cause one to pause and wonder while poring over time tables and making travel plans; Nakaha Jungle, Kauria Jungle, Peppeganj, Bridgmanganj and Campierganj. Nakaha Jungle is the first station out of Gorakhpur and I had imagined it would be in the midst of a scraggly patch of a once vast forest. It turns out to be a jungle alright, but one made of steel & concrete with nary a tree in sight. A rusting & defunct fertiliser plant, a knackery for old BG stock and dusty loading sidings are the lords of this particular jungle, making for a rather dismal picture. Kauria Jungle is slightly better; a rural station sans forest, but no ugly factories either.
Peppeganj, Campierganj and Bridgmanganj are named after long dead Englishmen and like a few others in North India (Forbesganj, Forsythganj, McCluskieganj, Clutterbuckganj) perhaps too small and unimportant for anybody to ever consider renaming them. But who were Messer's Campier, Peppe and Bridgman? No record seems to exist of Mr. Campier except that the Gorakhpur Town Hall housing the municipal offices is called Campier Hall. So he must have been an administrator, perhaps an able and respected one to have a major edifice like that named after him.
Some deft googling reveals a single tantalizing reference to Peppe in the Encyclopedia of Religion & Ethics Part 14 by James Hastings. "The village and Buddhist ruins of Piprawa stand on the Birdpur Estate of W.C. Peppe near Boundary Pillar 44 and just inside the border of the Basti District." Further googling for Piprawa leads to a stunning revelation. in 1897 a William Peppe had excavated the remains of an ancient shrine on the Birdpur Estate, a shrine built to house a one-eight portion of the ashes of the Buddha! (More details on here - ignore Pippin III & scroll down)
J.H. Bridgman was the "first grantee of the erstwhile Lehra Estate", which he received in 1833 as a forest grant. Today Lehra is a mere village with just a flag halt on the line. Bridgman died in 1862 leaving the estate to his manager cum son-in-law a J.J. Holdsworth. According to Chapter 19 of gorakhpur.nic.in "Places of Interest" - "The office and residence of Holdsworth known as Park House stand about a mile and a half north-west along a metalled road from the Lehra railway station and is now in the possession of the Government of India." Might be worth a visit that, if it's not been ruined by its current owner.
The stations themselves are a mix of crossing and halt stations with the crossing ones typically sporting a three-track layout, a single platform, and in some cases, an abandoned goods siding. At a couple of stations, the siding has given way to a BG roadbed and at least one of these has a BG spec platform under construction. There is little else in terms of gauge conversion activity. At Campierganj, after a rather long halt, we cross our opposite number, the UP Kapilavastu Exp.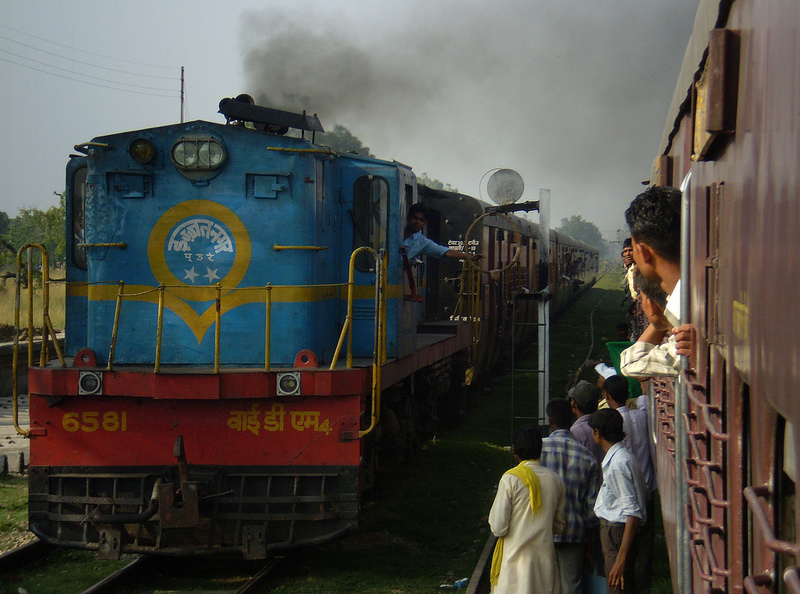 Despite it never having been the main line, speeds are impressive. in those few instances where we actually run at full clip. and somewhere after Campierganj, we time the Kapilavastu doing a brisk 73 km/h. Mile after mile paddy fields accompany us, and call this a bias if you will, but to me, the scenery seems a lot more lush. if that were even possible - than the BG route we had traversed earlier in the day. Little bodies of water are everywhere - no doubt owing their existence to a healthy monsoon - and at several places these have spawned large armies of water hyacinth.
Our third crossing is at Anand Nagar Jn., where another 10-coach rake is already awaiting us. Anand Nagar, originally known as `Pharenda'. a far better name in my opinion - is the most important station on the route with a branch line to Nautanwa, providing access to the Nepal Border. Three platforms, seven tracks, a large but abandoned goods siding and the only FOB we will see en route, make up the station area. Departure is 15" late and while pulling out we sight the branch line heading northeast towards Nepal.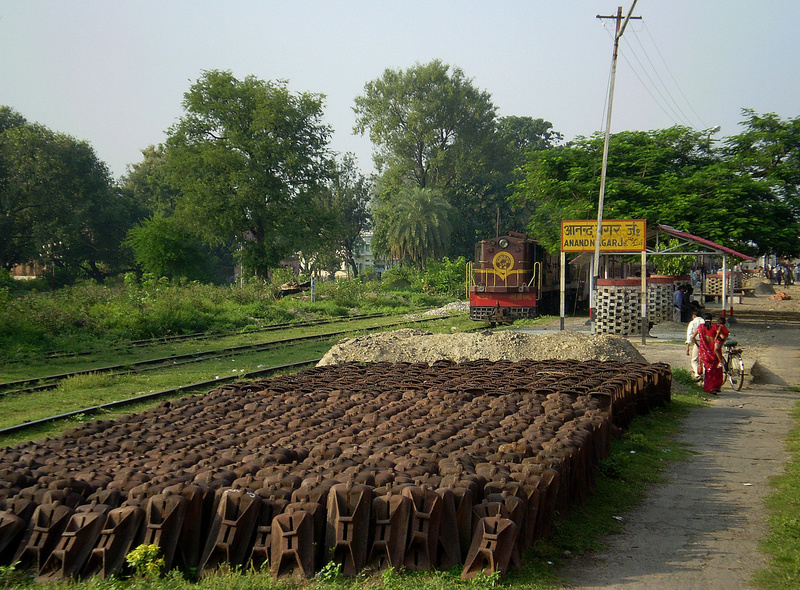 A few kms west of Anand Nagar, the rail alignment is enveloped on both sides by some very tall and slender trees, almost at once dwarfing the train. Laid out in orderly rows, it appears to be some sort of plantation. It is a pleasing sight nevertheless and one that accompanies us for a good many kilometres. Sandwiched between the track and trees is a well-utilised `pakhdandi' (trail) and I fear that this handy little passage for locals would be lost forever with the widening of the gauge.
Once we are past the trees, the now common sight of lush paddy fields returns to fill the horizon. The late afternoon sun helps light up the fields - even more brilliantly now - and it is shaping up to be quite a beautiful evening. Even though it is the end of September, the weather has been remarkably kind to us. It is humid, no doubt, but a pleasant breeze greets us each time we stick our head out the window, or better still, stand at the door. And it only gets cooler as the day wears on.
Bridgmanganj has all the trappings of a rustic wayside station. It is close to sunset by the time we get there and scores of passengers in colourful attire are awaiting an eastbound train. crossing # 4 for us. Away from the crowds, at the eastern end of the platform, village elders have congregated around an old peepal tree, while a simian scampers up its bark, amusing a few onlookers in the process. On the other side of our train, as Water Buffaloes splash around in little pools, villagers squat by the tracks and watch as the evening's events unfold.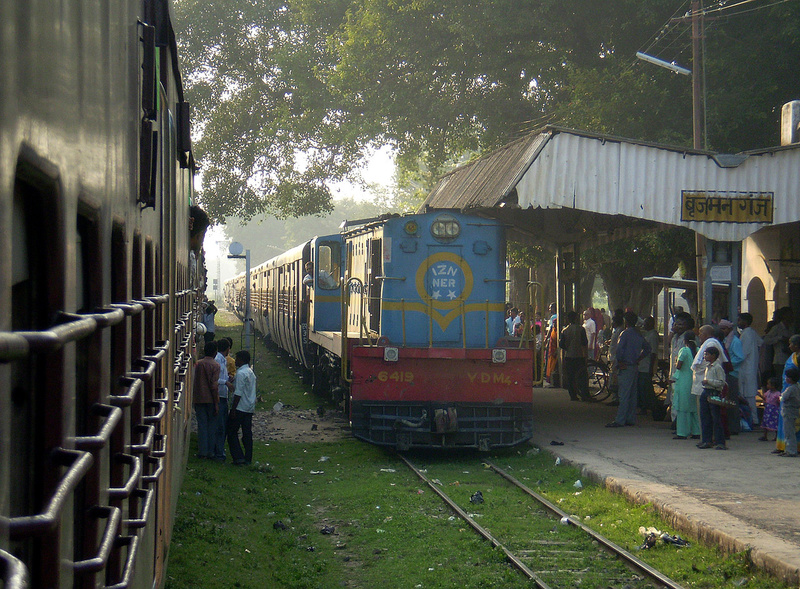 A couple of stations on from Bridgmanganj, the sun finally begins to set. As the sky takes on dazzling tones of violet and magenta, a shallow mist sets in on the horizon and smoke from wood fires wafts out of chimneys. The residents of passing hamlets are preparing for the night, while we sit glued to our windows savouring magic hour to it's fullest!
Meanwhile, the Kapilavastu continues its dispirited run, showing no signs of urgency whatsoever, and with each passing kilometre, losing precious minutes on its schedule. At Parsa, as we wait for what seems like eternity for crossing # 5, we are already over an hour late. Of eight crossings that day, we are made to wait for no less than six! Being the only `express' on that section, it is certainly cause for some frustration! Add to that a couple of `chain pullings'. which last almost as long as some of the crossings themselves!
There is an active posse of the GRP on board our train and each instance of chain pulling brings them out in force. They do manage to make two arrests and the offenders are confined to the guard's cabin for the rest of the journey. Between Uska Bazar and Naugarh, as the train screeches to a chain pulled halt, the offender bolts down a path leading to some houses, amidst raucous cheers from the passengers. There is a half-hearted pursuit by one of the constables who quickly gives up and satisfies himself by waving his lathi (cane) at the now distant offender.
The fact that we don't get to see more of this section by daylight is somewhat annoying to begin with. To top that, there is every chance now that we might miss our connection at Gonda! All of this is further compounded by the fact that it is getting close to dinnertime and given that we haven't eaten a proper lunch, we are pretty damn famished! It doesn't help of course that none of the stations along the way appear to have any kind of refreshments on offer, leave alone potable water. Our only hope now is Gainsari Jn.
But Gainsari comes and goes and we are left hungry! And even if we are to put aside our hunger pangs for just a few moments, the station doesn't seem worthy of its `junction' status. There is a single low level platform and three measly tracks. it could easily have been any other crossing station en route! A quick glance at the timetable reveals that there is no mention of the branch to Jarwa any more, which further leads us to believe that the line has been abandoned completely!
Two stations on, at Tulsipur, there is yet another crossing, and to our biggest relief, some food as well!! While we wait for the passenger train to arrive from the GD side, I make multiple trips to the refreshment stall, which is doing brisk business doling out `Samosas' and `Puri Bhaji', and to our pleasant surprise, has a well-stocked refrigerator to! That means we will now have suitable aperitifs to go with our meal and a chance to toast the culmination (or thereabouts) of day 1 of our trip.
By the time we get moving again, it is pitch dark outside. Bright stars shine in the sky above but there is no moon to be seen and it appears that the area we are now passing through is completely bereft of electricity. Tulsipur is the last station with any semblance of lighting and till we reach Balrampur, a good four stations ahead, there is nary a light to be seen at wayside stations or trackside homes. We have also, and not surprisingly, lost cell phone coverage!
All along, we have been riding in the penultimate coach of our rake. a seven year old coach, which, now that the lights have kicked in, sports a million spider webs and their oversized occupants, which have, no doubt, been nurtured over a similar duration of time. It is all very well when the dynamo actually works, which eventually depends on how much we actually move, for the activity of the occupants of these webs can then be monitored. But when the train stops. as it does ever so often. we brace ourselves for some crawling object with many furry legs to scamper over us, or worse still bite us!
To distract ourselves from all this, we look out of the window time and again. At times, hoping to spot the signals ahead. which, as it turns out, are quite easily the dimmest semaphores we have ever seen on IR. or then marvel at the guard's light, which, at the other extreme, is easily the brightest such light we have ever seen! At first we think it is a vehicle following us on an adjacent road. When we realize that the road appears all too bumpy to keep at such a pace, we turn our attention to the side of the rake. The light emanates from the SLR behind us and initially we think it is some local showing of his bright new `Mag light'. Since it isn't the usual green coloured flashlight, we don't think it to be that of the guard's. But, as it turns out, it is! To give you an idea of just how bright it is - and I make no exaggeration of this - it is even brighter than the loco's headlight!!
At Balrampur, three stations short of Gonda, not one but two crossings await us. another 10 coach passenger (which appears to be an overnighter to GKP) is on the platform line while on the through, a YDM4 stands at the head of what turns out to be a 36 wagon BC consist, heading west!! This is our third spotting of freight activity on the section that day, and obviously, we are thrilled to bits! On the exit from Balrampur and to our left, is another large sugar mill complex, which has a 3-track yard adjacent to it, and multiple yard leads into the factory. Four BC wagons stand on one of those tracks and there is no doubt in our minds that come winter, the yard will be chock-a-block with similar stock.
But that is as far as the good news goes. The bad news is that we are now close to being two hours late and it's time to start worrying about our onward BG connection (for which we had kept a generous margin of one and a half hours). With no crossings left and no halts to make after Balrampur, we should be able to make it. But no such luck. the slow march of the Kapilavastu continues and the driving style of the Driver, which only drew an occasional remark earlier, now becomes a source of great frustration. I'll leave it to Mohan to describe the ordeal…
We rail enthusiasts can drive a train perhaps only in theory, but we pride ourselves at being able to recognize the good Drivers from the average and nod knowingly to each other when someone notches up quickly or clatters across facing points with more than the usual aplomb. And we confer on them honorifics like "Type 3" or "Speed King". Well, the Driver of the Kapilavastu Express is anything but. If most Drivers enter loops at 15-25 kph, he does so at 5 kph, while others pick up tokens literally "on the fly", he slows down to 20 kph or less, while others are anxious to make up for lost time, our man prefers to dawdle, while others notch up quickly and confidently after stopping on the mainline or finishing a speed restriction, our hero wastes several kilometers before reacquiring the very modest cruising speed. With this man at the helm, every halt, crossing or alarm chain induced stop is agony compounded and we start looking at our watches in growing disbelief as the 220 km run looks to be covered in eight hours or more, instead of the generously time-tabled six!
Our BG connection at Gonda is the Kushinagar Express on which we have reserved berths to Lucknow, where we plan to resume our tryst with MG. Well before Gonda, we realize that we aren't going to reach in time for the Kushinagar (dep 2140) and I turn to our trusty time table in search of alternatives. As a joke, Bharat sends a sms to Samit Roychudhury in distant Kolkata enquiring about the position of the Kushinagar, expecting something rude in reply. Unbelievably Samit fires up his pc (or maybe he's already sitting in front of it) and sms's back. the Kushinagar is about an hour or so late! Even with Speedy Goswami on the throttle, we feel we have a great chance of making it. But Speedy is apparently intent on setting a new record in terms of most number of hours taken because the approach to Gonda and the passage through the yards is at a speed that even an ancient DHR B Class grunting through Agony Point would be ashamed of. So when we finally reach PF 1 after being dumped on a distant MG platform, we don't even get to see the retreating tail lamps of the Kushinagar, which everybody assures us has "just left"! There is one saving grace. I'd originally planned to book AC berths on the Kushinagar, but had had a last minute change of mind and booked Sleeper Class berths instead!
There is enough time now to buy some fruit, stock up on water and of course purchase tickets (all over again!) for Lucknow! Another late runner, the Bagh Express, en route from Howrah to Kathgodam, will take us southwest to Lucknow. We head to the designated platform and while there; I take the opportunity of jotting down some notes, on the last segment of our journey, notably Gonda yard.
While the Kapilavastu's trudge through the yard cost us dearly, it did allow us to note its actual size, which we had greatly underestimated while on the Vaishali that morning. Suffice to say, Gonda yard is big and possibly one of the largest on NER. On the BG side there is a fair sized goods yard, a largish wagon depot, which I believe to be of the ROH variety, and lengthy sidings which are extremely well lit (a saving grace considering none of those fancy floodlight masts we had seen in the morning seem to be working) but completely devoid of stock! The sidings appear to serve both gauges indicating the possibility of active transshipment.
The BG yard is, expectedly, the bigger of the two but the MG yard is no pushover either. A 10-track (or thereabouts) goods yard sports a couple (if not more) of BC rakes, a passenger train set and a departmental hopper train. Closer to the platform area is the coaching depot with multiple stabling and pit lines. No less than five rakes and scores of spare stock coaches are spotted here. Two YDM4's are stabled on one of the sidings while a third is busy marshalling the stock. A train arrives from the Mailani side (the section up to Bahraich is still open for traffic, we learn later) just as we leave ours to head to the BG platforms.
On the BG side, two unknown passenger trains depart eastward in quick succession and a westbound BCN train rolls in to a halt on PF 3. The Bagh is expected on PF 2 and seeing a rather large crowd for the general coaches, we head down the platform to where we think the SL coaches will dock. Minutes later, Andal's WDM2R 18994 brings in train 3019, which, by now, is running over two hours late!
With some help from the train conductor, we manage to find two vacant lower berths in SL coach # 99255. Departure is eventually 2"10 late and we hit the sack almost immediately. For the few precious hours available to us, sleep comes fairly easily, aided in no small measure by some effortless train running. By the time we pull into NERs Lucknow Jn. (LJN), we have made up an amazing 45 mins on the short 126 km stretch from GD. Not only are we impressed by the fabulous train control on a largely single line section but it also means we will get more time to sleep in a regular bed. hopefully at one of LJN's retiring rooms.
As we make our way across to the terminus end, our loco has already been cut of and is making its run around the Bagh. A Jhansi diesel stands powered down at the head of another passenger rake and that's about all the activity there is across the five platforms of LJN. The last time I visited Lucknow. in '03 I believe - one of these platforms still served the MG.
Much to our surprise an A/C retiring room is available! But first, we would have to wait for at least ten minutes while the booking clerk `freshens up'. Fifteen minutes later we are on the first floor trying to awaken the warden. an elderly lady who reluctantly shows us our room and insists that a single towel should suffice for the two of us! On our way to the room, we pause for a moment, in the open verandah, to pay obeisance to the magnificent structure that is Lucknow Charbagh, in all its nocturnal glory.
After a few more hours of sleep and some quick baths, we exit our room only to be greeted by our warden. this time she's all smiley faced. We decline to give her any sort of tip and she in turn puts on her best frown, muttering expletives as we make our way out. Once downstairs, we make eye contact with a willing faced rickshaw wallah and moments later are on our way to Lucknow's Aishbaug station, threading our way through the many alleyways and by lanes of this intriguing city.
I get reminded of how my dad used to describe Lucknow in the 70s. a typical office-goer could be spotted sprawled out on a rickshaw in a starched `Kurta Pyjama', reading the Times and chewing `Paan' on his way to work - all this at the leisurely hour of 10 am! No doubt, Lucknow is no longer the city my dad grew to love in the 70s and certainly not so at 10 am on a weekday. But given that it is the crack of dawn on a Sunday, it still appears to have some of that left over charm.
The local tea stall looks decidedly more tempting than the stuff available on the platform, so we delay purchasing our tickets by a bit, and instead, have a piping hot `Cuppa' as a toast to our next MG journey. Despite being in the city of Lucknow, Aishbaug is served mostly by `tangas' and rickshaws, with motorized vehicles being the exception rather than the norm. The tea stall together with the large peepal trees and eco-friendly transport lends the station a lot of character and sets the tone for what lies ahead.
At the booking office, we are delighted to learn that our favourite First Class tickets are available on #5310 Ruhelkhand Exp. Confoundingly, the booking clerk will not issue us a ticket unless we confirm for her that a first class coach is in fact a part of the rake today. Mohan dashes of to the enquiry office while I hold my turn in an extremely disorderly queue, for lack of a better term. The first class is on. god bless them. and without further ado, we purchase our tickets and head over to the platform.
The BG route from LJN to Barabanki occupies two tracks in the yard and is the first thing you cross while on the FOB. Two platforms serve the BG, with one of them still appearing to be under construction. The MG has 3 platforms and while the Ruhelkhand has been placed on #1, the adjacent pf #2 sees the arrival of the 12-coach Nainital Express from Lalkua.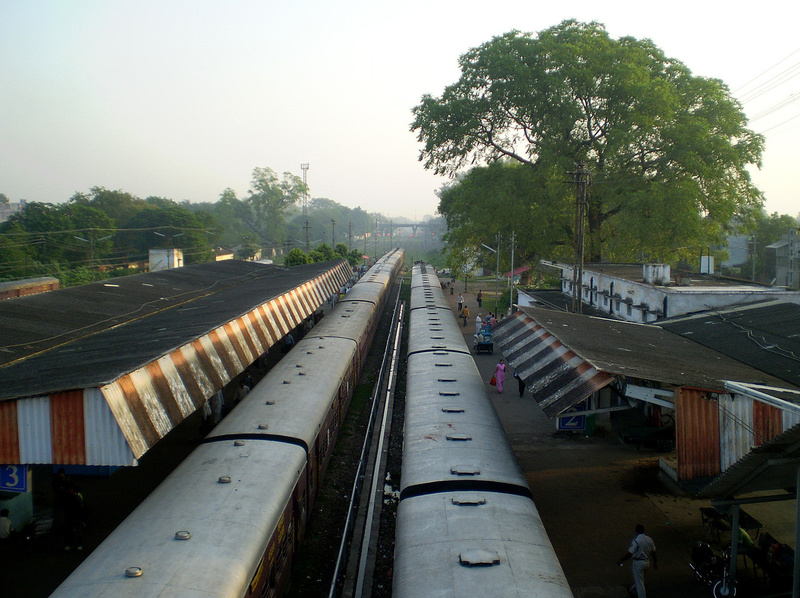 An additional 3-4 rakes are stabled in the carriage yard, which includes pit lines and a covered coaching depot, all to the west of the platforms. The depot is one of the larger MG ones I have seen in recent times and that coupled with the fact that all the stock is in standard IR maroon, brings a smile to my face. To add to my joy, I spot at least four a/c coaches amongst the stock, all looking resplendent in the morning sun.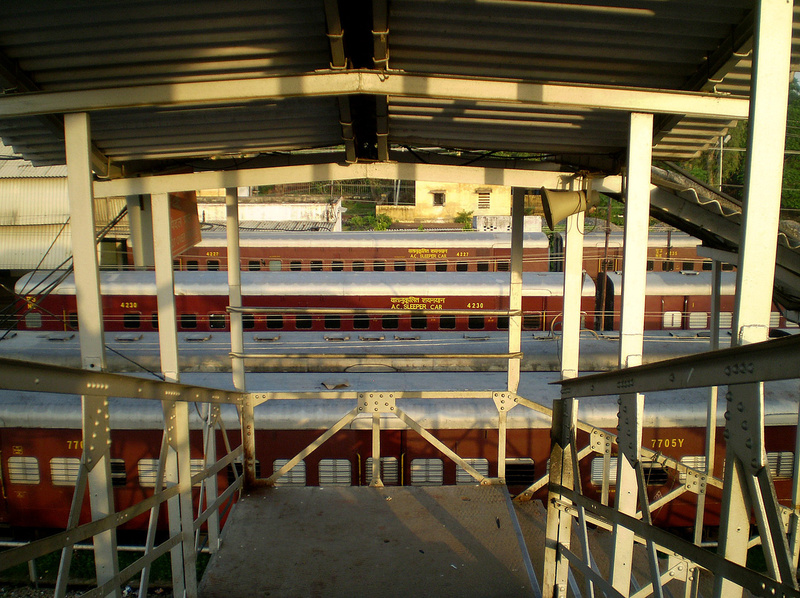 Aishbaug is to Lucknow what Anwarganj was to Kanpur. The trains would all terminate at and originate from the main city stations. LJN and CNB. whereas the maintenance facilities were located a slight distance away. Unlike Anwarganj, Aishbaug never boasted a loco shed (although Charbagh did) but it has managed to retain its yard in its original form. all 15 tracks of it no less. Looking south, one of these is occupied by a bright red ARME set, and another, by a carriage in that distinct RDSO livery. Meanwhile, with the BG not wanting to be outdone, the east bound Bagh Exp passes by at a good clip.
I stroll to the north end of our platform to pick up more tea, some breakfast and of course, to jot down loco details. Expectedly, it is another well turned out YDM4 from Izzatnagar's stables, this time # 6756. The platform the Ruhelkhand is berthed on shares the island with one of the BG tracks. It is of spacious width, devoid of dirt, and extremely well shaded courtesy of some beautiful old peepal trees. Only a handful of food carts exist and I'm forced to make do with the limited choice on offer. Meanwhile, back at the coach, Mohan has an interesting encounter.
One of the perks about traveling with Bharat (for me) is that he does all the running around. buying tickets, scampering to the food stalls during two minute halts, replenishing our water and all the rest, while I mind the bags, keep our seats and thank my luck. And so it is at Aishbagh; Bharat dashes off to see if he can find something for our breakfast while I make myself comfortable in a First Class 4-seater. A TTE appears at the door wearing a puzzled look on his face. He asks, "Aap Kaun, aur First Class mein kyun?" (Who are you, why are you in FC?). Guessing what is going through his mind, I shoot back cockily, "Why not?" Taken aback the TTE fumbles, "I mean."
"I know exactly what you mean", I interrupt him with a laugh, "You thought we were railway staff, or govt. officers, or pass holders or freeloaders of some kind and not even once did it occur to you that we could be legitimate ticket holders!"
Bharat returns just in time for my little speech and joins the fun; "Is your first class only for staff?"
Suitably embarrassed, the TTE examines our tickets with great care and tries to make amends with some ridiculous advice; "Lock the door, don't let anyone else enter unless they are with me. Otherwise all kinds of people will jam in!" Naturally we ignore his instructions. far be it for us to deny anyone else the privilege of First Class on an unreserved day time express! But as the day progresses "all kinds of people" do share our compartment and as far as I can make out, only one amongst them is a FC ticket buying passenger (the rest are freeloaders of one kind or another) and he causes even greater embarrassment to the TTE - more on this later.
FC 0001 appears to be the foremost first class coach built that year and may well have been the last. It is an RCF product from May'01 and with a POH due date of 02-09, looks to be in reasonably good shape. We are comfortably settled in to our four-berther by the time the Ruhelkhand eases out of Aishbaug, on its scheduled departure time.
At the north end of the yard, where the shunting neck is located, #6438 is seen marshaling a six coach rake. From there on, all the action shifts to our east side, with a single electrified BG track running parallel to us for a two station distance. No traffic spottings, unfortunately, just a heavily built up area. thankfully secured by a wall. more precisely, the suburbs of Lucknow.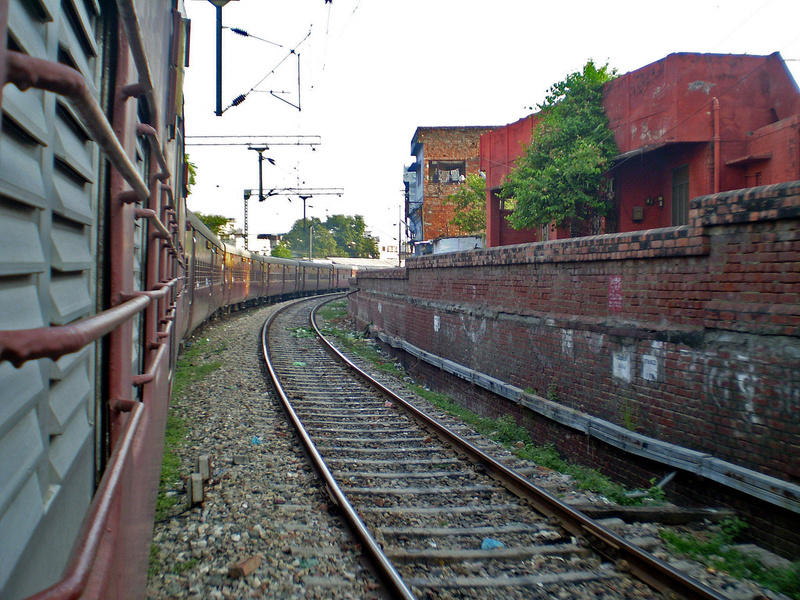 At Lucknow City, our first halt, the BG has a single platform and two tracks whereas the MG has two platforms, a disused siding and no less than five tracks. all, except ours, unoccupied! The halt is much longer than expected and there isn't even a crossing scheduled here. Apparently, there is an absurd amount of slack time built into the Ruhelkhand's schedule up to the next station, Daliganj.
The Gomti River is crossed soon after our departure from Lucknow City and appears to be brim full; as had others we had crossed yesterday. On our west side, at some distance away, is a splendid looking road carrying red stone arch bridge and on the south bank are some wonderful looking Mughal era buildings.
At Daliganj, the BG and MG both have a single platform and an accompanying two tracks. The wait time here is thankfully not so long. As we leave the station, heading north in the general direction of Mailani, the BG veers of sharply to the east. In between all this, the TTE provides more entertainment. In Mohan's words.
The only other paying passenger in our FC compartment joins us at Lucknow City - a safari suited, brief-case wielding small-town businessman. When the TTE reappears at Daliganj, Safari Suit requests him to endorse his ticket for First Class. The TTE in turn asks him whether he is a regular traveler and if he can recall the exact fare! Safari Suit is not sure but hazards a guess anyway. It doesn't sound right to the TTE who says, "Try to remember properly and I'll make the ticket." This farce goes on for about a minute more, when a serious looking man sitting next to me loses his patience. Addressing the TTE he says brusquely, "What's going on, don't you know the fare?" The TTE looks at him warily and says that he is only not sure of the exact amount.
"Well, don't you have your distance and fare tables?" The man is obviously a railway officer and the TTE's face turns ashen, "No Sir, the new one hasn't been issued to us yet", he squeaks (though it is September and the fares weren't changed in the budget).
"Then go to the SM's office, obtain the correct fare, make the proper ticket and cease this nonsense at once!" The TTE rushes off and our officer remarks on the absurdity of what just transpired. we smirk in agreement. In fact confusion had reigned supreme even in Aishbagh when Bharat asked for FC tickets at the booking office. We were told to go to another office to first confirm that there was indeed a FC carriage in the Ruhelkhand's rake! Obviously, ticket purchasing First Class passengers are a rarity on this line.
The TTE returns and issues the proper ticket, all the while making ingratiating noises though the officer makes no further comment. Much later he sidles up to the latter and says, "Sorry Sir, I haven't met you before. are you based in Lucknow?" I miss the reply but the TTE goes away looking relieved. apparently the officer is from a different railway department and not a direct superior!
Having left Lucknow behind, the scenery begins to change for the better. Endless fields of paddy come into view, interspersed occasionally with the odd mango orchard, now sadly out of season. Some of the low lying areas are still inundated from the recent monsoon but none as bad as on day 1 of our trip. The air is less humid today but also carries with it more dust.
At Bakshi Ka Talab, we have the first of 7 crossings. an 11 coach passenger train, complete with milk cans hanging and a healthy compliment of rooftop riders. It is hauled by #6519. one of the few YDM4's we would see in standard IR livery - the majority of them being in the striking blue / yellow IZN livery.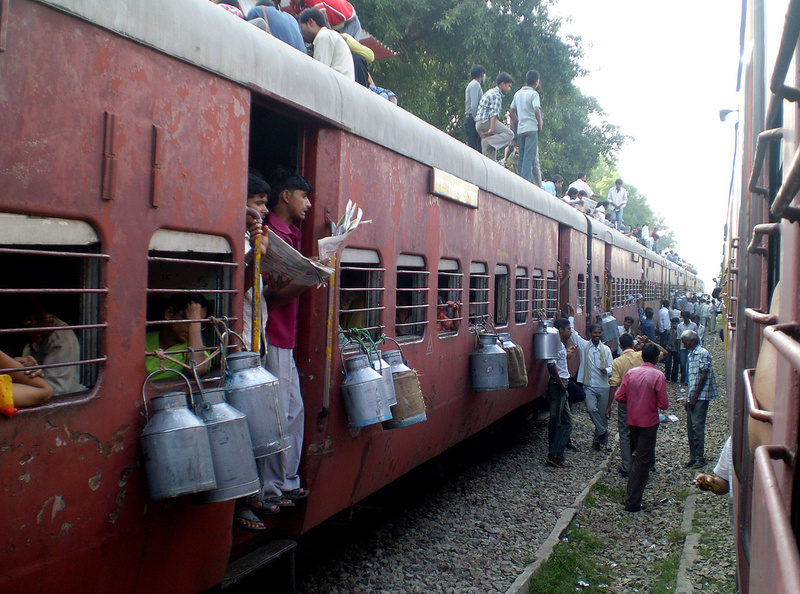 The first few stations out of Lucknow are packed to the hilt with milk vendors and their many cans of milk. no doubt, taking in the mornings supply to the city centre. At Itaunja, where the Ruhelkhand has an excruciatingly long and unscheduled halt for a crossing, the scene is no different. Cans and their owners line both sides of the track and after a never ending wait, an already packed ten coach train. the Sanctuary Exp. pulls in behind #6466.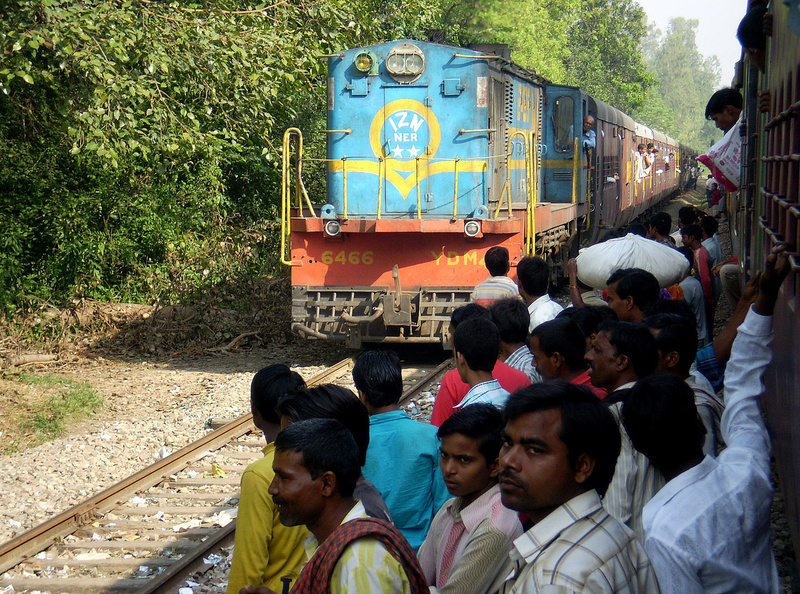 Stations along the way are mostly single platform, two track affairs, with very few sporting a goods siding. The station buildings themselves are nondescript for the most part and I deem them to be of 1950s construction. Signaling is MACLS accompanied by old style motor point boxes and all stations have the full compliment of outer, home, starter and advance starter signals. Surprisingly, tokens are still in use!
The next station, Ataria, is somewhat larger and boasts 3 tracks in all. We our put into the loop for our third consecutive crossing, but this one is a refreshing change, handled in the most efficient way possible. Barely a few moments after we have halted, the Mathura-Aishbaug Exp comes storming down the main with #6571 in charge and provides a perfect `token pick up' photo op.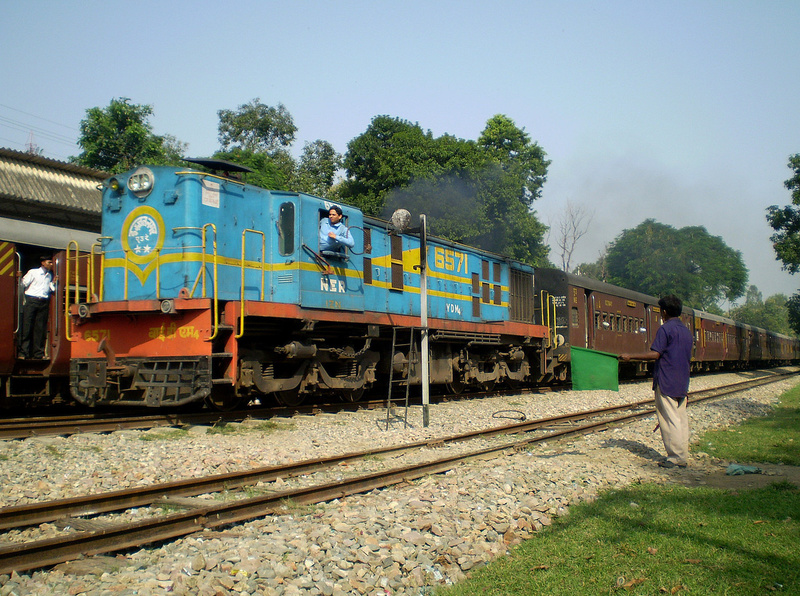 With a good many crossings out of the way, the Ruhelkhand's crew finally puts on their `Express' act and suddenly the door beckons us away from the comforts of our four berther. A consistent 72 is clocked on the section between Ataria and Sidhauli. Sidhauli not only has the same allocation of tracks as Ataria but also boasts two fully built up platforms. Even so, the Ruhelkhand completely ignores it! Further north of Sidhauli, I time the Ruhelkhand doing a brisk 77 km/h. the highest speed we would achieve on the MG on this entire trip!
The track quality has been excellent since we left Aishbaug, with some sections sporting long welded rail (LWR) and almost the entire route having concrete sleepers. including the loops at most stations. Even so, multiple cautions and permanent speed restrictions (PSRs) exist, causing a slow down ever so often, and that coupled with no less than four chain pulling incidents means we end up reaching Sitapur Cantt Jn., a full one hour late!
On the approach to Sitapur, the BG line from Burhwal Jn. curves in from the east, crosses the MG via a diamond and emerges to the west of the alignment. A wide nullah separates the MG station from the BG one and the two are connected by one long FOB. The BG side has 2 platforms and the same number of tracks and on one of these stands an unidentifiable WDG3 at the head of a 9 coach rake, having just run around it.
The MG side is not only more pleasant to look at but also more interesting. 7 tracks and 3 platforms make up this neat little station, with the platform canopy and FOB roof sporting that characteristic red / white striped NER colour scheme. A 10 coach passenger train. the Sitapur-Mailani passenger - is on the last of these platforms and is overtaken by us here.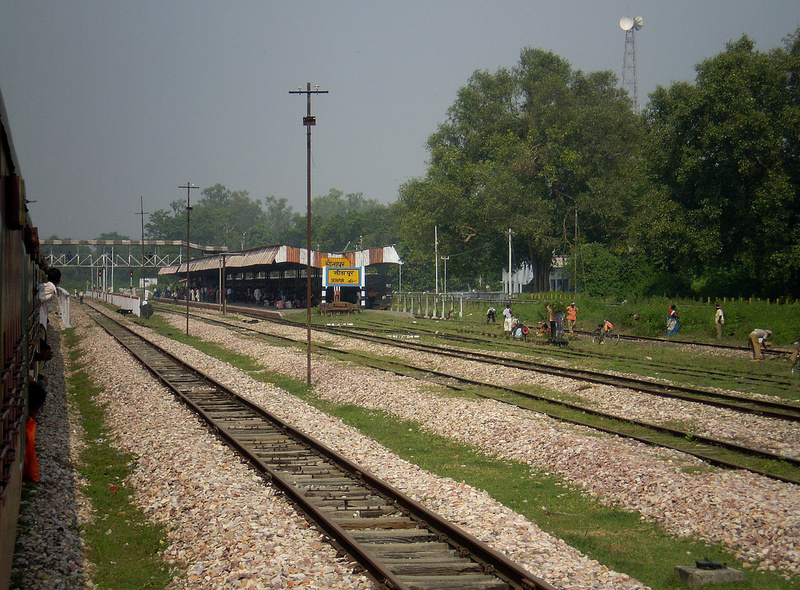 We curve sharply northeast on our exit from Sitapur and are soon shrouded over by towering Eucalyptus trees. possibly a plantation of some sort cause we never see them again. No great loss as the tree cover has in general become thicker and surprisingly taller too than what it was around Lucknow. Meanwhile another interesting encounter beckons inside our four-berther and Mohan dives right into the nitty-gritty of it.
Not long after Sitapur Cantt the door slides open and a man sporting an enormous belly and a ferocious mustache enters the compartment. He is wearing a light blue shirt over dark blue trousers, has a bag slung over his shoulder and is holding a walkie-talkie in one hand. He surveys the scene. I'm the only passenger on this side now while Bharat and Safari Suit occupy the other berth. and addresses me rather peremptorily, "I have to sleep here, you sit on the other side."
With that he dumps his bag on the berth and goes out again, perhaps to the loo. I have half a mind to comply with his brusque order (it's that IRFCA deference for Drivers you see) but his tone and manner are off-putting and I look to Bharat for help. He is unequivocal: "Just sit where you are, he has no right to order any passenger around like that, Driver or not!"
When Big Belly returns he isn't happy to see me still sitting where he last saw me. "Aap udhar baitho na", he says (there is still not the slightest hint of a request in his tone as the "na" suggests). I reply that he can sleep on the upper berth "araam se" if he likes (though the thought occurs that he'll probably have a cardiac arrest halfway through the ascent).
He doesn't like this and leans closer twitching his mustache and waving his radio set under my nose, "I'm a Driver and I need to rest, can't you see?!"
That does it. "Why don't you sit down for a while and we'll explain some things to you", I reply firmly but politely.
Surprisingly Big Belly complies and we tell him that we appreciate that he is "spare" and requires every bit of rest he can get but that doesn't mean he can inconvenience passengers, especially those who have paid for the extra comforts of first class. Nor does it reflect well on the railway to have him sprawled on one berth during daytime while the other passengers are squeezed together on the other. Not accustomed to such a reaction he doesn't protest, not even feebly.
We then ask him about his link and where he is based and he senses that there is something not quite normal about us and makes no further mention of wanting to lie down. When Bharat and I break off to discuss or photograph things railway that we see outside, that feeling is compounded. Finally he asks the question, "Aap dono railway mein hai kya?"
No we aren't we reply and offer no further explanation so the curiosity is writ large on his plump face. Instead we offer him horribly sweet sesame coated "gajak" that Bharat had bought in Aishbag and bit by bit he consumes the entire packet. This man is a cardiologist's nightmare (or delight, depending on what you think of cardiologists) and it will be a brave MO who certifies him fit for DMU's or other single-crew trains!
He asks us what we are doing and we tell him that we've come to see the line and document it for posterity. He gives us an uncomprehending look. we may as well have said that we were visitors from the moon as that would have certainly made more sense to him! He asks us where we're coming from and we tell him of our travels of the past two days and that we're now headed for Mailani and thence to the workshops at Izzatnagar where we are to meet the CWE. He just doesn't know what to make of us and neither do we attempt to satisfy his by now wary curiosity. Well before he dozes off (in an upright posture) his transformation from gruff bully to eager collaborator is complete as he gives us his opinions on IR and MG (everything is old, nothing to see as such!) and occasionally addressing us as "sir". We can be accused of having led him on of course, but if he is more circumspect with other passengers in the future, it's been worth it.
At Jharekhapur, crossing # 4 awaits us. another 10 coach passenger train headed by # 6626. Hargaon, two stations ahead, is one of the larger stations on the line with five tracks in all, the only FOB en route and an abandoned goods siding. one of the first we encounter on this section. The presence of the siding is explained by a large sugar mill that follows and at three points of entry, a track services the mill. All of it seems as abandoned as the siding that was, and once again, we deem it to be a case of the off-season!
Oel is as picture perfect as it gets on a branch line section. A spotlessly clean low level platform, only a handful of people visible, an all maroon train. with matching loco. waiting for a cross, and a gracious old banyan tree towering over it all. Oel is also known, of all things, for its frog temple!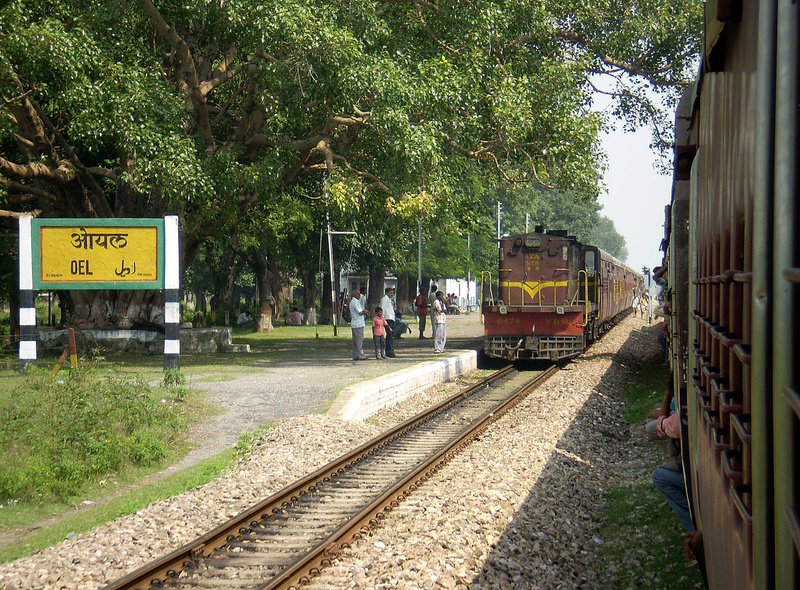 Lakhimpur, not to be confused with North Lakhimpur on the NFR, is the district headquarters of Lakhimpur Kheri and quite easily the most important town en route. The name `Lakhimpur' actually derives from `Laxmipur', historically named for the Sankata Devi Laxmi temple that is located there. Kheri is actually a different town, situated a short distance away and deriving its name from the `Khair' trees. On the railway front, Lakhimpur boasts 8 tracks, 1 `pucca' platform, a track level island platform, a signal cabin and the largest crowd we would encounter on that section. The station building. more specifically the GRP outpost. is the most graceful looking one we see on the line, and a little beyond that is, what appears to be an active goods siding.
After Lakhimpur the alignment bears sharply west and the crop pattern changes almost instantly. Paddy fields are few and far between while sugarcane takes over as the dominant crop in these parts. Some of these areas are also low lying as is evident by widespread inundation. At one point, a railway bridge, which has, no doubt been damaged during the recent floods, necessitates a complete stop, and only after the driver signs some paperwork, are we allowed to proceed, albeit at crawl speed. The local boys don't seem to mind though and continue using the somewhat sunken railway embankment as a perch from which to dive into this gushing rivulet.
The stations on the Sitapur. Mailani section appear to be much larger than the ones south of it and this may well have something to do with the prosperous sugarcane belt that we are now passing through. Gola Gokaranath is no different, having exactly the same number and type of assets as Lakhimpur. While it doesn't hold district HQ status, it is well known for its Shiv Temple. The Up Ruhelkhand is crossed here and leading it is a freshly turned out YDM4 # 6346, looking dazzling in its bright blue livery.
As we leave the station, a goods siding is spotted, which is almost certainly abandoned but has those tell tale signs of having seen better days. The tracks from the siding continue to run parallel to the main line some more, eventually forming a four track yard, with several leads into what is evidently the largest sugar factory we will cross on our way. As was the case in Balrampur, the previous night, we are confident, that come winter, the yard will be busy again.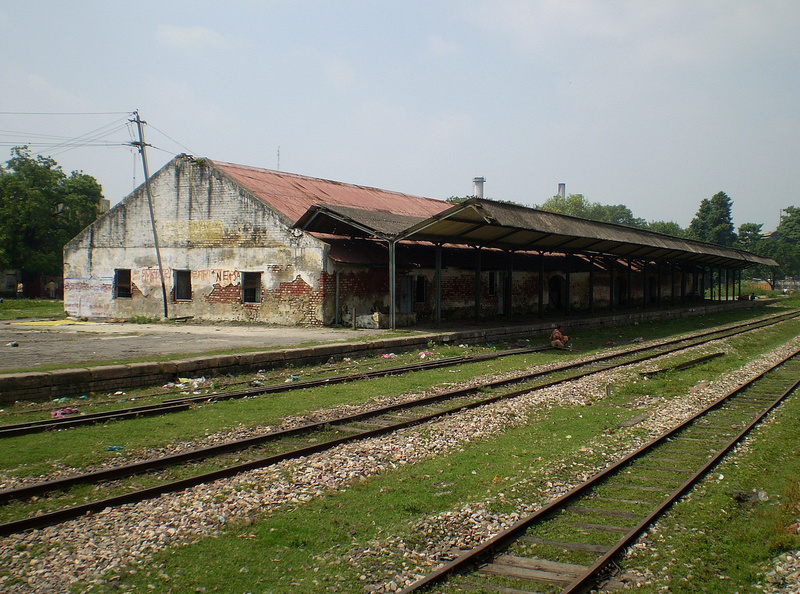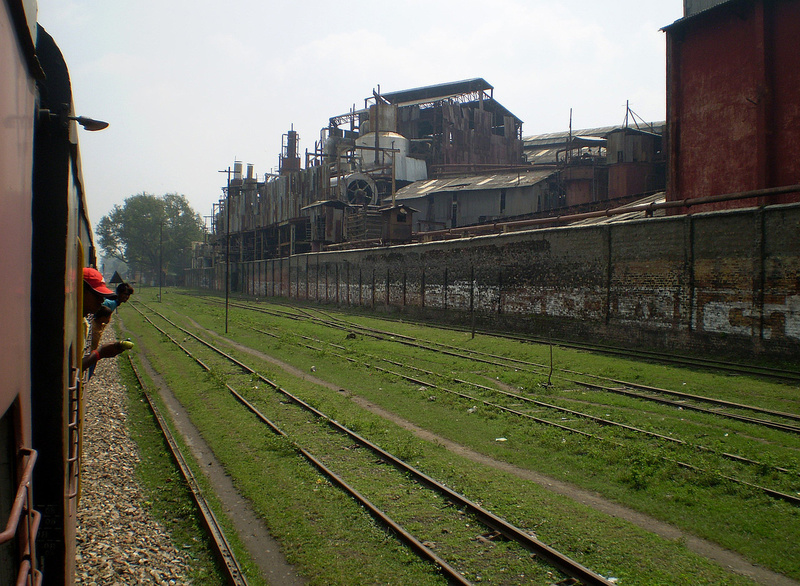 `Bankey' means `bent at three places' and `Bihari' means `supreme enjoyer'. Together they are an avatar of Lord Krishna and a temple by that name exists at Vrindavan. But far removed from Vrindavan and probably without even a temple to its credit, is the station of Bankeyganj. Never mind the religious connotations - which I was unaware of at the time - or the fact that it had nothing to do with Bihar, the name instantly reminded me of what I believed to be a character (Bankey Behari) in the Doordarshan tele serial of yore, `Mungherilal Ke Haseen Sapne' and needless to say that brought a smile to my face!
On a more serious note though, Bankeyganj has a single platform, a goods siding and five tracks that make up the station yard. The last of our crossings is already awaiting us as we pull into the loop. With 12 coaches in all, it is also the longest rake we cross on this section. The consist includes at least one IRS era coach, with that distinct looking shell and under frame.
Leaving behind Bankeyganj, we enter the most scenic section on our route. A dense forest cover envelops the alignment from both sides making it difficult to determine which side to look out from. The heavily wooded section is accompanied by some thick undergrowth and suddenly our lush surrounds seem all too reminiscent of MG trips in the north east. I deduce this sudden surge in green to be on account of our proximity to the nearby Dudhwa National Park.. after all, we are only a block section away from Mailani. Mohan assures me otherwise!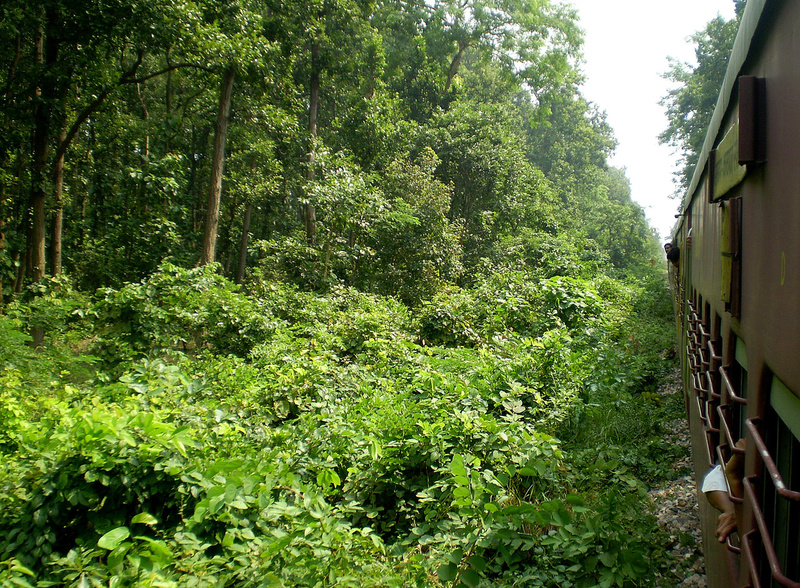 Remarkably, Mailani is reached on the dot at 13:05 hrs! As we roll into Pf #1, the yard looks more than promising. A twin car ARME, some freight activity and an ART set are just some of the highlights visible to us.
But soon enough our view is blocked by another 12 coach rake, which appears to be on its lay over on Pf #2. Alighting from our coach, we make our way to the North FOB, which is also the one that straddles the yard. Three platforms make up the station area and leaving those aside there are about 12 other tracks which make up the yard. One of these is occupied by a 10 wagon (plus guard van) BOX consist loaded with sand and powered by a YDM4, facing north. It is almost certainly a works special, bound for the flood affected areas. On the south side of the yard is another BOX rake being loaded with sand and this is the one we saw as we were pulling in.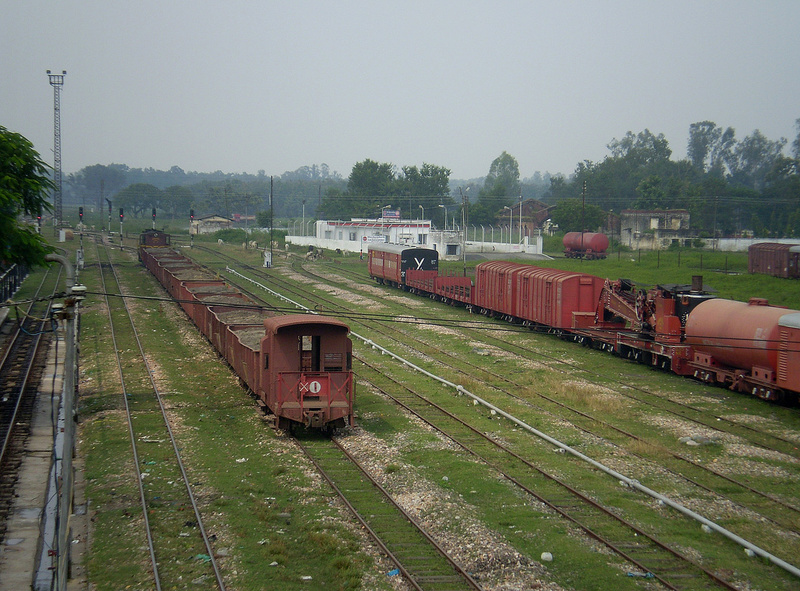 The rest of the goods yard is empty save for an ART consist. Further to its north is a moderately sized fuel dump and loco refueling facility and right behind that are the remains of Mailani's old loco shed, which once had a holding of about 24 locos of the YG, YB & WD class. More prominent than the skeletal remains of the shed is the old stone water tower, which still appears to be in use. At the east end of the yard is a covered carriage & wagon facility, which apart from a few stray cows and some rusted wheel sets hasn't seen much activity in recent times. There are a few spare stock coaches but all of them stand at a good distance away. The yard is general has seen busier, better days.
After a twenty something minute recce, we make our way to the station exit and wait for our host to come and collect us. Mailani is typical of a one horse town where almost all the activity is centred on or around the station road. Everyone knows each other in this small town and our host is forced to stop at least a half dozen times to exchange pleasantries along the way. Once we leave the station road to join the highway, the houses and shops seem to disappear all at once, giving way to farmland all around. We are now well and truly in the hinterland!
Mohan's friend owns a sprawling farm, about a ten-minute drive from the station, and we are guests at his farmhouse. The friend isn't there himself but a very gracious neighbour, Sukhi (owner of an adjacent farm), has agreed to receive us, have us dropped to the station the next morning, and in the interim, show us around to our heart's content. Not many people visit Mailani and so Sukhi goes out of his way to extend his hospitality and by the end of our stay, we are more than overwhelmed by his warmth.
The farmhouse is everything I'd imagined one to be - outside of Delhi's upscale Chattarpur i.e. - and more! A tractor trail, suited best to all wheel drive vehicles, leads from the highway to the farmhouse. On both sides of the trail we pass row after row of assorted crops and after a few minutes of driving, there is a clearing where the farmhouse and its sundry service buildings are located. We alight, drop of our bags inside and then head back to the verandah to unwind, as we wait for lunch to be served.
Even though it is the hottest part of the day, a gorgeous old `Peepal' tree provides generous shade and to compliment it, a cool breeze blows in from the adjacent fields. The abundance of greenery all around and the complete lack of concrete suddenly makes the Indian summer seem a tad more tolerable. Not only that but it is unbelievably peaceful to. The only audible sounds are that of the battery powered inverter (electricity is supplied only in the evenings here) and the creaking of a hand pump. The verandah overlooks the fields on one side and on the other are parked some trusty old Mahindra Jeeps, some tractors and other farm equipment.
While we wait for lunch, we get chatting with Sukhi. He discusses the intricacies of the sugarcane business and in doing so helps confirm our theory about the many disused yards and abandoned sidings we saw along the way. Farmers in the region are apparently assigned different sugarcane collection centres. From these the cane is transported to the designated sugar mill by road or rail. Though a bulk of it is transported by road, some of it does make it by rail and hence the sidings near the mills do come alive during crushing season.
Lunch is served soon enough consisting of Gobi (cauliflower) and Daal (lentils). Its simple fare alright but also outright delicious. The Gobi is as fresh as it can possibly get and tastes far better than anything I have imbibed in our cities. Showing no restraint whatsoever, I continue to eat long after Mohan has finished. The water, from the local well, is as sweet as can be and a welcome change from all the bottled water we have been drinking on our trip thus far. To show my appreciation for it, I down about a half dozen glasses. Sufficiently stuffed, I retire indoors for an afternoon siesta while Mohan continues to lounge in the verandah.
I am awoken about an hour or so later as Sukhi is back and ready to show us the sights around Mailani. We jump into his Mahindra Bolero once again and head out in the general direction of Dudhwa National Park. But first, there is a `phaatak' or LC (level crossing) gate to cross and we seem to be in luck as it is closed! We just about have time to get out of our vehicle, rush towards the tracks and take up camera positions before IZN's 6424 comes roaring down the main, en route to Pilibhit, with a well patronized 10 coach train in tow.
!:
In the few hours that he's known us, Sukhi is already well versed with our interests and plans the drive accordingly. Having now crossed the LC, he drives about a half km more and after crossing a bridge, pulls over to the side of the road. Once we alight, he ushers us back towards the bridge. We have now officially entered a Tiger Reserve and the bridge, which is laid over the Sarda canal, marks the entry to it. There is a thick reserve forest on either side of the canal and at a couple of hundred metres away from the road bridge stands a railway bridge. part of the Gonda. Mailani route. one we should ideally have come in on.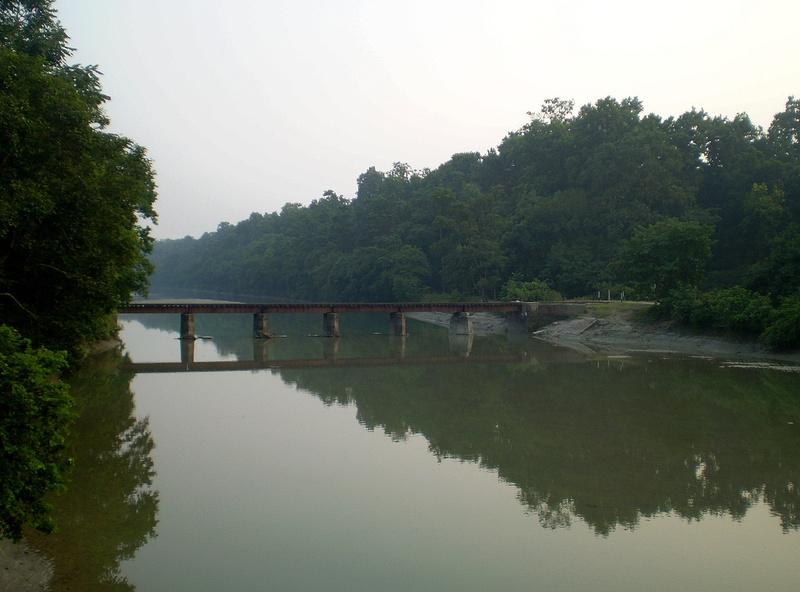 We resume our drive through a thickly wooded area, keeping parallel to the rail alignment - all the while, trying hard to imagine what it would be like to ride on. Without doubt, the Gonda. Mailani route is the most scenic of all sections we have planned on traveling through on this trip, and so we try hard to hide our disappointment at not having experienced it. As the old saying goes, "man proposes, god disposes" and so it is on this section. floods in these parts have caused the alignment to be breached at multiple locations and as a result, we were forced to make the detour via Lucknow the previous night. Still, we are lucky to be seeing fragments of this line and for that we have Sukhi to thank.
Our next stop is at Rajnarayanpur, the first station out of Mailani as you head east in the direction of Gonda, and one that sits in the middle of a thick jungle. Even though there are no trains plying on this section, the station staff are out in full strength and sprawled across the length and breadth of their waiting hall and platform are several documents, laid out to dry. Rajnarayanpur is one of many stations in this region affected by the recent and heavy monsoon and although water logging did not occur here per se, the rains have left a trail of damage & destruction. The station hasn't had power since, their equipment is partially damaged and all their paperwork drenched. Yet, they greet us warmly, show us around and talk to us at length.
They tell us how high the water level was during the floods; when trains were forced to stop; where the breaches have taken place; how soon they expect traffic to resume and whether freight stills runs on the line. We continue to prod them, asking whether they have had any close encounters with wild animals at their station and about the recent case of a tigress being run over. an incident that made it to the national press. Meanwhile, a handful of Chital (spotted Deer) have congregated at the west end of the yard, next to the home signal, and make for quite a sight.
The Mailani. Gonda rail route parallels the Mailani. Palia road for most part and about 20 kms east of Mailani, road and rail converge to cross the Sarda, which, expectedly, is full to the brim. Let Mohan describe the Sarda in all its glory as well as fury.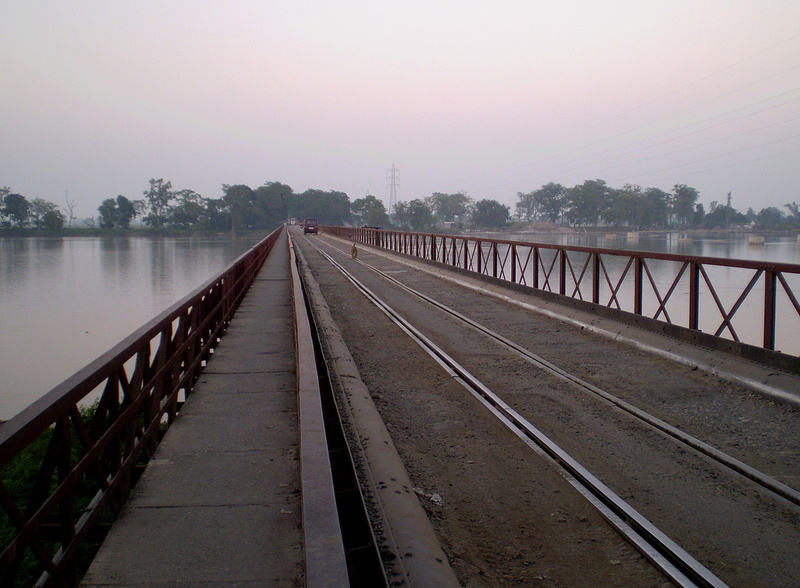 When I first read of a road cum rail bridge on the Sarda on the irfca mailing list, I wondered how a relatively minor river had managed to keep bridging engineers at bay for so long. After all the map depicts the Sarda as a smallish tributary of the Ghaghara and the only useful purpose it serves (I thought) is to demarcate the border between Nepal and India as it rushes down from the Himalayas with the name of Mahakali. I couldn't have been more wrong and standing on said road-rail bridge seeing that massive volume of water flow by I'm moved to remark to Bharat; "My God! It's looking like the Brahmaputra!"
Even though swollen by the monsoon the Sarda is a big river that demands respect; one has to squint to discern the features on the far bank. And the half finished piers of a new road bridge is testament to a decades long struggle between river and engineer. The Sarda flows roughly west to east just before the bridge at which point it makes a ninety-degree turn southwards. Guide bunds force the river into a narrower, bridgeable, southward flowing channel and in revenge she has pounded the outer edge of the turn, so much so the far bank on the "bend" is barely visible from the bridge. The river is in spate of course and I wonder whether its waters are used for irrigation. Later I learn that there is a barrage upstream near Banbassa and that the Sarda Canal & its branches are some of the longest in UP, stretching to the vicinity of Lucknow, Hardoi, Barabanki and beyond.
As we drive back after having our fill of photography, Sukhi informs us that the only thing that prevented the Sarda from devastating the northern parts of Kheri District is the section permanent way between the bridge and Bhirakheri station. So when the Sarda's raging torrent threatened to breach the railway one night not long ago, all the people from the surrounding taluks joined in a massive Kar Seva (voluntary service) to shore up the threatened spots without waiting for NER to get its act together. While some people ran 24 hour Langars (community kitchens) most toiled on the breaches saving the line as well as the rich farmland to its south.
As Sukhi points to the now distant alignment to show us the approximate location of the breaches, I see a familiar shape on the line. It's a YDM-4 and responding to our yelps of excitement Sukhi turns the jeep into a side road that crosses the track and ends rather abruptly a few metres beyond where a culvert has been torn in half by the ravaging Sarda so that it now looks like a jetty. A PWI's motorized trolley is at the unmanned level crossing waiting to take the supervising engineers back to Mailani. At regular intervals along the track tubelights have been fixed to enable work to carry on after dark, which is fast approaching. A little distance up the line is the YDM-4 at the head of a works train comprising of open wagons. It's making preparations to head back to Mailani, growling away to build up brake power and occasionally tooting its horn to alert workmen who may have strayed that it's time to go.
What Sukhi was telling us a little while ago is immediately apparent. The Sarda' flows swift and wide in the fading light like an enormous white sheet stretching to the horizon. At places the river has taken hungry bites of the permanent way itself and here boulders have been placed to strengthen the embankment and prevent further erosion. The Kar Seva has long ended and today it seems that all the temporary measures to contend with the rampaging Sarda are in place and the line will reopen tomorrow or the day after. drat our luck! However, there is some compensation - the sun has set and the light is just about enough for us capture the works train as it readies for departure on the very edge of the river.
It is well past dusk as we start out for the farmhouse. The works train is heading back to its base at a fairly good clip and even with the Bolero at full throttle, we have a hard time keeping ahead of it. It all makes for an impressive sight. a heavily silhouetted YDM4, smoke billowing away and headlights piercing through the night, playing hide and seek with the trees that lie between us. We roll down the windows to take in as much of the Alco aural experience as is possible.
Back at the farmhouse, we stretch out in the verandah, kill the lights (to keep the insects at bay), and pour the first of many aperitifs to toast day 2 of our ever-enthralling adventure. The menu for dinner is strictly non-vegetarian - free-range chicken or `desi murg', as its known colloquially, washed down with many a `Patiala peg` - over conversations ranging from tracking predators to the best-kept secrets of agriculture. A most pleasant and memorable evening indeed. We wake up well before dawn and after getting ready, we head out to the verandah, where an ethereal morning mist greets us. It is only the end of September, but here on the farm, where the morning air is pleasant and conditions fog like, it reminds us that the North Indian winter isn't far away.
Mailani station isn't any different. After we have purchased tickets for the onward journey, we get on to the FOB and await the arrival of our train. The entire yard is bathed in fog and if it hadn't been for our light cottons, this scene could easily be mistaken for January. Minutes after we have finished sipping our measly cup of tea, train 158 Lakhimpur. Pilibhit passenger glides into the platform loop behind IZN's 6451, its headlight cutting through the fog.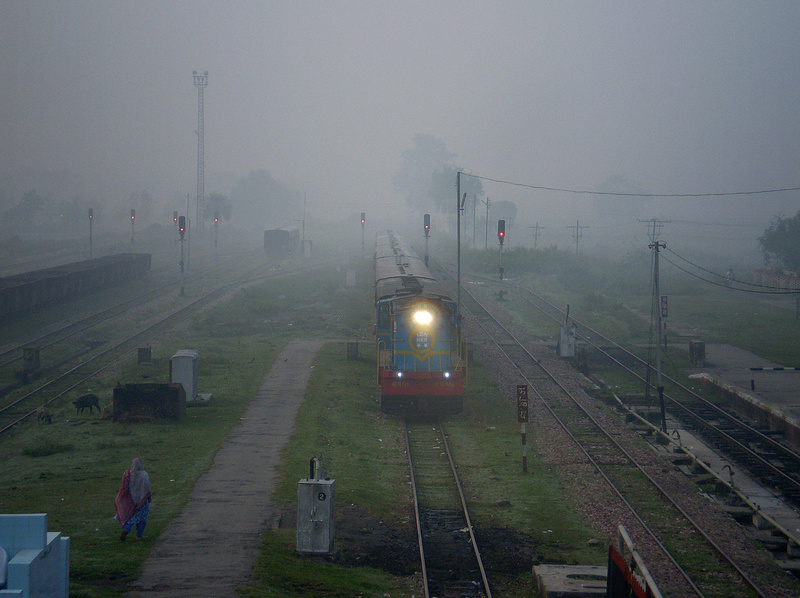 On pf#3, sharing the island with us, is a 10 coach rake on its layover, with loco attached. At the west end of the yard stand two YDM4's in standard maroon livery, both powered down. Adjacent to them, on the platform bench, is Big Belly himself, who now sports a banyan (vest) and dhoti and waves excitedly to me to try and get my attention. Meanwhile, to inject more life into this otherwise sleepy station, an eastbound passenger train rolls in to the sole remaining pf#1. It is hauled by a freshly POH'ed YDM4 # 6380. By the time we find a suitable spot in GS 7528. one of many in our ten coach rake - the sun is half way through its ascent and casts a warm orange glow on the station yard below.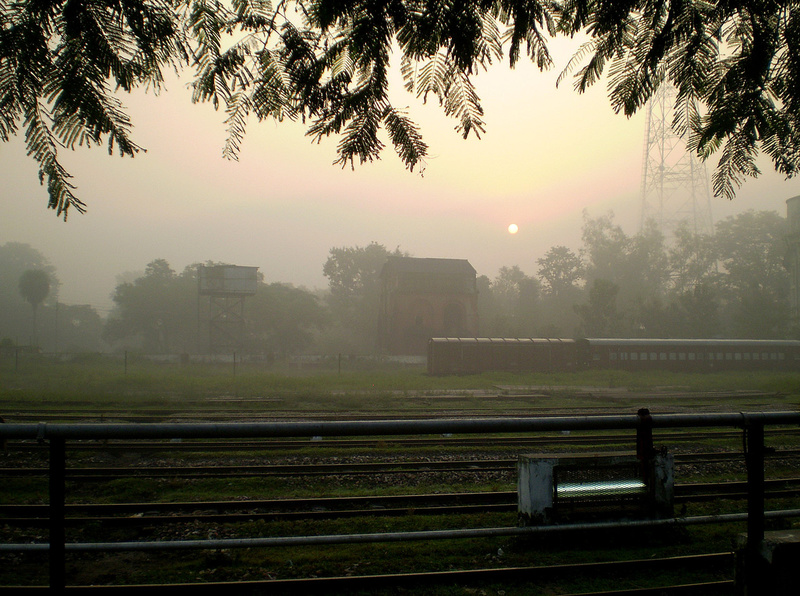 Departure is eventually 20" late and we head out on a very well ballasted track, where, even in GS, the ride feels surprisingly smooth. Within minutes we are at max cruising speed, which I take to be no different from the other sections on NER. a brisk 75. I have every intention of timing some of these sprints but at each successive station, the crowd seems to get thicker, leaving us little space, leave alone doorway or window access, from which to time the runs!
The first stop is at Akela Hanspur, a halt station, which seems to last forever. While the driver. guard duo started of with much aplomb from Mailani, they only seem to get increasingly inefficient as we proceed northwest towards Pilibhit. We pray this doesn't turn out to be another case of the Kapilavastu!
At Sehra Mau, the halt is a lot less bearable than before as our coach stops right beside a tree. one that is a happy crapping ground for birds. The combination of bird droppings and stale feathers provides for some noxious odours. A group of rather noisy young boys, who had joined us at Akela Hanspur, already have their noses covered as we pull in for a halt. Once we get going again, they get back to their favourite little toys. a.k.a. cellphones. and make even more noise now than ever before. Until Mohan fishes out his humongous E61 to read a sms, at which point all their jaws drop collectively and we have a few moments of silence!
Disregarding the long halts along the way, the scenery soon after Mailani is more than pleasing. A thick jungle cover exists on both sides of the rail alignment with the lower portion of the tree trunks under water. the effects of recent heavy rains. The reflections they produce in the water are very elegant though and that coupled with a shallow mist makes for some engrossing views out of the window.
After the first few stations, the forest eventually gives way to open tracts of cultivated land. We are back in the sugar belt now but most of the crop seems to have been adversely affected by floods. a good many fields lying completely destroyed. Between the sugarcane and rail alignment lie scores of little ponds bearing lotus, water lilies and hyacinths. no doubt making for an attractive foreground relative to their dismal looking background.
Of eleven stations on the line, about half are halt or flag stations. The remainder are crossing stations with a single low level platform and a somewhat large allocation of 3 to 4 tracks. Puranpur, the largest station on the section, is also the largest town en route, sporting 5 tracks in all, a lengthy goods siding, a main high level platform and a secondary low level island platform. Even so, the effects of so called `modernization' haven't yet taken their toll on this town and motorized transport appears to be a rarity. Instead, the `tanga' still holds sway here.
A large swamp follows Puranpur and after two large irrigation canals are crossed, the vegetation changes rapidly with paddy taking over as the principal crop. The land also appears far less inundated now, than before. Two stations later, at Shahgarh, we have our only crossing on the line with another ten coach passenger train. Between Shahgarh and Mala, a two station distance, exists a massive reserve forest on either side of the track. Mala station, in fact, is well within forest limits and therefore quite picturesque.
Despite the single crossing and a reasonably good clip, two chain pullings, some PSR's set at 30 and of course some lethargic running by the crew ensure that we lose another 20" on the relatively short run, eventually arriving Pilibhit Jn 40" late.
While signaling had been MACLS from the time we left Mailani, Pilibhit is not! It is predominantly LQ semaphore in Pilibhit but strangely enough, some of its starter and home signals sport colour light route indicators. the most unique signal combination I have seen on IR!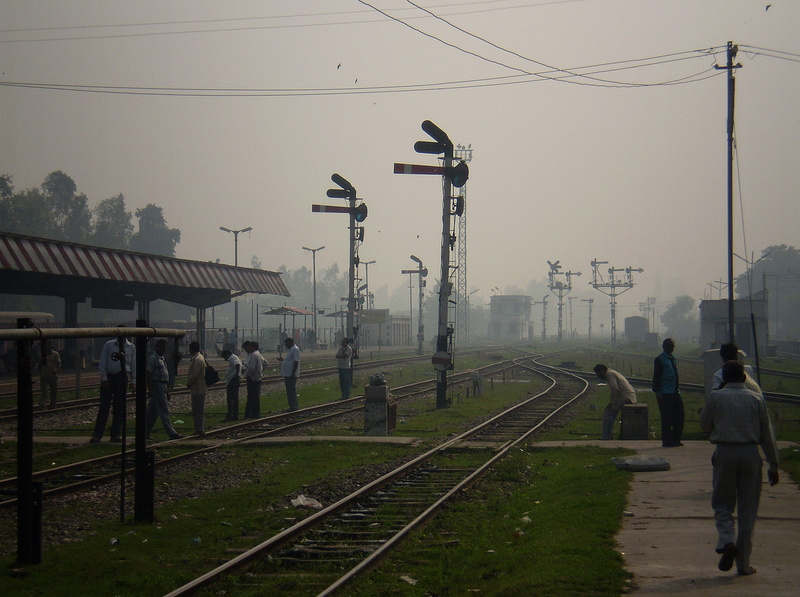 No fewer than four lines radiate from Pilibhit. east towards Mailani, west towards Bareilly, north towards Tanakpur and south towards Shahjahanpur. With Kasganj having already succumbed to GC, Pilibhit is the largest MG junction (in terms of routes) on NER and with 42 train movements a day, also probably it's busiest. In the short hour we have between trains, for instance, there are no less than 7 train movements. Admittedly this is Monday morning and the commuter rush is pouring in from the two branch lines and being further distributed to larger city centres like Bareilly. Our train from Mailani is certainly no exception!
Sixteen tracks make up the yard and these include four platforms. the main, an island and a stub track on the northeast side of the main, serving terminating trains from the two branch lines. both of whose alignments access Pilibhit yard from the east. Between the main and the island platforms are two through tracks, one of them having unnumbered low level platforms on either side, providing double discharge facilities. The UP Ruhelkhand is expected on this track any minute now and explains the presence of a sizeable crowd.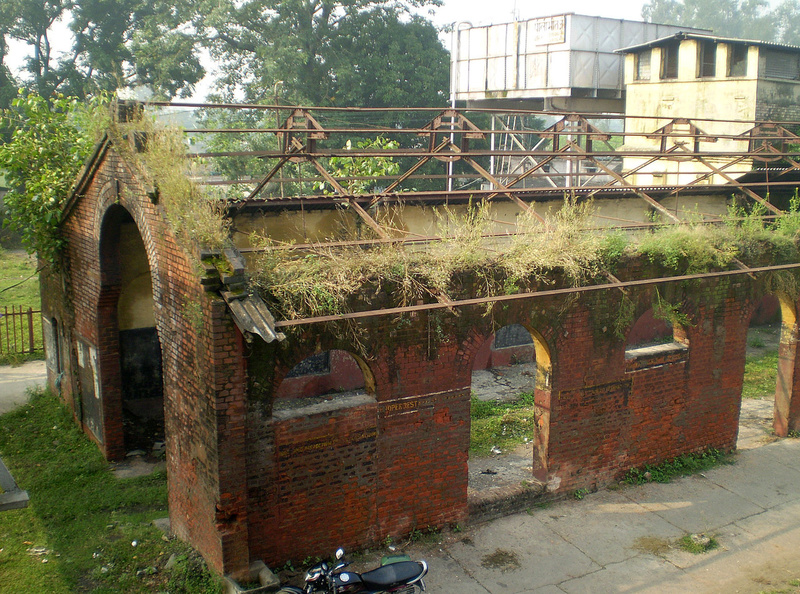 Adjacent to the terminus track is a four track goods yard, dead ended at the same point as the stub track itself. It was probably built that way so as to handle traffic from the branch lines and possibly turn them around in the direction of Mailani. A departmental hopper train stands on one of these tracks and on another is a rather long BOX wagon consist.
Also on the east end of the yard but south of the mainline is a covered carriage depot with one pit line and a couple of stabling lines. Unlike the one in Mailani, this one appears to be in regular use and a few minutes after our arrival, our train is backed in to that very pit line. Between the depot and station area stands a twin car ARME set but surprisingly there is no ART. Surprising because Pilibhit was once a loco shed homing no less than 15 locos. 14 YBs and the sole P. Small no doubt. by NER standards. but a shed alright. Its sorry remains are clearly visible from the FOB as soon as you ascend the steps past the platform canopy.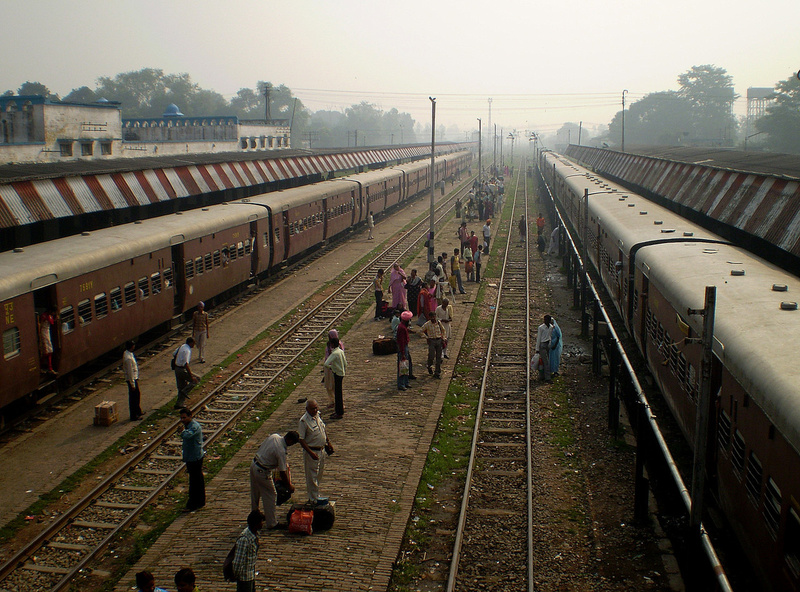 To the west of the platforms are a couple more stabling lines and at least one passenger rake, sans power, is visible to us from our perch on the FOB. At the west end of Name pf#1 is a goods siding, which, judging by the condition of its track, seems to be in good use. Meanwhile the Ruhelkhand arrives and departs on the through and is immediately followed by another east bound passenger train. Independent of these movements, a train. packed to the hilt with rooftop riders - crawls in to one of the island platforms from the Shahjahanpur branch and dislodges its load of morning commuters.
Apart from its many impressive railway features, Pilibhit is known for other reasons too. For starters, Maneka Gandhi, its long serving MP! It also boasts, to quote from a proud station sign, "Fine Mosque built by Hafiz Rahmat Khan, the Rohella leader, in imitation of the Jama Masjid Delhi". And on returning to Delhi, when I mention the word `Pilibhit' in passing, I am reprimanded by my mother for not having brought home its most famous produce - rice!!
We make our way to Pf#1, where train 134 Tanakpur. Kasganj passenger is awaiting departure. #6296 is at its head and we board GS 7772, second from last of a ten coach consist. The platform fare is more than enticing. `Aloo Tikis' (potato pancakes) and Kulhad wali Chai (tea in an earthen pot) and we indulge the vendor outside our coach, not once but twice! Needless to say, it is one of the more memorable breakfasts we've had on IR in recent times!
For no apparent reason, departure is 17" late and unlike our exit from Mailani, on the previous train, there seems to be no urgency to get up to line speeds here. In fact, after what can only be described as a lethargic run, we have an extended halt at the first station of Lalauri Khera (almost as joyous sounding as Akela Hanspur!), for, once again, no apparent reason.
Lalauri Khera has its platform loop uprooted and Mohan immediately cross references his time table to reveal that the station has in fact been downgraded to `halt' status. Even so the station building seems staffed and the signals not only continue to exist but also to work. Strange are the ways of IR when dealing with the last days of the smaller gauge.
The next station, Shahi, is healthier looking with three tracks and an abandoned siding, and just like it had been at the previous stop, the halt is equally long. Most of the other stations we see, barring one other halt, have the same three track plus single platform layout. The halt station has a little hut, station name boards and absolutely no semblance of a platform. low level or otherwise.
Past Shahi, we time our clip at 65 on the stopwatch and it appears as if we never get to the other side of 70. The track looks good, sports concrete sleepers and seems capable of the standard MPS of 75 but there are innumerable cautions along the way. six according to my conservative count. and these ensure that we never get anywhere near the MPS.
Our first crossing is at Bijauria, with a now common consist length of ten coaches. Sainthal follows Bijauria and along with it comes another excruciatingly long halt. But the longest of them all is still some ways away..
Meanwhile, we are pleasantly surprised to see a couple of ticket checkers make an appearance in our GS coach. Even better still is the fact that every passenger appears to have a ticket! Either the traveling public is more conscientious on this little MG line or then random ticket checks are more rampant. We'd like to believe it's a case of the former.
The landscape on this route is dominated mostly by sugarcane plantations, all of which look a lot healthier than what we had crossed on the section between Mailani and Pilibhit. Trees are few and far between, most of them of the thin stalk variety and visible as clumps in the far distance. There are very few wetlands here and almost no area appears to be even slightly inundated by the recent floods. The only notable area of water is the River Daoj, crossed by the most major of all bridges on the route - its channel full to the brim. For bird lovers, this section offers plenty of Ducks, Egrets and even the Sarus Crane, which makes for a breathtaking sight when in flight.
The approach to Bhojipura Jn. is marked by the Lalkua branch joining us from the north and a surprisingly quick entry over the points. Small consolation given that we are now 40" late. having lost an amazing 23 minutes on the run from Pilibhit. No chain pullings to blame this time, just sloppy running and excessive cautions along the way.
Given that it's on the outskirts of Bareilly, one would have imaged it to be quite a hell hole but Bhojipura is a neat little station, relatively clean and reasonably quaint. It has three elegant low level platforms, five tracks, an old design FOB and a stone water tower at its entrance. On one of its non-platform tracks stands a long flat car rake, which, although empty, we assume it to be for military loading at the nearby Bareilly Cantonment.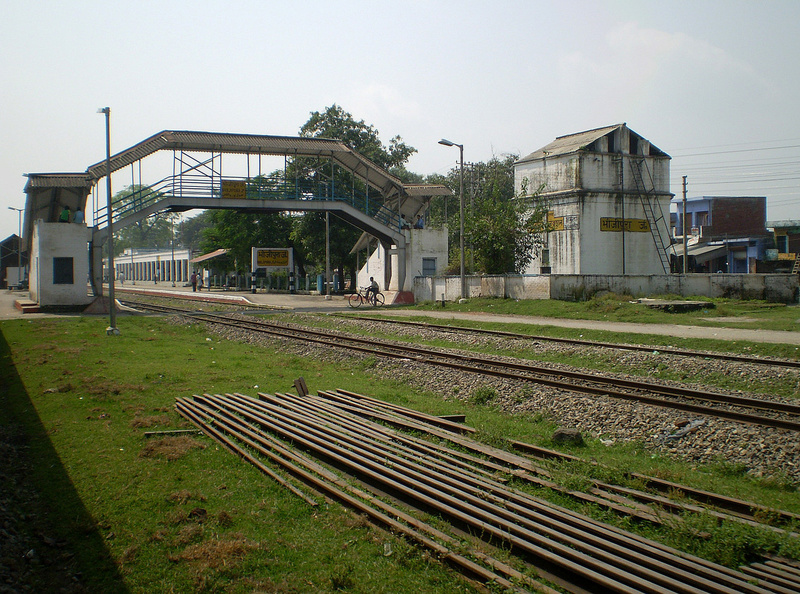 The signaling is all LQ at Bhojipura. a break from the MACLS that we had after we left Pilibhit. The point control boxes are an interesting mix of old design and modern day. The MACLS resumes shortly after Bhojipura and at the next station, Dohna, we have our second crossing with a rather long train of 14 coaches.
Between Dohna and Izzatnagar, the workshop runs parallel and to the east (or left) of the alignment. Some BG tracks. supposedly for holding the workshop stock - have been laid between the boundary wall and the MG permanent way but there is no through connectivity to the workshop yet. Closer to IZN station, the lead for the diesel loco shed is visible to our west (or right) and minutes later, we reach the platform. Although we will be departing from IZN later in the evening, it is our intention. for obvious railway related reasons - to continue on this train to the next station, Bareilly City.
Izzatnagar station sports an island serving two platforms, another elegant old FOB and an attractive platform canopy. A siding on the station's west side serves dual purposes. at the end of it is a ramp for vehicle loading, connected to the station's approach road, and in the middle, is a tiny platform, large enough to serve one standard length coach, and we presume this to be a saloon siding for the Izzatnagar DRM office, located close by. The water filling and electric charging infrastructure serve to confirm this theory. As Mohan points out, "Why, in his right frame of mind, would the DRM board his saloon from the main station of Bareilly, where the MG section is a dirty little sideshow?"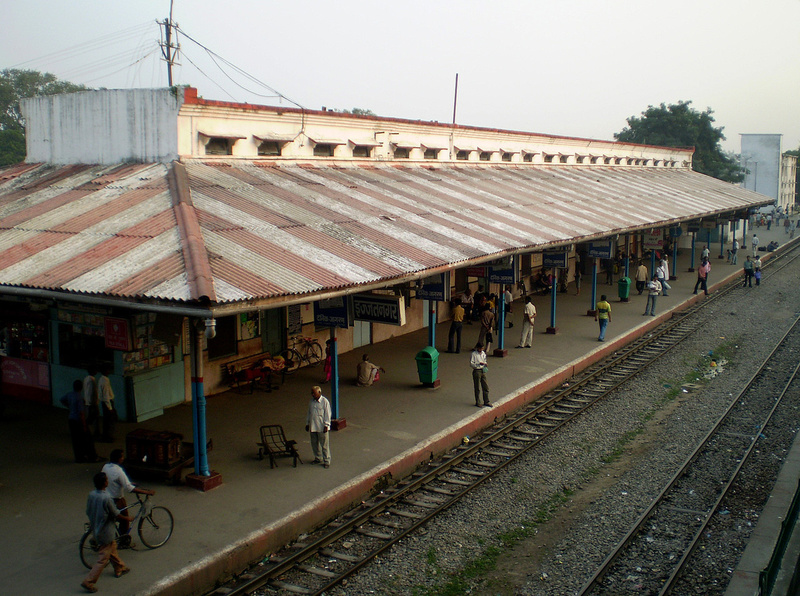 There are seven other tracks in the station yard and these serve as the receiving and dispatch lines for IZN workshop. On these can be seen a freshly overhauled ARME set, some GS coaches, a couple of parcel vans or VPU's - which somewhat justify the ramp we just saw. and some wagons of the BC and BOX variety. We will return to visit IZN workshop later in the day, so more on that then.
The halt at Izzatnagar is the longest we have had since we left Pilibhit and what follows, on the short run to Bareilly City, is even more painful. The IZN - Bareilly City section is a double track MG corridor with twin single line operation. The second track serves as a transfer track for locos coming in to or out of IZN shed and of course inbound and out bound workshop stock. The track is in the process of being converted to BG and will probably be ready when the workshop itself is ready to handle the larger gauge. If Pilibhit had an interesting signal mix, then this section follows suit - MACL signals on semaphore gantries!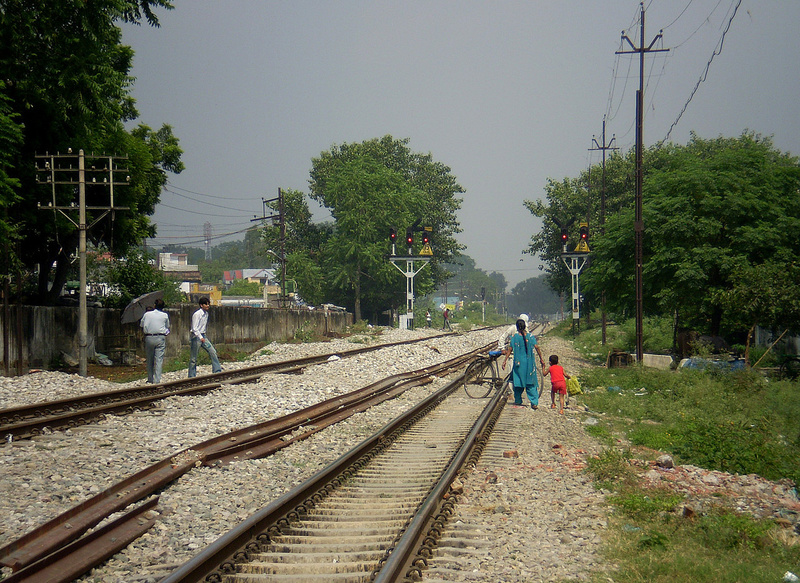 Four unscheduled halts later, we arrive at Bareilly City. miraculously only 45" late. The reason. an unbelievable amount of slack built in to the train's schedule on that single block section. We later learn that there are several LC's along the way. one of them connecting a city artery to a national highway. and once the gates are lifted, there is no putting a stop to traffic flow. Over passes are in the process of being built, but as with all things infrastructure related in our country, this too is likely to take forever. In the meantime, passengers of the `chhota line' shall continue to suffer. I honestly wouldn't be surprised if all these road over bridges are ready by the time the new BG line is inaugurated.
The Moradabad. Lucknow BG mainline comes into view just short of Bareilly City yard and from there on runs parallel, albeit some distance away, to the MG alignment, following it into Bareilly Jn. Just as we are pulling in, the WDM2 powered 19 coach Himgiri Exp effortlessly races past us. To our east and parallel to the platform are a couple of sidings, a large godown and a long string of at least 10 MG cabooses. A flat car consist, similar to the one seen in Bhojipura, stands on one of these sidings suggesting that military rakes might originate here.
To our west is the main yard consisting of about eight tracks and housing at least 3 freight sets. a BC, a BOX and a departmental hopper train. with their south facing ends sporting cabooses. On the other lines are parked a couple of passenger train sets, some of them with fresh coats of paint, suggesting that they have just been turned out of IZN workshop. An ART and an ARME occupy the remainder of the tracks and are about all that remain as signs of a once bustling steam shed. Bareilly City was the shed for the Bareilly area and homed 42 locos in all of the YG, YB, WD and P class.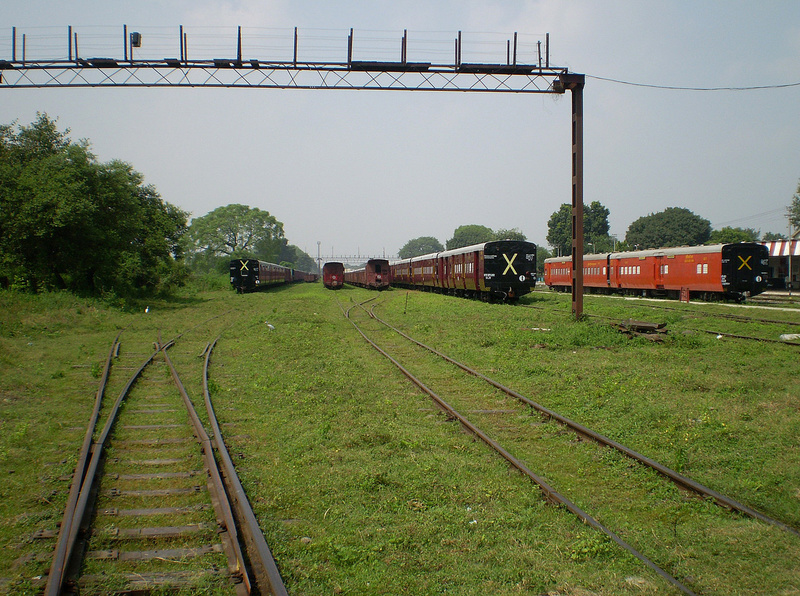 For some strange reason, we halt on the through track, even though Bareilly City's lengthy platform is of the double occupancy variety. A 14 coach passenger train, which has been awaiting our arrival, is the only other occupant of the platform and there is no reason why we can't be received on the platform's south end.
We, along with a host of other passengers, are forced to alight between the two trains and to add to this chaos, the north bound passenger starts pulling out at the same time. Once it has passed, there is a mass exodus across the track on to the main platform. We stick around to watch the departure of our train and after it has gone, survey the yard some more. There is no FOB, since all movements are `supposedly' handled on the single platform, so I walk across the tracks to see the full extent of the yard. Two powered down YDM4s stand at the south end of the yard, one of them fresh out of the workshop and looking the part!
Two flood light masts, one at either end of the yard, serve to illuminate it but more prominent than those are flood light gantries, strewn along the length of the yard, most of them appearing to be out of use. signs that the yard has seen busier days. While I am trying to imagine what those `busier days' may have been like, I notice through the corner of my eye, that Mohan has been accosted by some railway staff. Given that my seemingly innocent actions have garnered the attention of one and all on the platform, I quickly make my way back hoping to help clear up the mess. But by the time I get there, Mohan has already sweet talked his way through!
Aman, another friend of Mohan's, is at the station to receive us, and whisks us away to his friends' house. We don't get to see much of Bareilly in the process but we do get to experience a hearty lunch, Bareilly style! The menu is far from complicated, right down to the basics in fact - spicy mutton Biryani and the most succulent Seekh Kebabs I have ever tasted, all washed down with some chilled beers. Just when we have finished raving and ranting on how good the food was, Aman informs us that since this is the month of Ramzan, the better stuff is always available in the evenings!! The food is sumptuous alright but also very spicy. To cool down a bit, Aman drives us over to `Dinanath Sweets', to get some chilled Lassi, again, Bareilly style!
By the time the food, beer and Lassi have settled, we are deposited in front of the entrance to Izzatnagar workshop, where we have arranged to spend the rest of the afternoon. We sober up, as best as we can, and make our way to the Chief's office. Unlike others we have met in similar positions before, he is a man of few words and limits the who's, how's and why's of our trip to a minimum, instead immediately deputing one of his more able inspectors to show us around the shops.
Built in 1913 to overhaul steam locomotives, Izzatnagar workshop was remodeled between '55 and '60 and is currently on the verge of yet another remodeling, to handle the larger gauge. But other than some tracks which have been laid outside its boundary wall, the workshop, as of this writing, and certainly at the time of our visit, remains the only all MG mechanical workshop in the country. And that in itself, is reason enough to visit it.
Spread over an area of almost 50 hectares and spanning about two kilometers in length and a half km in width, the workshop today employs about two thousand people and undertakes the periodic overhaul or POH of MG locomotives, carriages and wagons. In fact, it is one of the few workshops still overhauling MG wagons in the country and a variety of wagons. numbering about 25 in all - can be seen in different stages of overhaul in one of the designated areas for such activity.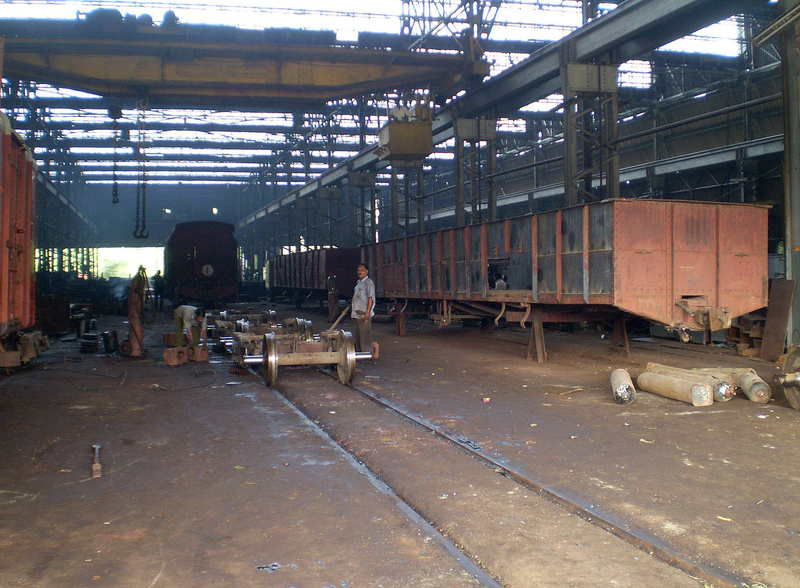 Current turnout is approximately 63 coaches, 15 wagons and a couple of locomotives each month. The work is spread over 3 distinct shop areas, all of them, beautifully laid out. In fact, I doubt that changes to accommodate the BG will include modifying any of the sheds, which appear to be wide enough and tall enough for the broad gauge. Amongst other things, what will need an upgrade though, are the 3 traversers that connect these areas.
We start our tour with the loco workshop, which expectedly is the most compact of them all. Of about 25 tracks in the workshop, the loco shop takes up about 4 and uses only one covered shed. We count six YDM4's in different stages of repair, one of them completely stripped bare.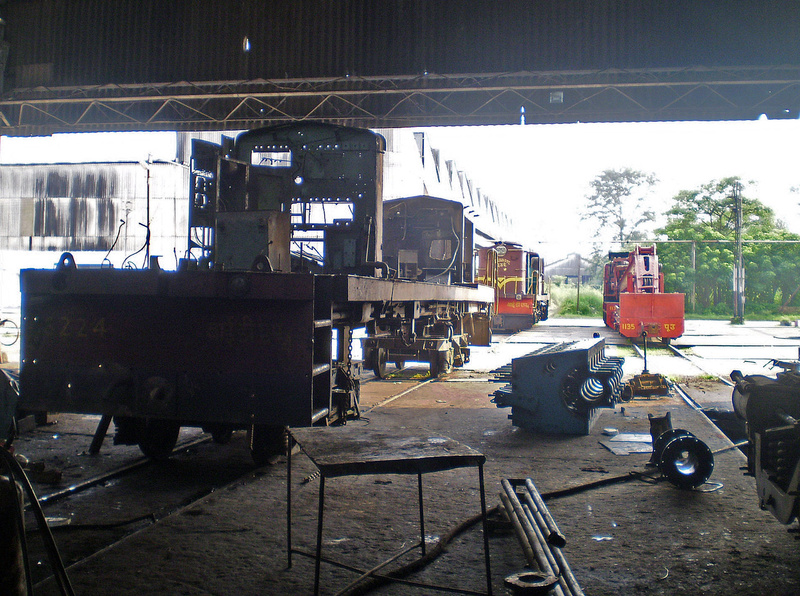 Outside the loco area are two interesting pieces of equipment, although, truth be told, we were hoping to find many more! The first is a plinthed `T' class steam locomotive # 32074, which sits in an enclosure where the plants appear to be the bigger attraction. The second is a 35 ton steam crane # 1135, with match truck, built in 1970 at this very workshop! Since it doesn't carry any base markings, we can't tell if its there for POH or just lying around, waiting to be condemned.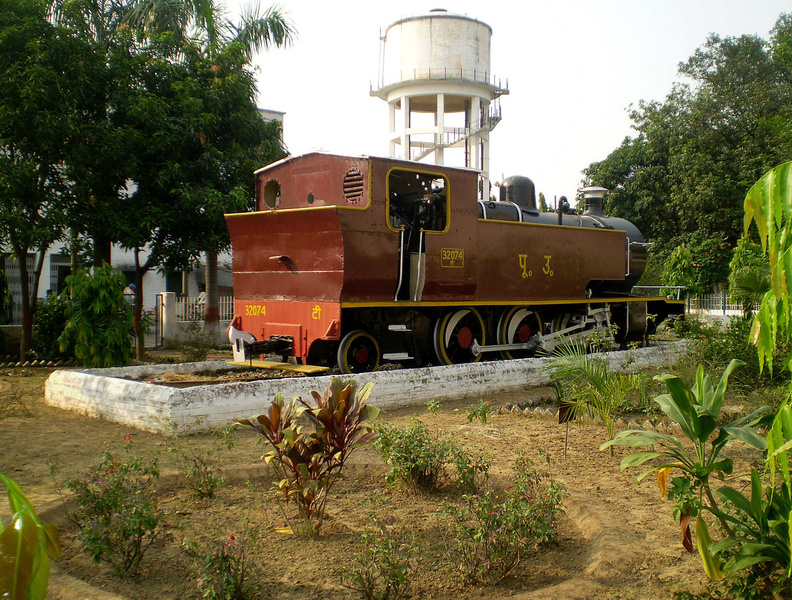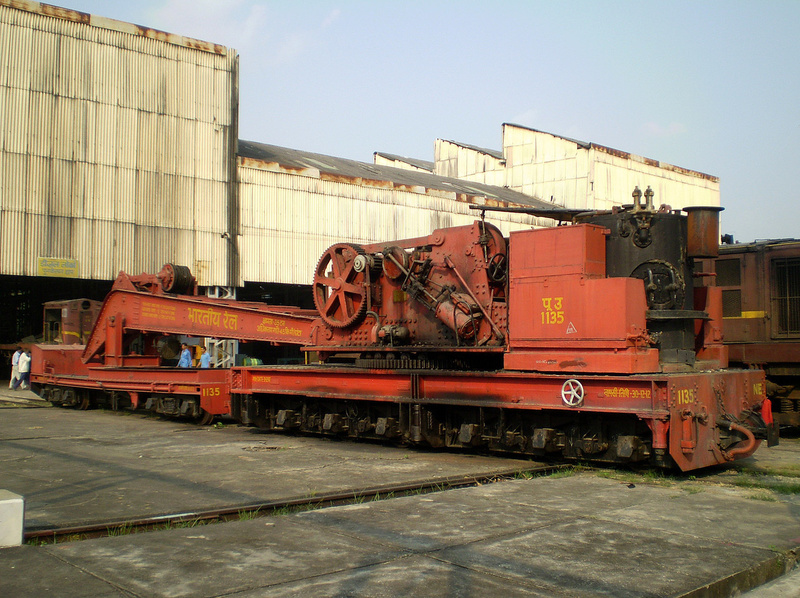 The carriage shops are next and account for a majority of real estate on the workshop grounds. The section handling corrosion repair is the biggest of these and adjacent to it is the Mill Wright Shop. easily the oldest building on the grounds and the most attractive of them. Right by it is the Saw Mill and within it exists equipment dating back to 1912. predating the workshop itself! Amazingly, every single piece of vintage equipment visible to us, reportedly still works!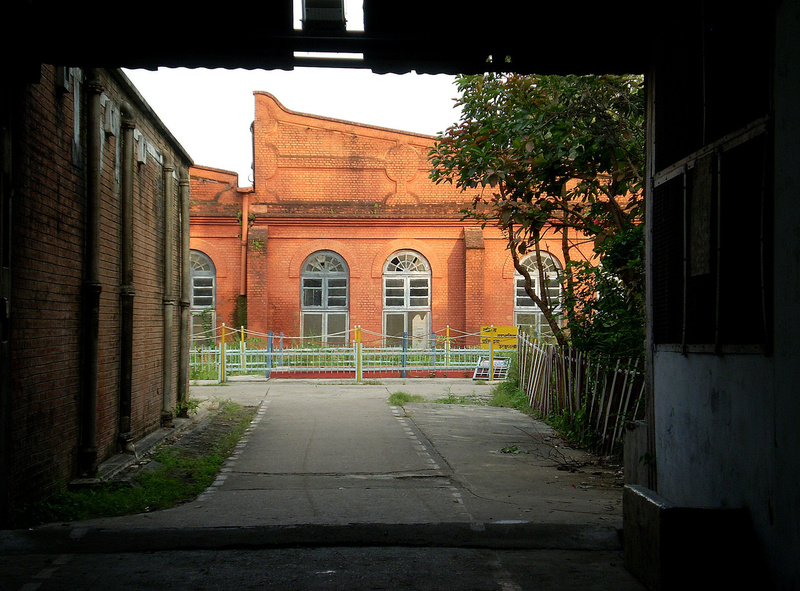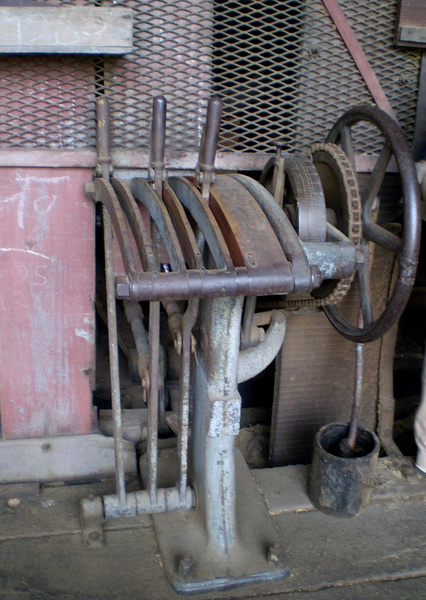 Other areas of the carriage shop which we fleetingly see are the roller bearing section, the wheel shop, the lift shop, the paint shop, the furnishing shop and the final inspection shed. Of over 50 coaches visible to us, the most common variety under repair appears to be the SLR, followed closely by the GS. The only other variant we see is a lone 2AC coach, and close to it, in the same shed, a MG rail bus. YRB 10009.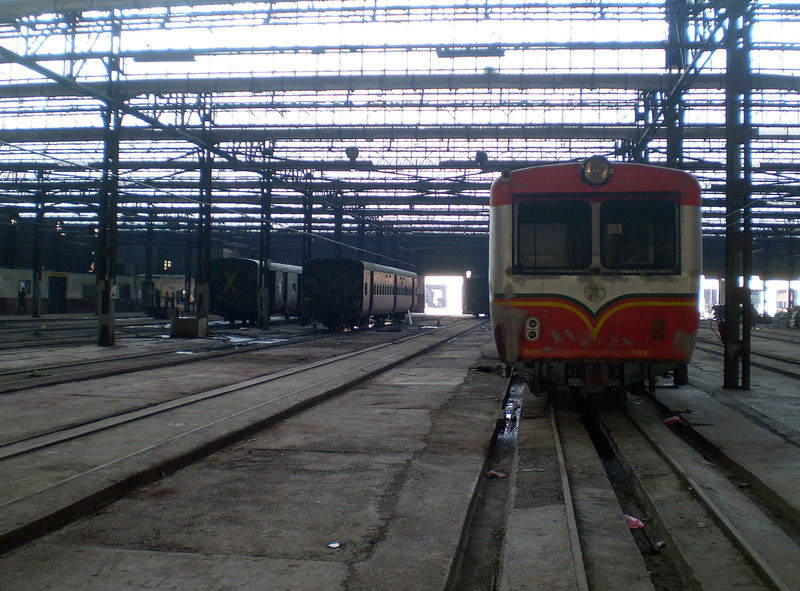 Near the final inspection shed is another corrosion repair area. the third and newest of the lot - built out of a shed, that, not so long ago, was responsible for constructing breakdown cranes. Adjacent to that are the remains of Izzatnagar's very own steam shed, which once homed two `P' class locos, used as workshop pilots. The `P' class is long gone, but instead, two YL's # 5000 & 5010, both carrying Mau shed markings, are seen rusting away in the cosy confines of the shed.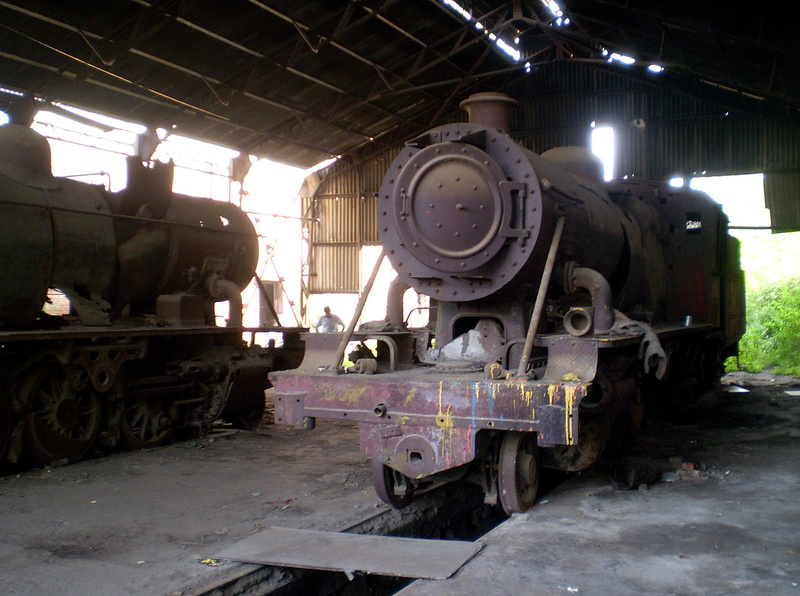 We have been walking around the shops for over an hour now, getting uncomfortably close to our train's departure at 17:27. We are reminded of this as we pause to look at an ancient punch card system, which still keeps accurate time and holds out to each passing shift, every single day of the week. I pray that this last vestige of a very fine metric establishment will bear testimony to simpler days, even after the broad gauge invades.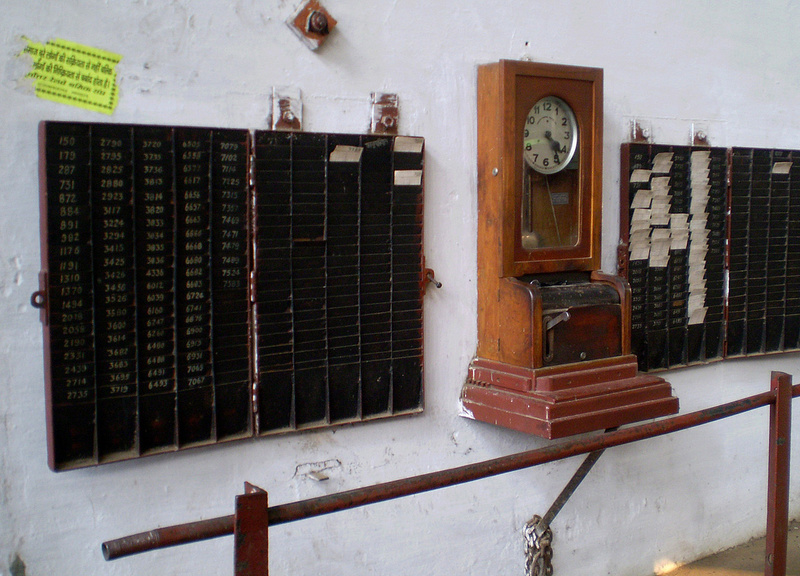 We make our way back to the main road, where Aman had dropped us off a few hours ago, and hire a cycle rickshaw to take us to Izzatnagar station. Since we are at a relatively slower pace than before, we have time to look around at our surroundings. Just past the workshop gates and to our left, or east of the alignment, are the offices of the Divisional Railway Manager, Izzatnagar. In front of the building is plinthed an old MG loco. T84. although it appears to be very different from the T class we saw at IZN workshop. Further ahead and to our right, or west of the alignment, are the entrances to the railway officer's colony, which house both the divisional and workshop staff. The entrances look grand as do the wide tree lined avenues within. The only bungalow we spot - from behind the colony wall - is old and regal looking, to say the least, and we wonder what the rest of the colony must be like.
The wait for #141 Bareilly. Lalkua passenger is a lot longer than expected and multiple enquiries at the SM's office reveal little. Every time I go in there, I am told, "announcement will be made, the train has already left Bareilly City" And so we continue to wait but no such announcement is made, and instead, two Bareilly bound passenger trains arrive and depart. with absolutely nothing arriving from the Bareilly side. If the train has indeed left Bareilly City then obviously the dual track arrangement has not been put to effective use!
About an hour after having arrived at the station, we see the headlight of #6456 illuminating the track, as it slowly rounds the curve into platform 2. There is a surging crowd on the platform by now and a good deal of confusion prevails amongst them. most not knowing whether this is a Lalkua or Pilibhit bound train. We walk the length of the ten coach train and find `doorway only' room in GS coach 4941. The coach seems to be fresh out of IZN. a nice parting gift one would think. but we won't get to enjoy any of its glossy interiors till much closer to Lalkua.
Departure from IZN is 43" late and on the short two block run to Bhojipura, a couple of cautions and an unscheduled halt ensure that we lose a further 12 minutes. Just short of Bhojipura, we pass the Trishul Aerodrome, an Indian Air Force base whose underground hangar is rumoured to be the largest in Asia! At Bhojipura, a 14 coach passenger train is already awaiting us and so an extended halt there seems totally unnecessary.
MACLS signaling takes over north of Bhojipura and will continue through to and include Lalkua. We have taken over the middle door by now. sitting on the footboard, two abreast. a somewhat tight squeeze given the more dainty specifications of MG stock. Even at our low and uncomfortable perch, the ride quality is excellent. whether that might have something to do with a freshly overhauled coach or good track maintenance, we cannot tell. It is to dark now to time some of our sprints but they feel about right or where they should be, at least - somewhere in the range of 65-75 km/h.
Stations along the way appear to have a more lean layout than other sections we have traversed on this trip. a through and a loop with a single low level platform. Some of these have been relegated to halt stations, where the track bed and signals remains but are no longer in use. Baheri and Kichha are the two most important towns en route and also sport the largest stations on the line, both having about four tracks each. At Kicha, crossing # 2 awaits us. a train whose rake includes a FC and 2AC coach. The timetable confirms that it is in fact the Kumaon Exp. Another flat car rake is spotted at Kiccha, although it may well be the one we saw at Bhojipura earlier in the day. If that is the case, it has, no doubt, made little progress!
We manage to make up a little time and eventually pull in to Lalkua Jn. 40" late. Just before the station yard, the BG line, southwest from Rampur, crosses to the east of the MG by means of a diamond crossover. Further to our east is a large Paper Mill complex and within its boundary can be seen a couple of BOXN rakes.
Lalkua's MG side is expectedly the smaller of the two with an island platform serving two tracks and a couple of stabling lines adjacent to it. On one of these stand an assortment of coaches with the name boards suggesting that they belong to the rake of the Nainital Express. On our arrival, #6456 is immediately cut off and proceeds to first run around its rake and then begin an elaborate series of shunting maneuvers, which eventually ends in the formation of one long rake. the Aishbaug bound Nainital Exp.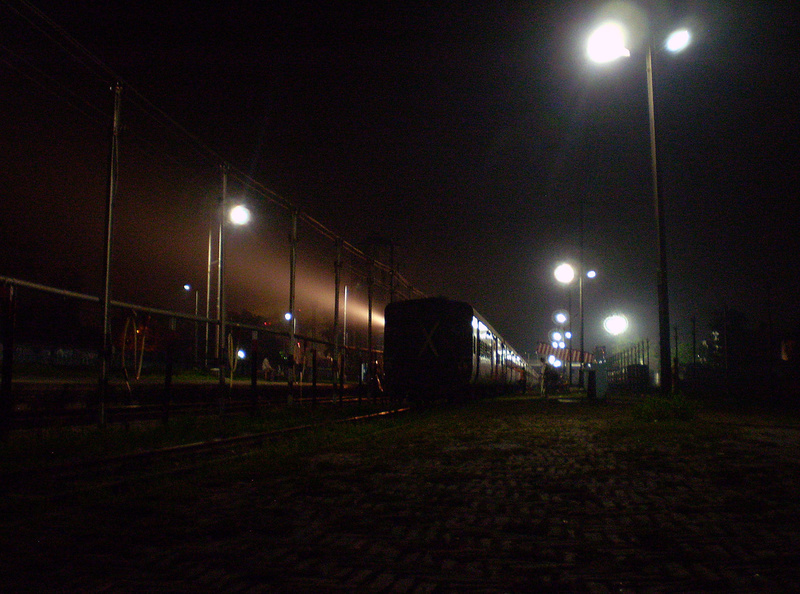 On the BG side, a train - presumably connecting with ours - departs towards the Kashipur and Ramnagar branch, and about fifteen minutes later, another one pulls in from the Kathgodam side. this one appearing to be a connection for the Nainital Express. Moments later, the Nainital express departs and the MG side is all but deserted now.
The Broad Gauge has six tracks in all. two for the platforms, two serving as sidings for the paper mill, another for rake stabling and the last of these holds an ARME twin car set. The BG now occupies what was once the main MG island platform and steps leading down from the high level platform to the various offices serve to confirm this fact. An FOB connects the platforms of both gauges and offers sweeping views of the elegant old station building and the massive paper mill behind it all.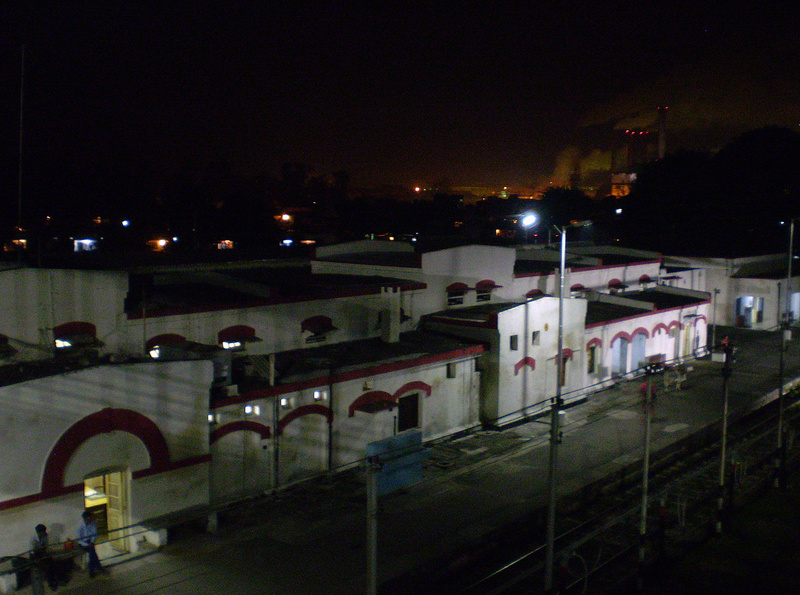 Aman has already given us a recommendation for dinner at Lalkua and we waste no time in proceeding towards said eatery. `Prakash ka Dhaba'. It is conveniently located right outside the station and offers strict vegetarian fare. After the excesses of mutton at lunch, there isn't a hint of complaint from any of us and we quietly sit down to a meal of roti (Indian bread), daal (lentils) and subzi (vegetables). The service is quick, the food piping hot and the quality outstanding. The only thing that's a bit of a joke is the bill, which is a pittance, given the quantity and quality we have just consumed.
Tuglakabad's WDM2 16272 in bright `Palace on Wheels' livery brings in # 5014 Ranikhet Exp from Kathgodam. Departure is 5" late as we make ourselves comfortable in coupe C of NER's FAC coach 02003. The attendant is courteous, our beds have already been laid, the interiors are chilled, the coach - including but not limited to the toilets - is spotless, it smells good and everything works as it should. This is more than a welcome change from the horrid FAC coach we rode on the Vaishali, a few nights earlier, and there is nothing to complain about and little else we can possibly ask for.
Actually there is! The coupe also sports a nifty little digital clock with temperature read out, and right next to it is printed the Ranikhet's time table. It reminds us that our scheduled arrival into Old Delhi (DLI) is 0355 which equates to only about 5 hours of sleep. Fondly remembering our old friend, the Kapilavastu, we make a silent wish. ;-) The Ranikhet doesn't entirely disappoint and we pull in to DLI a good one hour and fifteen minutes late!!
---