Zhob Valley Railway
By Owais Mughal, June 2008.
---
This article has appeared earlier on the website, All Things Pakistan.
See other articles by Owais Mughal on Pakistan.
---
Balochistan has been blessed by an awe inspiring landscape and scenery. A man made means to explore all this expanse of beauty had been the Railways in this province (see Bolan Pass Railway and Trans-Baluchistan Railway). I have deliberately used past tense in the previous sentence because one such railways in Balochistan is getting uprooted right now; at this very moment; as I am writing these lines.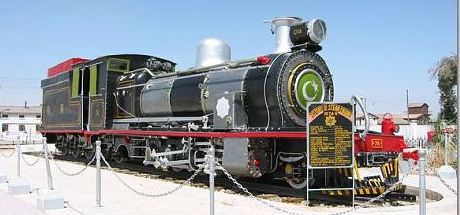 This section of railways, when laid during the British Raj, was called the Zhob Valley Railway (ZVR). It has been out of service since 1986 but these days all the left over track is being uprooted and sold as scrap. This has provided me the motivation to write this post and re-visit the history of this once longest Narrow-Gauge Railways of the subcontinent.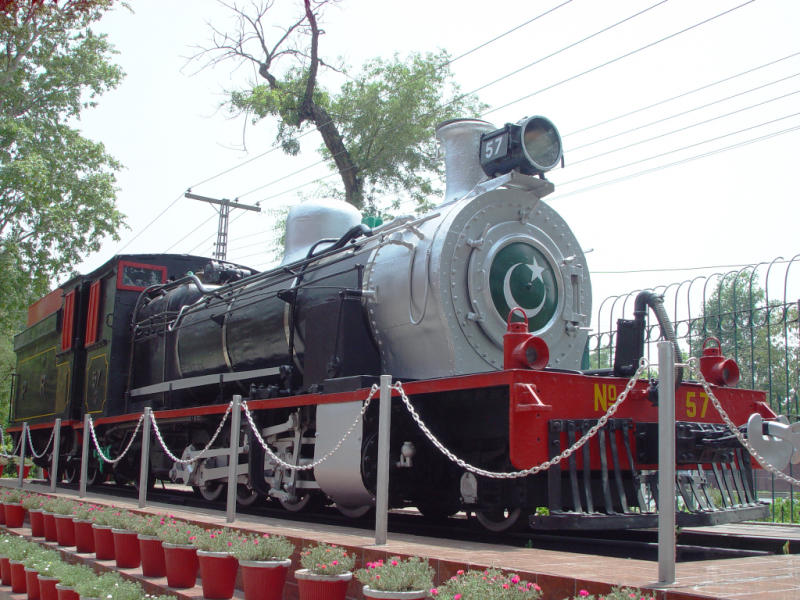 The photograph above show the narrow gauge locomotive #57 which was used on the ZVR and is now preserved at Pakistan Railway's headquarters in Lahore
During First World War, a Railway line was laid from a place called Khanai (30km north of Quetta) to a place called Hindubagh (renamed as Muslimbagh in 1960s). Hindubagh had Chrome mines, which was used in munitions of First World War. The railway line at that time was a private siding for the Balochistan Chrome Ore Company. The work started on Khanai-Hindubagh line in 1916 and was opened for rail traffic in 1921. In 1927, the Hindubagh to Qila Saifullah section was opened and finally the section up to Zhob was opened in 1929.
There were dreams of ultimately connecting the track to Bannu in the North West Frontier Province. But that dream became a victim of the uncertainty of the 1930s and the Second World War. This is how the track was inherited by Pakistan on August 14, 1947 and since then we didn't add a single kilometer to the line.
The Rolling Stock of Zhob Valley Railway
The Zhob Valley Railway as it was then called used rolling stock that belonged to the North Western Railway. Most of which became the Pakistan Western Railway and later Pakistan Railway. Much of the rolling stock used on ZVR was part of a "strategic reserve" intended for use elsewhere in the British Empire. The gauge was thus standardized at 2ft 6ins (762mm). Curiously, no strategic reserve equipment could be used in the European war of 1914-18, because all the combatants were standardized on 600mm or 2ft gauge for their trench railways. However, some equipment saw service in the Middle East and Africa, in both the World Wars. For comparison, Pakistan's Broad Guage Railway is 5'6" wide.
Maps of Zhob Valley Railway
The following is an overall map of Bostan to Zhob route. It may be hard to read the details but it gives a big picture of the route. I will break this map into smaller pieces below. You can see that Highway 50 and Zhob River follow very closely to the railway.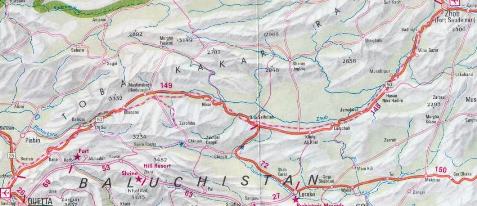 This following map is Quetta - Bostan - Muslimbagh - Nisai section. Interesting to note a spur of track going south from Muslimbagh to a town called Zaromba. This must be an industrial track to a mine because it is never shown on passenger timetables. Muslimbagh is also never mentioned as a junction.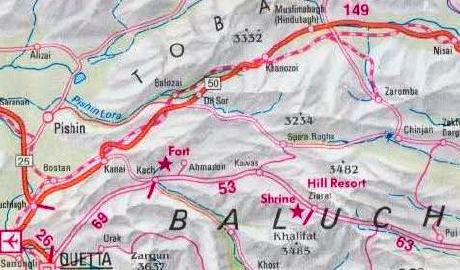 The map above is Nisai - Qila Saifullah - Lamchak Section. Road and rail criss cross eachother several times in this section. Zhob River flows little bit to the north here.
The map below is last leg of this railway. Lamchak to Zhob. Note: Zhob was earlier called Fort Sandeman.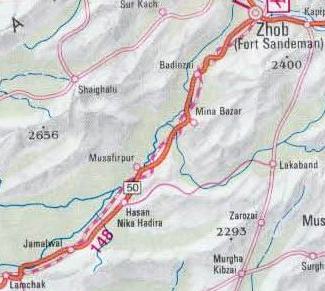 The Zhob Valley Railway served as an important means of transportation of goods. People also travelled for shorter distances. Things, however, remained in a state of rapid flux and with the birth of Pakistan the notion of military use for a slow moving narrow gauge line died.
The passenger train service remained in operation for almost 60 years and was abandoned in 1985, as it was proving uneconomical and the tracks were not properly maintained.
Freight service continued to run for a year longer to haul chrome from the mines at Muslimbagh. That too got stopped in 1986.
The Highest Railway Station in Pakistan
The total length of this railway from Bostan to Zhob was 294km, which made it the longest Narrow-Gauge Railway of the subcontinent in 1920s. It had 11 stations in between including the famous Kan Mehtarzai station which was the highest station in Pakistan at an altitude of 2224 metres (7295 feet).
For a long part of its journey, the railway followed the Zhob River and thus it was called the Zhob Valley Railway (ZVR).
What Happened in the Winter of 1970
As I was researching for this post on Internet, I found a very interesting article called 'Breakfast at Kan Mehtarzai' by Salman Rashid. An excerpt from that article talks about the winters on this railway. Here it goes:
In Bostan in 1992, Mirza Tahir the Station Master remembered the glory days of the ZVR. Winters were pretty hard on the tiny Narrow Gauge locomotives, he had told me, and it was not uncommon for trains to be caught in snowdrifts. Tahir remembered the great snowstorms of the winter of 1970. So deep was the snow that the snowplough in front of the locomotive just could not make way. The train foundered. The fireman built up steam while the driver tried again and again to nose through. But the snow was too deep -- nearly two metres -- it was said, and they had to give up. They dropped fire and waited.While the passengers walked to the highroad that runs parallel to the line and got away as best as they could, the telegraph wires buzzed. Bostan was informed of the snow-bound train and requested for a rescue locomotive. Out came one steaming and puffing through the wintry landscape only to be caught in the snow a few hundred metres short of the stranded train. Bostan sent out yet another one and even that could not make it. Tahir said it took them a few days to clear the line and get it going again.
The Unique Architecture Along ZVR

The most remarkable and picturesque feature on this line is the architecture: the mud-plastered station buildings with their tower like structures and sun rooms. The Photo above shows the building of Kan Mehtarzi. Once again an excerpt from 'Breakfast at Kan Mehtarzai' goes like this:
On the ZVR, the cutest things on the entire pre-partition North Western Railway are the darling station buildings. I have not seen them duplicated anywhere else in Pakistan. They are, with only a couple of exceptions, all mud-plastered; they come with a pitched roof and, to one side, a neat octagonal tower-like structure with a conical roof. This was the ticket window. But only for those who cared to pay fare, for most travellers on this line considered it their birthright to go free. Indeed, that was one of the reasons for the line's untimely demise.
Zhob-Bostan Time Table of Winter 1959
The following scan is of the actual running time table of Zhob-Bostan section as published by the North Western (later Pakistan) Railway in Winter of 1959. I would like our readers to note the column called 'Actual miles Fort Sandeman' as well as the 'Height Above Sea Level' column which is given in feet. You can see Kan Mehtarzai listed at 7221 feet altitude. Note: Fort Sandeman is the old name for Zhob.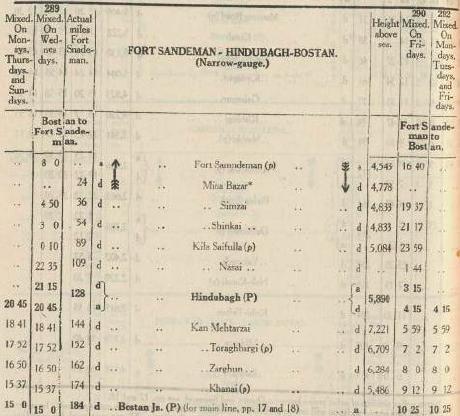 Mr. Ajai Banerji, a friend of mine, tells me about the timetable of Zhob-Bostan route of 1944 in following words:
Bostan-Khanai was mixed gauge until BG was removed after 1942. At this time a mixed train ran twice a week in both directions. 499 left Bostan at 15.55 on Mon/Fri reaching Fort Sandeman at 11.55 the next day. The reverse train 500 left FS at 18.05 on Tue/Sat reaching Bostan at 13.15 the next day. These trains had stops of about an hour at Hindubagh and Qila Saifullah.
What is Happening Now?
<> In the last Government headed by PML(Q) and under the Railway Minister Sh Rasheed Ahmed, it was decided to re-open this section as broad-gauge and later extend the track to NWFP to provide shortest travel time between Quetta and Peshawar. The total cost of this project was estimated ar Rs 7.6 billion. Rs 100 million were earmarked for the project in the 2007-08 budget for it. But Senator Raza Muhammad Raza of Pakhtumkhwa Milli Awami Party (PkMAP) who asked Railway Minister to clarify his position on this project on Senate Floor, said on May 6, 2008, "There is no sign of work anywhere from Zhob to Bostan."
So who knows when this plan will ever materialize? Will the current or future governments follow the decisions of previous governments? Anyways in the meantime, the official uprooting of old narrow-gauge tracks is currently going on. The rail bed is supposedly being left intact to lay broad-gauge tracks over it after widening/enhancing it.
To be fair to Government decision on removing narrow gauge track, I must say what a friend familiar with the Railways told me
"On account of law and order situation the track was difficult to monitor and a huge amount had already been spent on deputing the staff who sometime felt helpless in the hands of Local tribal people. Theft of track was an ongoing process and a considerable length of track had been plundered by the steel hungry theives. The Local administration was unable to control over the situation. If there would not have been any decision the whole track might have vanished without any trace within few years. The stations and other infrastructure have not been sold but only the tracks and selected narrow guage stock. All the decisions were made public through National Media and open auction was arranged for that. The price of material can be different but there are many factors involved such as international steel prices, cost of lifting and transportation by the purchasers, the risk envolved in an unruly, virtualy lawless terrain ,etc. However best efforts were made at the appropriate level to get the maximum price."
The government earned Rs 300 million by auctioning track and wooden sleepers.
On the other hand there is also an argument that instead of closing down the section for the past 23 years, Pakistan could have provided security on this section and used it as a World tourist attraction to earn some dollars. People from all over the world would love to visit any remaining Steam Railway if ample security is given. But even as I write these lines, I understand it is very difficult to make this case a high priority in government decisions. They would rather auction the tracks and make quick money out of it before it is all stolen in a lawless region. What a pity.
Where are the Locomotives of the ZVR?
Six locomotives were used on Zhob Valley Railway during its 60 years of operation.
1. Pakistan Railway Serial Number 46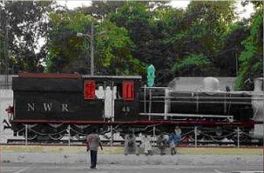 It is now preserved as a monument in the Car Parking of Multan Cantt Station. This locomotive was in full running condition when brought here. See photo to the right. # 46 is seen in the car parking of Multan Cantonment Railway Station.
Built by: North British Locomotive Co
Builder's Serial Number: 19644
Class: G
Year Built: 1911
Type: 2-8-2
Weight: 58.15 tonnes

2. Pakistan Railway Serial Number 54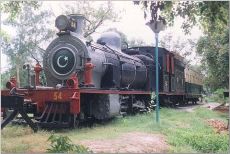 This locomotive was at one point in time preserved as a monument in PR Golf Course Lahore alongwith a coach. Photo to the right. But after this golf course was sold to a private company in 2005-06, this loco was moved to the car parking of Gujranwala Station. I don't have its photo available from Gujranwala. Can a reader help me with it?
Built by: Nasmyth Wilson
Builder's Serial Number: 1021
Class: G
Year Built: 1913
Type: 2-8-2
Weight: 58.15 tonnes

3. Pakistan Railway Serial Number 57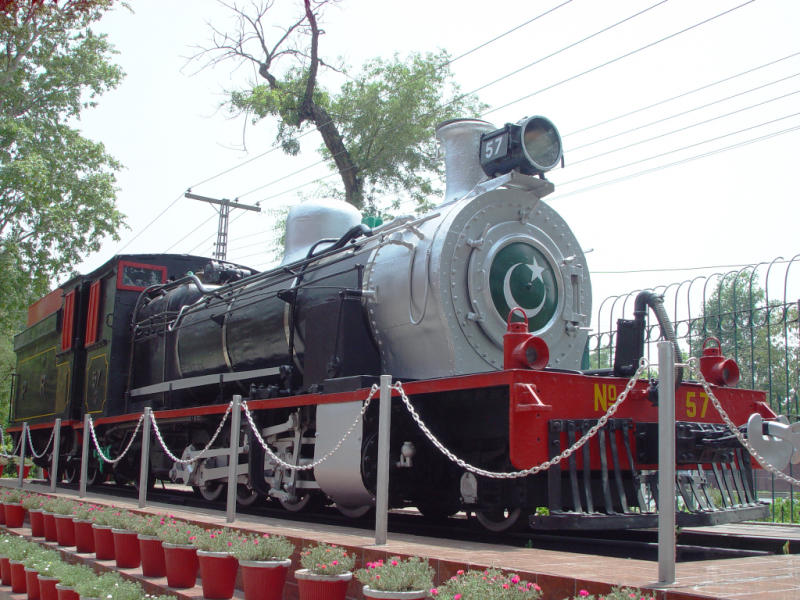 This Zhob Valley Railway veteran locomotive is now preserved as a monument outside PR Headquarters Building, Lahore. This locomotive is also in fully functional condition. Its photo from its current resting place can be seen to the right.
Built by: North British Locomotive Co
Builder's Serial Number: 18330
Class: G
Year Built: 1908
Type: 2-8-2
Weight: 58.15 tonnes

4. Pakistan Railway Serial Number 62
Mr. Thomas Kautzor saw this locomotive last time in February 2006 under restoration at Mohalpura Workshops. Photo is to the right. Since then, the location of this loco is unknown. Is it still at Moghalpura Workshops? Can somebody confirm.
Built by: North British Locomotive Co
Builder's Serial Number: 22766
Class: G/S
Year Built: 1921
Type: 2-8-2
Weight: 59.82 tonnes

5. Pakistan Railway Serial Number 65
Current Condition and Location unknown. Last documented spotting in Jan 1999 at Bostan.
Built by: North British Locomotive Co
Builder's Serial Number: 22769
Class: G/S
Year Built: 1921
Type: 2-8-2
Weight: 59.82 tonnes

6. Pakistan Railway Serial Number 74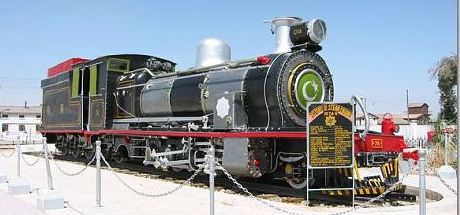 This photograph shows #74 at is current (and final?) resting place. It is preserved as a monument in car parking of Quetta Railway Station
Built by: Nasmyth Wilson
Builder's Serial Number: 1018
Class: G
Year Built: 1913
Type: 2-8-2
Weight: 58.15 tonnes

Chronology of Zhob Valley Railway
1916: Work started on Khanai - Hindubagh section of ZVR.
January 1, 1921: 74.7km (46.12 mi) long Khanai to Hindubagh Narrow gauge track was completed
May 2, 1927: 62.93km (38.85 mi) long Hindubagh to Qila Saifullah section of NG line was opened
January 15, 1929: 143.62km (88.66 mi) long Qila Saifullah to Fort Sandeman (now called Zhob) section of NG line was opened. Only goods traffic started on this section on this date.
July 15, 1929: Passenger service started from Qila Saifullah to Fort Sandeman (now Zhob)
Novemeber 20, 1939: 15.84km (9.78 mi) long Khanai to Bostan Jn NG was opened
1985: Bostan to Zhob Narrow Gauge line was closed down for passenger service
1986: Bostan to Zhob Narrow Gauge line was closed down for frieght service
2007-08: Narrow gauge track was uprooted and auctioned off for roughly Rs 300 million
References
2. Breakfast at Kan Mehtarzai by Salman Rashid.
3. North Western Railway Timetable of Winter 1959.
4. Hundred Years of Pakistan Railway by M.B.K. Malik, 1962
Credits
1. A friend named "Subuk Raftar" for #57's photograph
2. Mr. Thomas Kautzor for data on Pakistan's NG locos.
3. Mr. Umar Marwat for #74's photograph at Quetta
4. Dr. K.J. Walker for information on ZVR rolling stock.
5. Mr. Ajai Banerji for providing the 1944 timetable of ZVR