DHR at 125 - Philatelic Celebrations
by Vikas Singh, June 2006
---
I had booked the safari two months back. Later in association with Siliguri philatelist association (SPA) and Post master General, North Bengal and Sikkim we decided to use the safari to celebrate 125th anniversary of Darjeeling Himalayan Railway (DHR). We planned to put up a philatelic exhibit on DHR inside the coach. A workshop on narrow gauge railways and Indian railway philately was planned along with special toy train cancellation. It was for the first time in history of Indian philately that a running philatelic exhibition and toy train mail was being organized. Though we were running against time, in a short span of twenty days we managed to get all required permissions and clearances for the special cover design and the special cancellation.
On 5th June morning along with members of SPA we reached the carriage shed to put up posters and set up philatelic exhibits. We were soon joined in by other philatelists form places like Gangtok, Murshidabad, Cooch Bihar and Calcutta. The previous evening we had been confirmed that B-788 (Tusker) would be hauling the special. At 0720 hrs the two coach rake (SLR 151 and S 106) was shunted into the station. A large number of reporters from newspapers like Statesman, Telegraph, Dainik Jagran and other newspapers were there at the station. There were reporters from news channels like Zee news, Star news, Alpha Bangla and CNBC. Senior officials form department of posts were also there. At 0740 hrs the safari departed. SSP North Bengal and Sikkim Mr. Chursa released the special cover commemorating the 125th anniversary of DHR in the moving train. He also released a special stamp booklet on the occasion. It was followed by customary speeches by SSP, President and Secretary of SPA who welcomed all the guests on this historic ride.
A special cancellation depicting steam engine had been designed. A limited number of twenty-five covers were carried on the safari. These were cancelled at Siliguri JN and signed by all the eight-member safari crew of loco pilot, asst loco pilot, fireman, guard and the four brakemen. They also carried a special toy train cancellation and were cancelled at Sukna post office next day.
Scans of the Special Covers and Cancellations
The safari reaches Sukna station at 0820 hrs. A large number of people had gathered at the station to watch the exhibition. After a twenty-minute stop at Sukna the journey commenced. More people arrived at Rang tong and Tindharia station to witness the safari. The event had been covered in all major newspapers a day before and so people were aware of it. We reached Gayabari station at 1145 hrs. Most people had got down at Agony point for lunch and only a few of us went all the way till Gayabari. At 1305 hrs the 2D powered by 601 arrived with four-coach rake (S 114, S 119, FCZ 117 and SLR 154). Gayabari is the crossing point for Safari and 2D. At 1355 hrs 1D powered by 605 crossed us with four-coach rake (GS 363, S 115, FCZ 28 and SLR 155). Later B 786 arrived from Tindharia shed to pull the safari till Tindharia. There is no turn table at Gayabari and hence this is done. We left Gayabari at1415 hrs powered by 786. 788 followed us. It was quite enchanting to see 788 moving all alone with lush green mountains in the background .We picked up the guests from Agony point and reached Tindharia at 1445 hrs. Here 788 was reversed and attached to safari cab first. Coach FCZ 26 which had been sent to workshop for POH was also attached. We finally reached Siliguri at 1755 hrs.
The entire crew and steam shed staff were very cooperative and helpful. The coaches had been cleaned and washed well the previous day. The engine had been cleaned well. The crew waited patiently at stations for all guests to get on before starting. The event was covered well in all major newspapers and news channels. Plans are on to get the event listed in Limca book of records and Guinness book of records.
Scans of the special cover and special cancellations on the day of the event, along with newspaper clippings, are available in the gallery album on the DHR 125 celebrations. Below are some other images from the day.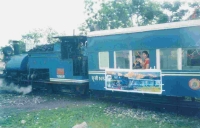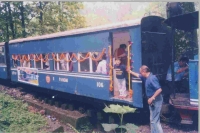 The coach with running exhibition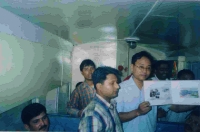 SSP releasing special cover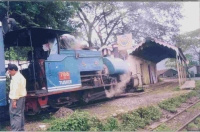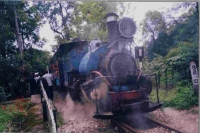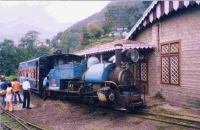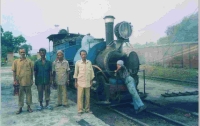 Railwaymen at Siliguri shed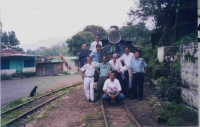 Rail philatelist Vikas with the eight member crew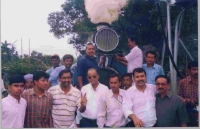 With fellow philatelists at Sukna station