On the First Train to the Border
Salman Rashid, 2013
---
Mr Rashid is a travel writer and Fellow of the Royal Geographic Society. Website
---
As you read this, the first train originating in Karachi and passing through Hyderabad and Mirpur Khas will have already steamed across the frontier into Munabao station in Rajasthan. Indeed, the first return train will be just about now pounding across the sand dunes en route to Karachi. "Steaming" here being a figure of speech, for the trains are no more worked by those grand old machines of yore, those coal-burning (later furnace oil), smoke-belching steam locomotives. Today a modern diesel juggernaut will haul the train.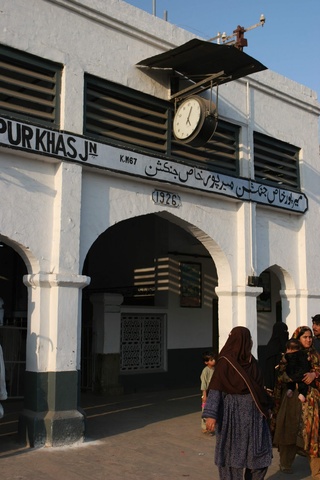 Again, now the journey will not require the tedious change of trains at Mirpur Khas, where in the old days the broad gauge line ended. From here onward it was a metre gauge line and this section was known as the Jodhpur Railway (JR). Time was when many of those lovely old workhorses wore little badges above the pony wheels in front that said JBR - Jodhpur Bikaner Railway.
My first introduction to this line goes back to 1987 when inspired by Paul Theroux's absolutely readable book The Great Railway Bazaar; I was doing a series of articles titled "The Little Railway Bazaar". Though the distance from Mirpur Khas was a mere one hundred and thirty-three kilometres, the journey to Khokhropar took nearly nine hours which made for a great journey and a wonderful peek into Thari culture. Things were then much easier on this sleepy little section of Pakistan Railway and when I got bored in the carriage, I rode in the engine where the driver and his sidekick treated me to yarns and endless cups of tea brewed with water drawn from the locomotive's boiler.
The stations set by little villages with typical Sindhi mud-and-wattle houses of the peaked roofs (called chaunra) were delightfully ancient-looking with camels and donkey loitering on the platforms. And as the train pulled out children ran alongside laughing and waving. The more daring among them even jumped upon the running boards of the carriages to ride a few metres before leaping off as the train picked up speed. Speed, by the way, was never more than thirty kilometres an hour.
At that time (1987) the border crossing of Khokhropar had been closed for over a decade and a half. Consequently, my fellow travellers were all local Thari people. Although there was just one daily back and forth service between Mirpur Khas and the border, Station Masters along the way told me tales of the days when travellers came from all over Sindh and headed across the border to meet with relatives in India. But that seemed like history for a whole generation was well into its teens without having known of this connection with India. Not long after my adventure, while all other metre and narrow gauge lines were closed, this one was reduced just one back and forth service a week.
Recently when there was talk of the service being reopened I had imagined they would use the old metre gauge line. I was pretty excited for though I had no desire or reason to go across that border, I saw my chance to ride a steam train once again. At some point in time, the ride from Mirpur Khas to the border was therefore certainly on my agenda. But when my editor called to say I ought to go look at it, I thought why not. Particularly as I was going to be in the area. I called my friend Ishfaq Khattak, that good railwayman who cares for railway heritage, and he said I ought to meet up with Shamim Shirazi, a second generation railwayman from Karachi.
And so it was that we met up in Mirpur Khas. Ishfaq had earlier surprised me with the tidings that the service was no longer meter gauge, but that the line had been upgraded. A bit disappointed I was nonetheless astonished that so much work had been done in such a short period of time. I mean, since partition we have steadily closed line after metre and narrow gauge line without replacing any of those with the bigger gauge, and here we were talking of up-gradation. I did not ask, but I secretly harboured the fancy notion that some other railwayman who also cared for heritage would have thought of interlacing the old metre gauge line with the new broad gauge. That would mean tourist steam trains of the smaller gauge running up to at least the border.
At Mirpur Khas railway station, I discovered that I was wrong about interlaced lines: the old tracks were uprooted and there instead lay the new broad gauge line. This meant, sadly, that the old metre gauge workhorses were out of action forever. An era had come to en end in Pakistan. My friend Pervez and I made the yatra to the steam shed to photograph, perhaps for the last time, the locomotives parked there. I had come back after exactly six years and surely when I return again, they will no longer be there.
I had hoped we would be able to ride a motor trolley to the border, but with only eight days more for the first train to run, there was a great flurry of activity. Even as we planned to drive out along the line, there was one senior railwayman on inspection "doing trolley". Motoring out meant that we would not be going exactly along the line but would be able to see only the stations. But that was the best we could do.
We left Mirpur Khas early and the first stop was Pithoro. In the old days this was a junction where one changed trains to go around the Mirpur Khas-Pithoro-Digri loop, a circular service that started out from Mirpur Khas in the morning and fetched up there in the evening. In my memories of 1987 Pithoro was a forgotten and lonely station miles from nowhere. This time around it had a fresh coat of whitewash. The main siding was of course broad gauge now, but a side platform still had the old smaller gauge. On the platform was a bilingual sign: Change here for Jhudo loop line. Who knows, if someone up at Railway Headquarters is still toying with the idea of running a metre gauge service around the loop.
A long line of shingle hoppers was parked on one of the two lines, and a bunch of railway gangmen were cooking early lunch (or late breakfast?) near the station entrance. Other than that there seemed to be a lull in up-gradation work. Shamim Shirazi promised that Chhor would be in frenzy. So we declined the Station Master's offer for tea and drove on to Chhor.
As my metre gauge had train pulled into Chhor in February 1987, there were playing children and rummaging goats on the platform and the tea shop was crowded with men. This time around the tea shop was closed, but the place was a veritable hotbed of activity. Men all over the place. On the east end of the platform they had set up their grinding machines and in showers of sparks were busily tooling strange looking pieces of twisted steel. Behind the two lines of BKW cars, earth moving machinery hauled shingle this way and that. "They've been working round-the-clock to meet the 18 February deadline," said Mohammad Younus, the Station Master immaculate in his navy blue uniform.
Since we had been warned we would not be permitted to use our cameras at Khokhropar by paranoid rangers' men, we opted not to go any farther. Younus ordered tea and biscuits and we sat in his office and chatted. Shirazi said that the full one hundred and thirty-three kilometres of line had been upgraded in seven months - which would be a record of sorts. The Station Master brought out his register to show us that the last once-a-week MG 6 Down passenger train to Khokhropar had steamed out of Chhor on the thirteenth day of June 2005 at twenty-five minutes after seven in the evening. The next day, 5 Up left this station for Mirpur Khas at thirty minutes past the hour of nine in the morning. "And the chapter was closed." Shirazi said with fitting finality.
Upgrading of the line began from Mirpur Khas outward and though I did not ask, I suppose metre gauge shingle hoppers and freight cars would have brought out the first shipment of materials and equipment. This was confirmed by the Station Master's record. The last metre gauge down train carrying ballast and broad gauge sleepers left Chhor on the last day of September at twenty minutes after eight in the evening and passed through empty on the way back the following morning at six. This train was hauled by locomotive number YD 522 that I had photographed the day before in the Mirpur Khas steam loco shed.
On the penultimate day of 2005, the first ever broad gauge train into Chhor was hauled by diesel engine number 4488 and pulled in at thirty minutes before midnight. Had they been awake at this hour, this would have been a special treat for the people of Chhor. But in all likelihood, this epoch-making event passed by unnoticed, uncelebrated. The Thar Express, as they call it, will be a once-a-week service leaving Karachi every Saturday afternoon to reach Munabao in the early hours of the following day and return every Sunday. India will reciprocate similarly from the other side in the middle of the week. As the line has been hurriedly upgraded, the speed out of Mirpur Khas will initially be restricted to less than fifty kilometres per hour to be subsequently increased to twice as much.
My friend Abubaker Sheikh said a private Sindhi television channel had interviewed people living along this line. There was excitement, he reported. People were looking forward to the commercial activity that reactivation of the line will bring. This, however, will not be a gift of the Thar Express. Originating in Karachi, this train will stop only at Hyderabad and Mirpur Khas and then speed haughtily past these little Thari stations without pausing. Shamim Shirazi confirmed, however, that at some later point in time, a local passenger service will also be run from Mirpur Khas to Khokhropar. That is what will actually revitalise this part of the Jodhpur Railway.
At some point, hopefully within my lifetime, when the two immature nations of Pakistan and India will have waived the condition for citizens of either country to enter and exit from the same port, I will ride the Thar Express out. In Rajasthan I will do my yatra of Mount Abu and then go on home to Jullundher. Until then this journey must wait - at least so far as I am concerned.