Narrow Gauge Railways back in Action again in Sri Lanka
By Asela K. Kulatunga
Secretary, Sri Lanka Rail Fans Society
---
This was first published on February 14, 2012, on the web site of the online newspaper, The Island, and is reproduced here by generous permission of Prabath Sahabandhu, Editor of The Island. The original article is here.
---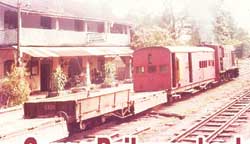 For the second time in the history of Sri Lankan Railways, narrow gauge Railways are back in action from 4th of February at Oyamaduwa, Deyata Kirula exhibition premises, Anuradhapura. Originally, narrow gauge railways were used in three sections of Sri Lanka where sharp curves were available due to the geography of the region. The main difference of narrow gauge was the width of the track: for narrow gauge the standard was 2 feet 6 inches while for broad gauge it was 5 feet 6 inches. Originally these type of railways were used way back in 1906 connecting broad gauge from Nanu Oya to Ragala via Nuwara Eliya, popularly known as Uda-Puswellawa or UPR line. However, among the narrow gauge lines the longest line was laid along Kelani valley lasted for a long period for closer to a century and popular one. This line had two stretches. The main line was from Fort to Openayake via Avissawella and Ratnapura. In addition, there was a branch line from Avissawella to Yatiyantota. Except , the Openayake line, Avissawella to Yatiyantota and UPR lines were removed during the second world war period by the British due to lack of revenue. The Openayake line also was shortened to Ratnapura sometime back and in 1974, even terminus of KV line was further shortened to Avissawella and later to Homagama. The main reasons behind the extinction of Narrow gauge railways were due to the lack of speedy operations. This was due to the sharp curves occurring regularly along the tracks. In order to overcome this problem during the latter part of the 1990s, Fort to Avissawella stretch was converted to a broad gauge track. During this transformation, for a short period, both lines were kept available using one rail in addition to broad gauge track. The completion of this conversion took place in 1997 and after that the narrow gauge rolling stock was restricted just to a shed and some of them were sold as scrap and only a few locomotives of steam and diesel and one steam rail car were kept in the running shed at Dematagoda; they did not even start the engines of these locomotives afterwards.
However, due to keen interests by the present GMR, Mr. B.A.P Ariyaratne and with the blessings from Honourable Minister for Transports, Mr. Kumara Welgama, a team of railway technical staff undertook this massive project to restore two locomotives to be operated in Deyata Kirula exhibition nearly 10 months before the exhibition. The original plan was to restore two diesel locomotives (serial numbers 530 and 732) which were lying at the running shed and to build two carriages using the old narrow gauge underframes. The major portion of this project was undertaken by Mr. Sanath Wickramaratne, the workshop manager and his team of Shop 26, Dematagoda. Under his purview two carriages and diesel mechanical locomotive 530 were restored as planned and diesel mechanical locomotive 732 was restored by shop foreman Lalantha Fernando of Shop 19. The restoration works were completed in early January this year and the rolling stock was road lifted to Oyamaduwa from Dematagoda via A3 route on the 21st of January.
The initial trial runs on a 750m stretch at Oyamaduwa exhibition premises were done on the 22nd of January. This was the first time narrow gauge train service was in operation on Sri Lankan soil after they were restricted to sheds in 1997. The two locomotives used in this project also have their inherent significance. The loco number 530 was imported in 1950 and this is the only remaining locomotive of this class in Sri Lanka. The loco number 732 (Kawasaki) was imported in 1974 for Plywood Corporation to transport logs from Sinharaja forest to Kosgama. However, after the Freedom Front government lost the subsequent election this project was abandoned and 732 was handed over to Sri Lanka Railways. The Sri Lankan community, especially railway fans, will have the privilege of travelling in narrow gauge railways again from the 4th of February during the exhibition period. There are discussions going on currently to permanently operate them, aiming at tourists. Sri Lanka Rail Fans Society salute all those behind this project, specially to their President Mr. Sanath Wickramaratne who spearheaded the project to a success.
Having said all this it is pertinent to highlight the significance of the narrow gauge travel not only to foreign tourists but also to local enthusiasists and as a means for daily travel to commuters easing the current difficulties in travel in Sri Lanka. It should be remembered that countries like India, and some countries in Africa and Latin America have availed themselves of this facility to provide services for normal travel as well.
Timeline of Narrow Gauge Railways in Sri Lanka
1898 Initial discussions of KV and UPR lines
1903 Opening of UPR line to Nuwaraeliya
1904 Extension of UPR line to Ragala
1902 KV line first stretch up to Avissawella was opened
1903 KV line Yatiyantota stretch was opened
1912 KV line was extended up to Ratnapura
1919 KV line extended to Openayake
1941 Last passenger train operated in Yatiyantota stretch
1948 UPR line was abandoned
1975 KV line was operational only up to Homagama
1978 Again KV line was operational up to Avissawella
1993 Broad gauging was started in KV line
1997 Broad gauging was completed up to Avissawella and rolling stock of narrow gauge was stationed to sheds.