The Metre Gauge Diesel Railcar (YRD-1)
by Harsh Vardhan, 2008
---
Amongst the various forms of motive power on rails, Railcars have commanded their share of admiration from common traveller to initiated rail fans alike. These seemingly innocuous vehicles could be seen on all gauges from the time steam ruled and became more popular and widespread with the advent of internal combustion engine. They can be found performing the simple task of scurrying passengers on the branch lines to the effortless hauls up the highest hill railways.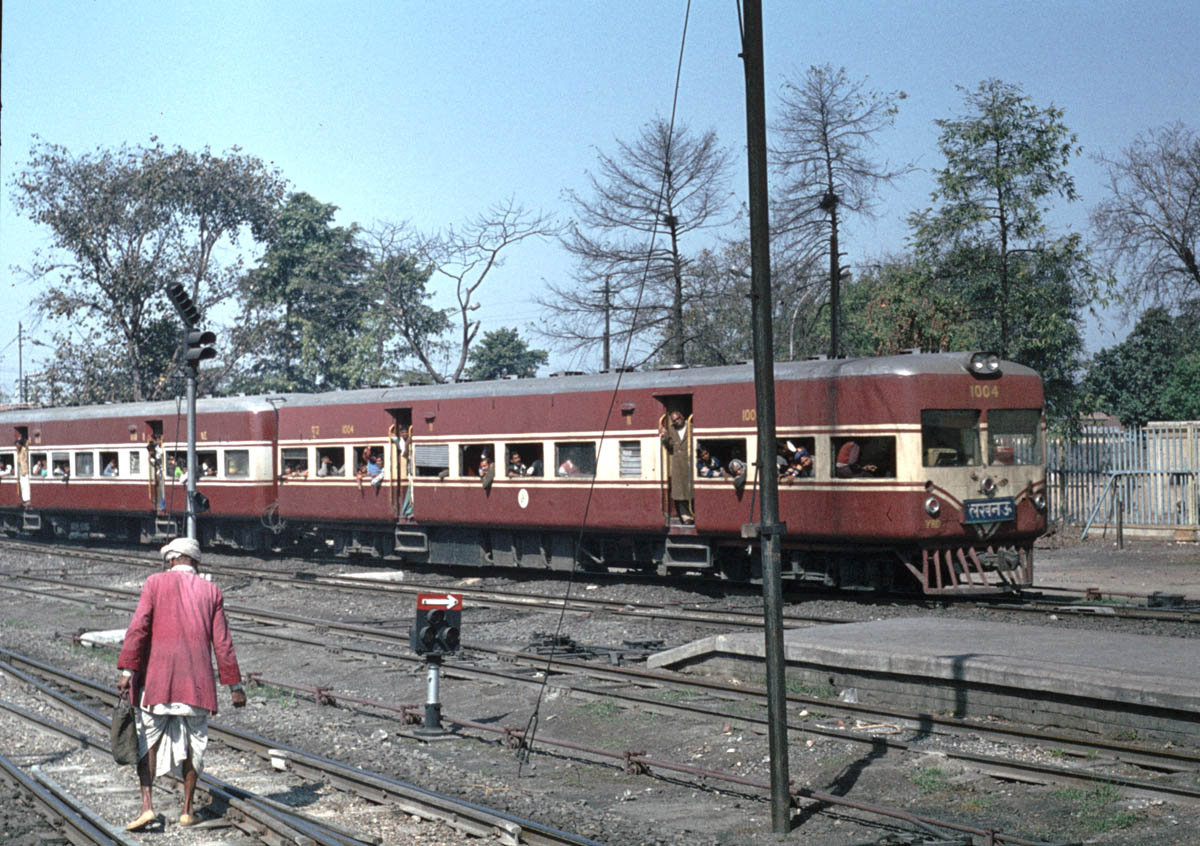 YRD Metre Gauge railcar vehicles No. 1001 and 1004 seen arriving at Lucknow Junction on February 27, 1979 [Courtesy David Churchill].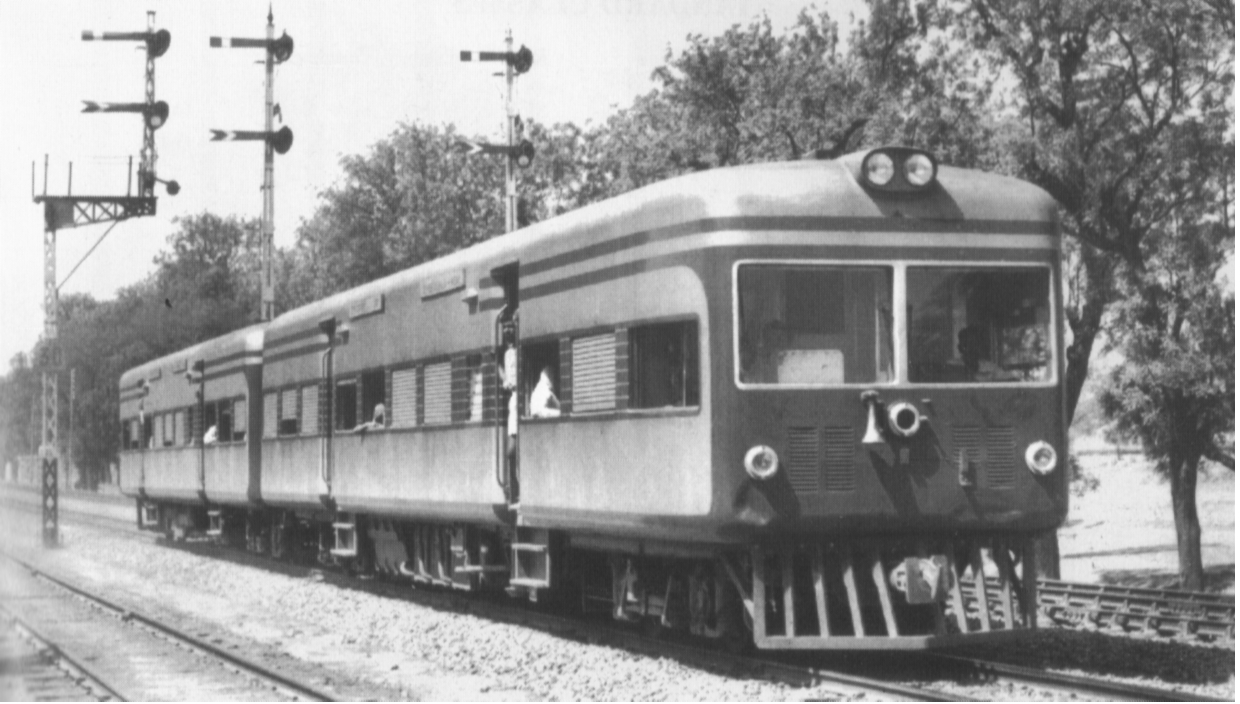 Northern Railway 1004 at Delhi Cantonment in 1958 en route from Rewari to Delhi Sarai Rohilla [Courtesy Indian Locomotives: Part 4, published by Continental Railway Circle, UK].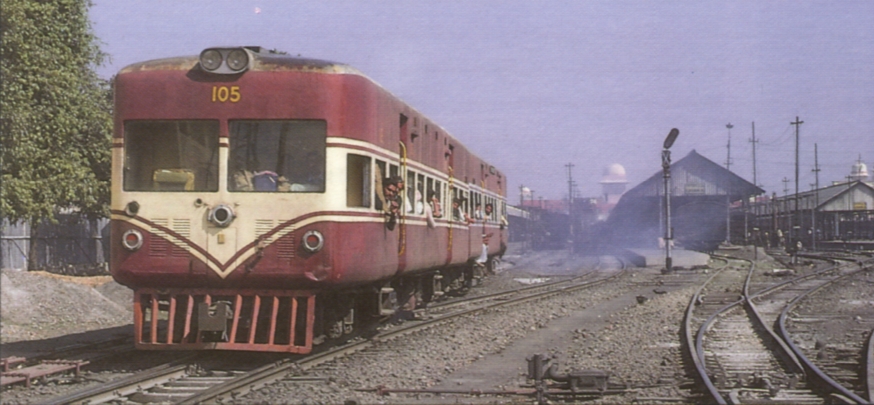 Twenty Eight years after it was pressed into service and still in great shape! YRD1 No. 105 leaves Lucknow Junction enroute to Kanpur in February 1983 [Courtesy India, No Problem Sahib! Published by Ian Allan Ltd.]
The railcars can be described as self propelled rail vehicles designed to carry passengers. Earlier railcars were unidirectional single units with four to eight axles and cab at one end that required reversal on a turntable at the end of journey. Later, two to three car railcars with cabs at either end were developed to carry more passengers and avoid reversals. In multiple unit internal combustion engine railcars, there is more than one engine that drives the individual axle or pair of axles in a bogie. Some railcars are vestibuled and may even share a bogie between cars.
My earliest recollections of the railcars are on the Kalka-Simla railway. Between the two morning departures of stopping passengers during season, these modern looking single car vehicles ferried first class passengers to Simla with a single stop at Barog enroute.
However the railcars that have remained etched to the memory are the two-car diesel propelled vehicles that I first saw at Sitapur Jn. in 1975.
There have been many railcars in operation on the Indian Railways long before these ones and many thereafter but to my eyes these were the most charming ever. Someone once said to me that metre gauge is the most proportionate gauge, broad gauge being larger than life and narrow too small and toy-like. And even though I have always fascinated large mainline engines, I cannot but entirely agree!
In the black and white world of steam on the Lucknow - Sitapur - Mailani route where the motive power was almost entirely steam with the exception of Nainital Express, these diesel railcars appeared to be very futuristic. These had two large windshields complete with twin-beam headlights, marker lights and a pressure horn. Their well rounded appearance and the maroon – beige – maroon striped livery with thin stripes running above and below the windows was very pleasing to eyes. The two doors on either side of each car were narrow but the bar less windows (except for toilets which had bar windows) were very wide. As a child one had to be prepared to be shoved in through the windows by the elders to grab the seats when the train arrived before the crowds could get in with their wares through the doors.
The two engines generated about 400 horse power each and had a mechanical transmission through a five speed gearbox. The railcars were slow to accelerate but easily reached speeds up to 60 Km/hr. With only the forward bogie powered, they could not take over crowding and would stall occasionally. I have seen them being pushed by passengers and staff to get going and at least on one occasion tickets were seen being issued on the run in the Lucknow – Kanpur section. The two cars could collectively seat about 100 people.
These were well patronised on the Lucknow - Kanpur route but not so much on the Lucknow - Sitapur route. This was partly because they had limited stops and charged mail/express fares (only second class accommodation though) and also due to odd timings they ran between Lucknow Jn. and Sitapur Jn. In addition to the above routes, they used to ply on the Kanpur Central – Brahmavart route of North Eastern Railway.
In Oct. 1977, the following routes of North Eastern railway had diesel railcar service.
Route
Service No.
Timings
Brahmavart - Kanpur Central
DC II 1/2 and DC II 3/4
--
Lucknow Jn. - Sitapur Jn.
DC II 5 and DC II 6
DC5 Dep. Sitapur Jn. 1025 Arr. Lucknow Jn. 1300

DC6 Dep. Lucknow Jn. 1315 Arrival Sitapur Jn. 1550

Kanpur Anwarganj - Lucknow Jn.
DC II 7/8
--
Sitapur Jn. - Mailani Jn
DC II 9/10
--
Under the Colombo plan, Fiat of Turin, Italy built and supplied 12 of these railcars in 1955. These were later classified as YRD-1.In 1956; six of these railcars were pressed into service on the Delhi - Rewari - Loharu route of Northern Railway. These were being maintained by Shakurbasti shed in Delhi area in those days. From the earlier black and white photographs, it appears that they had different livery when they arrived from Italy but looked very admirable nevertheless.
The fate of the other six railcars is not very clear. Some reports suggest that these were used around Mayuram in the early days (citation needed). Southern Railway also used railcars built in Japan but no known photographic record of these exists. Later Integral Coach Factory in Perumbur built railcars that were equipped with Ashok Leyland engines but these were nowhere in comparison with the graceful poise of the Fiat built railcars.
The Fiat built railcars continued to operate on the North Eastern Railway until the mid-1980s. The last reported sighting was in 2002 near the shed at Mathura Cantt. (NER), lying decrepit in a siding. These were believed to have ended their working days on the Mathura Jn. – Brindavan route.
(With thanks to V. Anand, David Churchill, John Lacey, G. Swaminathan and Yogesh B.K.)
Some additional images are provided below. They are from the Fiat Archives, and were provided by Adil Jal Darukhanawala.