An Evening with Anoop Jhingron
by Ravindra Bhalerao, January 9, 2012
---
This material has appeared previously on the Railways of the Raj blog maintained by Ravindra Bhalerao.
Introduction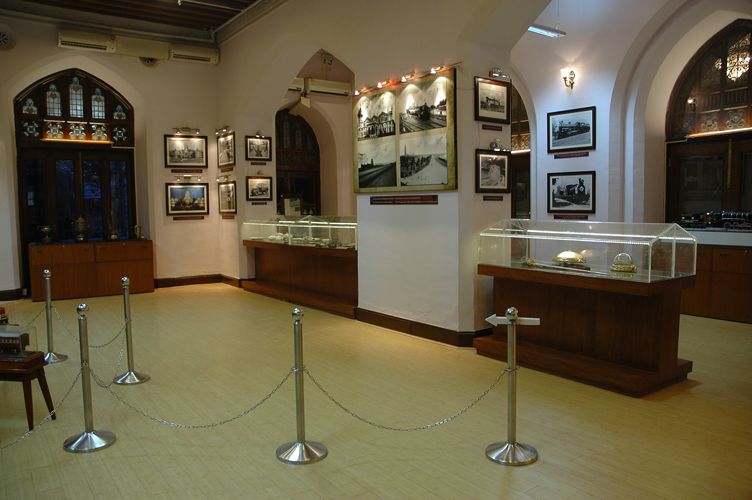 This inviting picture shows a view of the Western Railway Heritage Gallery at Churchgate headquarters in Bombay. Within the gallery lie an assortment of artefacts as old the railway itself -- dinner plates and spoons, stations bells, emblems, antique railway instruments, each having played a role in a bygone age that has slipped into history. Meet Shri Anoop Krishna Jhingron, the man who conceived the idea of this priceless collection and carried it to fruition.
Shri Jhingron is in many ways the quintessential railwayman: tall, athletic, full of interesting stories, and with a resounding voice and forceful personality. Had he lived a few generations ago, he would have been known to us as the Agent of the B.B. & C.I. Railway. Luckily however, Shri Jhingron is here with us today and is going to tell us about himself, his ideas, and the railways he has served all his life. Since his retirement from railway service in 2008 he has lived a quiet life staying with his family in his home not far from Delhi. Although retired from service, Jhingron Saab is yet to retire from life : he loves to travel, attends functions, and much of his time is spent in his personal library browsing through books, researching details in archives, and contributing to journals and periodicals. What makes him so special for us is his unflagging commitment to the cause of railway heritage and its preservation. Having authored two highly acclaimed works -- one on postal stamps, the other on Western Railway Heritage -- Jhingron is now working on a new project, a book titled 'Life in Railway Colonies.' Read on to find out more about this fascinating person, his work, and his enduring affair with the railways of India and its heritage.
Interview
Ravindra Bhalerao: People who have met you in person are known to comment that even after having crossed the three-score mark in life, you continue to exhibit something of the personality of a sportsman -- that you refuse to grow old.
Anoop Jhingron: I used to play cricket and badminton and was a good player. I tried my hands at table tennis and lawn tennis but was a damp squib in both. I was deprived of football by the ill advice of a doctor during childhood, who wrongly suspected a defective valve in my heart and advised my parents not to let me play football. I have played cricket till as late as 2005. However my play was not good enough to be beyond club level.
Although now I do not play games, but I love to watch games, live as well as on T.V. However I imbibed sportsman spirit and always believed in a sense of fair play throughout. I also love to interact and associate with youth. This keeps me young in spirits.
RB: Your career with the Indian Railways has spanned several decades finally culminating in the office of General Manager of the Western Railway. It must have been an exciting, a truly enriching experience.
AJ: My career with the railways has been an enriching and rewarding experience. I have thoroughly enjoyed my thirty seven year's active association with railways. Although initially some of my senior colleagues discouraged me about life in railways and I had trepidations in my mind, but I have never even for a moment regretted my decision to have a career with railways.
Railways gave me an opportunity to work at and visit different places. I have had posting in several states. I have been posted in Delhi, Haryana, Uttar Pradesh, Rajasthan, Bihar, Gujarat, Maharashtra, J&K, and Jharkhand. In addition I spent about two years in West Bengal during my probation. I had varying spells of continuous stay at different places -- the longest being six and a half years at Ahmedabad and shortest being eighteen days at Jammu.
The frequent transfers did affect the education of my sons. However once I got them admitted to Central Schools even this problem was taken care of. The posting which I enjoyed most were at Bikaner, Allahabad, Vadodara, and Chakradharpur (where I worked as DRM). Of course the last posting, as G.M. of Western Railway was memorable in several ways.
RB: What made you opt for railways as a career?
AJ: As a child I was fascinated by railways. The Howrah-Delhi trunk route used to pass very near the place where we used to stay in Allahabad. We often used to pass through the railway colonies nearby. The colonies with their beautiful and charming bungalows with lovely flowering gardens, tiled roofs and fences covered by the railway creepers definitely had a charm and attraction of their own. Many of my classmates at school were the children of railway men .I used to notice them wearing navy blue coloured coats and trousers, which they proudly used to tell ,were made from the spare uniforms of their parents. Perhaps the temptation of the dress stayed at the back of the mind.
Opting for IRTS was a decision taken, after my selection for the central services through the IAS examination, in consultation with several senior relatives who were working in government jobs and told me that IRTS offered very good career prospects. But perhaps the factors mentioned above also played their role.
RB: Tell us about your boyhood days.
AJ: I spent my boy hood in Allahabad. My father was a journalist and we used to stay in the housing area of the press from where the news paper used to be published. This was known as Leader Press. There were about fifty odd families residing, so there were a large number of children. We used to play ballgames and a lot of traditional games like hide-and-seek, gilli danda, marbles, kabaddi etc. Now, I have lost touch with most of my boyhood friends except a few.
At home I received lot of affection and love of my family as I was nine year younger to my brother and a sister was born when I was six years old. My first schools were located close to our home and we used to walk down to the school. Two of my teachers I used to meet even after I grew up and worked with railways.
RB: And you were of course fond of sports and games in those days.
AJ: Yes. I used to play badminton and cricket, but I was not good enough to make it to the college team.
RB: When did you first discover your fascination for trains?
AJ: Back in Allahabad our home was close to the Howrah - Delhi line. Therefore the noise of the train particularly the whistles of different types of steam locos were a great attraction. I still remember one day we heard a strange whistle sound. We became curious about it and spent some time by the side of the railtrack waiting for the sound, Finally after waiting for an hour or so we heard the same sound and found that it was the whistle of a new type of loco hauling a fast passenger carrying train. Somebody said "It is a Canadian Engine". We children used to call it "bhonpu wala engine" (later I came to know them as WP locos). Perhaps this was the first time railways fascinated me.
Allahabad Junction Station was also not very far from our home. My father used to often go to station to buy some magazine etc. from the Wheeler's book stall and we often went on the platform. I still vividly recall that one day I saw the Guard of a train, perhaps Kalka - Howrah Mail, on the platform. He was looking very impressive in his white uniform, peak cap, cross belt, and shining boots. I noticed that when he blew his whistle the train started moving. I was extremely impressed by his 'power' and decided that I will become a Guard, when I grow up.
I liked to stand near the level crossing gate and watch passing trains. It was in late fifties that trains started to be hauled by diesel locomotives. Their appearance and their whistle sound was totally different. Diesel hauled trains were an object of fascination and I along with some other boys used to watch these locos almost daily.
RB: Your parents were probably worried over this strange hobby of yours.
AJ: When they came to know that we visit the level crossing almost daily, they were worried a little about my safety as it involved crossing two roads. They only cautioned me to be careful, but never discouraged me.
RB: So you finally joined the railways in the officer cadre. Your induction into the Indian Railway Traffic Service will have been followed by extensive training aimed at familiarising you with the working of the railways.
AJ: We had a training schedule of two years covering theoretical as well as practical training. When we were appointed, we were asked to report to the office of the General Manager, Eastern Railway at Kolkata, which then was Calcutta. On the very day we joined there, we were dispatched to Asansol. At Asansol a centralised training institute known as Railway Officers Training Center (ROTC) had been set up, due to efforts of Mr M S Gujral, a legendary railwayman, erstwhile Divisional Superintendent of Asansol. The institute was located in a beautiful bungalow which used to be the residence of the DS. The building had been modified so as to be able to accommodate twenty odd probationers. We had been allotted different zonal railways, but had training together.
Our training started within a day with hands on training. In the first phase of training we learnt the job of goods train Guards. Batches of two probationers were formed and they were required to accompany the Guards working different types of goods trains. We worked along with guards working "Cracks", yard-to-yard goods trains, slow trains stooping and shunting at wayside stations, coal pilots, industrial pilots etc.
In the later phases we learnt the working of yards, stations, signal cabins, goods sheds, parcel offices, booking office etc. Initially we watched the working and later we also worked independently in these places. Some curious incidents took place during our hands on training. While working as the guard of a passenger train one of our batch mate was offered some tips (cash) after a few baskets of fish were loaded. He refused it with politeness. On the other hand when a similar situation arose with me while working in a parcel office at Raniganj, I reacted a bit strongly with indignation.
We had theoretical training at different places. We participated in a three month long foundation course at National Academy of Administration, Mussoorie, with officers of other all-India services, including senior batch IAS probationers. The academy is now known as Lal Bahadur Shastri Academy of Administration. We attended two training sessions at Railway staff College Vadodara. The foundation course was of three months' duration with officers of other railway services, and a two and a half months induction course exclusively for IRTS probationers.
We also attended three months training schedule at The Zonal Training Center located at Dhanbad (Jharkhand) learning different parts of operations.
The last stage of our training was office training which included learning the working of Division office for one month and the Head quarters office for three months. The training schedule was a little tough but it could make most of us thorough in our work. The training had lighter schedules as well like visit to Kolkata, Mumbai, and the training at NAA, Mussoorie. As part of my H.Q. training I also visited Srinagar to learn the working of an out-agency.
The training at Mussoorie was extremely good and useful. Besides developing officer-like qualities in probationers, it also led to formation of lifelong bonds with our brother officers of other services which was of immense help in our service career.
RB: You have been a heritage buff all along. What makes railway heritage an object of special affection for you?
AJ: Even while young, I visited several museums along with my parents . Later on my own I visited various museum but could not find any Railway artifacts there. Once while on way to Guwahati, at Jamalpur yard, I saw what appeared to be a graveyard of steam locos. There were dozens of locos lying in various stages of disrepair, perhaps waiting to be sold as scrap. At that time I felt the need for preservation of railway heritage. When I visited UK in late eighties, I saw at York museum and elsewhere the importance given to preservation of railway heritage.
Early in the 1980s while on an inspection of a station in Bikaner division I came upon an antique wall clock, on the point of disposal, manufactured by John Walker & Co. of London. I was pleased with the discovery. I salvaged the clock and had it sent to headquarters office where it is now displayed. This was my first attempt in this direction. Later when I was working as DRM at Chakradharpur on South Eastern Railway I noticed an old Narrow Gauge steam loco almost buried under ashes at a private siding. We retrieved it and brought it the Divisional HQ, repaired it and put the ninety year old loco on display. Since then it has become a sort of passion with me and I have tried to do whatever little I could do to preserve the railway heritage of our country.
RB: Overseas, in the UK, Australia and elsewhere, heritage railways are big business. It is a pleasure to read the brochures these railways issue, telling us of regular time-tabled steam runs, holiday specials, and mouthwatering cuisine served aboard. Something of a similar kind, and maybe on the same scale could have been done here in India. Pity we are left far behind in this area.
AJ: Oh yes, the enthusiasm about rail heritage seen abroad is really great. Not only a large number of heritage railways are being heavily patronized but even things like a trolley drive on an old abandoned railway line or a heritage walk on the alignment of an old uprooted line are extremely popular. In Australia such railway trail heritage walks are being promoted in a big way. In India I have not seen a great enthusiasm for heritage in general. We have seen that a large number of heritage structures are lying without any care and are gradually decaying. In Delhi several such heritage structures have vanished during last century.
Whatever preservation efforts are made in India they are basically undertaken by either government organisations or such organisations which are supported by government. Whereas abroad generally the efforts are being made by voluntary bodies, being run totally with help of dedicated volunteers. Hence whereas preservation efforts abroad, particularly railway preservation, is basically a people's movement, in India it is not so. Hence the apathy. In addition perhaps there are so many other problems that people hardly have time to spare for finer things like preservation.
Another unfortunate factor in India is the sad fact that rolling stock heritage has been perceived as a source for generating additional resources by way of selling them as scrap. This has resulted in loss of historical rolling stock heritage. Sindh, the loco used for hauling India's first train was sold as scrap. Similar fate was met by the special carriages in which the ashes of Mahatma Gandhi and Pandit Nehru were carried to Allahabad for immersion at Sangam.
However the recent enthusiasm generated after grant of World heritage status to the Mountain railways and Chhatrapati Shivaji terminus has kindled new hopes and I see the movement picking up in India.
RB: You have researched the heritage railways of Australia and other places. Did you come across in these railways any feature of remarkable interest you would like to share with us here?
AJ: The best part of the heritage railways noticed abroad is that most of them are being run totally with the help of volunteers coming from all walks of life. The only common thread running with them is the fact that they all love and take pride in their railway heritage. The running of the heritage trains on many of the railways is as per the convenience and choice of the passengers. They run specials exclusively for children. On such occasions the steam engine is given the appearance of a railwayman is called "Thomas--the engine." On Easter and Christmas eve festival special trains with lots of fun onboard are organized. In Australia I have come across Moonlight Specials and Dance and Dine Specials. They are extremely popular and are always full to capacity. Gourmet food served on the heritage trains is a big draw abroad.
Abroad the heritage railways, the trains, the museums, the souvenir shops etc, receive a lot of publicity which draws people in large numbers. Unfortunately this is lacking in India. How many tourists visiting big cities are aware of the existence of the railway heritage galleries at Churchgate and CSTM in Mumbai, or the Narrow Gauge Museum at Nagpur or even the regional railway museums at Howrah or Mysore? They have not been publicised enough to attract the tourists who may be interested in visiting them.
We thus need to learn from the methods adopted abroad.
RB: The Fairy Queen, Guinness record holder of being the oldest working steam loco in the world was in the news recently. It is tragic to hear of someone who comes along and carries off the brass dome, original steam whistle, and other parts.
AJ: I could not agree more with you. Perhaps earning a few extra bucks was a bigger consideration for the vandal. However it appears to me due to the general apathy towards our heritage.
RB: The Western Railway Heritage Gallery in Churchgate is a miniature museum in itself. How did you manage to collect all these exhibits?
AJ: During the course of my earlier stints on western railway I had seen a large number of artifacts lying all over the system. On western railway there were a few spirited individuals, prominent among them being Shri Chauhan , a mechanical engineer, who had started salvaging them and storing them. Small heritage galleries were also set up at different places. When we decided to set up the heritage gallery at Churchgate, I and my team visited numerous places and selected and picked up heritage artifacts and requested the local authorities to send them to HQ for display in the heritage gallery and thus the collection was built up. In this direction the contribution by the DRMs of Ahmedabad, Vadodara, Bhavnagar and Ratlam was immense.
Some initial hiccups were faced in setting the gallery which led two about three month's delay in its inauguration. The renovation of the hall took more time. At the centre of the hall a pillar stood which had plastered surface. When the plaster was removed we found layers of paint below. The layers had to be burnt to reach the original surface. But the toil was worth it. Ultimately we found the steel pillar in its original form, with a shining surface and ornate design at the top and the bottom.
For display the logos of the former railways which were merged in the erstwhile BB&CI and its inheritor Western Railway, we had to search for a die maker who could make metallic logos. This also took a lot of time, but this also was worth it.
A special display in the gallery is a hand grenade used during 1962 China war. It was manufactured at Western Railway's Dahod workshop. In fact Dahod workshop manufactured the grenades for a long time. The photographs, building plans and other models and equipments put on display deserve to be viewed with interest as they unfold the story of a great railway. My only regret is that the gallery has not received right kind of publicity and is not as popular amongst visitors as it should be.
RB: You are a Post-graduate in History. With this specialized background have you ever thought of working on a book on railway history?
AJ: My book on Western railway's heritage does cover the history of the railway. However this is a good suggestion and needs consideration. It has been my desire to update J.N.Sawhney's great work "Indian Railways One Hundred Years" so as to cover the next fifty years development on the Indian railways. Incidentally my proposed book on Life in Railway Colonies will be covering an important aspect of the railway's social history.
RB: Tell us about your book on postal stamps. Does it tell a story?
AJ: I have written two books on Indian postage stamps. The first book "Daak Tikaton kaa Safar: Railway par Vishesh Nazar" was published in 2008. My second book is likely to be published in 2012.Both the books deal in detail about Indian stamps issued on different themes. However in both the books the evolution of the postal system, in the world in general and in India in particular has been discussed at length. Thus it does tell a story. However readers will also find several small stories and anecdotes about various themes and personalities in the books.
RB: And now you are at work on a new project, we are told, with railway life as its theme.
AJ: Yes, for the past some time I have been working on this project. This is intended to cover an important aspect of the railways, i.e., the life in railway colonies in India. The subject is vast and not much work has been done in the field. Hence it is a time consuming project. It not only involves research in archives and libraries but also visits to various important railway colonies all over the country. Hence the completion of the project will take some more time.
RB: Did you ever ride the footplate of a locomotive?
AJ: During my service span of approximately thirty seven years I have travelled on footplate of locomotives on innumerable occasions. Right from steam loco hauled freight trains working in collieries and industrial pilots to state of art electric locomotives on Rajdhani Express trains, I have footplated on numerous types of locomotives.
RB: What were your impressions of steam engine drivers? Many of us rail enthusiasts have enormous respect for these men.
AJ: I found the steam engine drivers of our country to be a dedicated and disciplined lot. These qualities continued with them even after they graduated from steam to diesel and later to electric locomotives.
The steam drivers appeared to be in love with their iron horses. There was a time when the best drivers used to have dedicated steam engines, which were driven exclusively by their team. The drivers and the firemen used to devote a lot of time to ensure proper maintenance of the locomotives. They would spend time in locosheds to see that locos were given proper attention. Even during run the team would devote time in oiling and cleaning of locos. They were so punctilious that it was sometimes difficult to find even a spec of coal dust once the loco had a stopover.
In those days steam locos hauling prominent trains were given names. In the initial years of my service I have seen Punjab Mail from Bombay VT to Ferozepur being hauled by two locos : Jhansi ki Raniand Veer Bundela of Jhansi loco sheds. Jodhpur shed used to have Vir Durgadas and Ran Baanka Rathod and even till eighties I have come across "Hemu Bakkaal" (named after Hemchandra, the general who fought Akbar in the second battle of Panipat) of Sarai Rohilla loco shed.
These drivers used to observe rules religiously. I remember an incident when four officers, including the Chief Electrical Engineer (CEE) and the Divisional Railway Manager (DRM) were trying to board the electric loco hauling Howrah-Kalka Mail at Kanpur. The driver who was an old steam hand politely enquired, "which two of you gentlemen would be footplating with us? The other two gentlemen may either go to the rear cab or to the train compartment." On the footplate of a super fast train only two people are permitted in addition to the crew. The result was that only the CEE and DRM went on the footplate and other two officers went back to their compartment. Now a days you will not find persons who would be such sticklers to rules even at the cost of annoying their superiors. My hats off to such a breed of railwaymen!
RB: There are many rail enthusiasts who dream of the day when they will travel in an officers inspection carriage. Did you go on inspection tours often?
AJ: Normally the name Inspection Car conjures up an image of travelling in a fabulous carriage almost like saloons of maharajas. However this is far from the truth. One starts getting the facility of bigger inspection cars with better facilities only after spending a substantial part of career .In the initial years one may or may not get the facility of inspection carriages. Even if available, it may not be comfortable.
In my initial years we were entitled to travel in small four wheeled inspection carriages. These were not capable of travelling at higher speeds and were invariably attached to either slow passenger trains or freight trains. Their riding quality was far from satisfactory and the rides were generally bumpy. Having a cup of tea while travelling was a challenging job. However, comfortable or not, travelling by the inspection carriages was often a necessity, as one had to often visit such stations or work sites where no facilities for staying or food were available. In such situations, the stay in the inspection carriage made the basics requirements easily available.
Travelling by inspection carriages was an interesting experience. Normally the carriages were attached as the last vehicle on the trains. The officer travelling would sit at the trailing end of the carriage in front of a window and would conduct a "Window Trailing" inspection to see the condition of the track and other fixtures like signals, condition of points and crossings, bridges and the alertness of the staff. The inspection carriages provided to the senior grade officers are provided with better facilities, are more accomodatious and travel smoothly even at higher speeds. Some consolation for advancing age!
RB: Tell us something about station inspections. What does the job involve?
AJ: There are various types of station inspections conducted by traffic officials. They can be categorised as Surprise Inspections, Casual Inspections, Night Inspections, Detailed Inspections and so on.
A surprise inspection has to have the element of surprise. Hence the inspecting official arrives unannounced at the station either by a road vehicle or by a goods train. The purpose is to see the true condition of the work and staff alertness.
A night inspection is generally conducted between 1.30 to 4.00 am as this is the time when people generally feel sleepy. Hence this is the appropriate time to check the alertness of staff and also whether rules are being followed or not. For this type of inspection the official arrives generally by road or by goods trains. During night inspections, besides the station, level crossing gates and cabins are also inspected.
A casual inspection is conducted when the inspecting official does not have time to have a detailed check and inspects few selected items for checking. A detailed inspection on the other hand is conducted at a fixed interval which may range from once a quarter to once a year. During such type of inspection a detailed check of all the important aspects of station working is conducted. This entails inspecting the Station Master's office, the cabins, yard, goods shed, passenger amenities, booking office, parcel office, running rooms and stores etc. Since all details are checked sometimes it may extend over two or three days, particularly in case of bigger stations.
During the inspection the official must also look into the problems of the staff working at the station and try to help them.
Generally there are no problems of logistics in case of short duration inspections like surprise, night or casual inspections. However, in case of detailed inspections involving night stays at a station such problems can arise. In such situations either one uses an inspection carriage or stays in a rest house. In either situation food, etc., can be prepared by the attendant. However at such stations where either there is no facility for placement of carriage or there is no rest house, one can stay at some nearby station where a rest house is available and make the station as base for inspecting nearby stations.
Normally an inspecting official is accompanied by a senior supervisor, who assists in conducting the inspection or collecting various details. After the inspection, an inspection note must be sent within shortest possible time.
RB: What, in your view, needs to be done further in the field of railway heritage here in India?
AJ: Even for general public a sense of pride for our rich heritage needs to be developed. Lessons in the text books and organizing visits to places of heritage value and museums by the schools would be of help. Similar exercises could also be undertaken for railway heritage. Visits to railway museums by school children in New Delhi have been able to create interest about railway heritage in young minds.
Even the officers of Indian railways need to be sensitized about railway heritage. Organizing courses at Railway Staff College and other institutions can be of immense help. Awareness campaigns about rail heritage can also be launched.
RB: Have you ever travelled up the hills on the Nilgiri Mountain Railway, or maybe the DHR?
AJ: I have not been able to visit the Nilgiri railways, but I have been lucky to travel over DHR, Kalka-Simla railway and Matheran Light railway, Kottavalasa - Kirandul route, and a few mountain railways in Europe.
Travel on these hill sections unfolds the beautiful panorama before your eyes. Travel over Kalka-Simla section with its arch bridges (reminding one of Roman aqueducts), its 100 plus tunnels, sharp curves, beautiful scenery and not the least, the lovely restaurant at Barog is a unique experience. Travelling on the footplate of a locomotive on a hill railway line can be an unforgettable experience.
RB: One of the finest marvels of miniature railway engineering, the Darjeeling Hill Railway is regarded by many as the prettiest toy train the world ever saw. And yet this fascinating railway fails to attract tourists in large numbers as one might expect. Could you suggest innovations that would go to make the DHR a bustling tourist attraction?
AJ: The Darjeeling Himalayan Railway is not only the finest example of a hill railway in India, but one of the oldest hill railways in the world. It can rank amongst the best hill railways in the world.
Unfortunately in our country a railway line, even DHR, is not treated as part of the itinerary of a tourist. It only a means to reach the place of tourism -- in this case Darjeeling. The tourists are in a hurry to reach the destination. The hill train takes much longer time to cover the distance between New Jalpaiguri and Darjeeling, whereas the road running almost parallel to the track happens to be quicker. Hence unless a traveler happens to be a diehard railfan, the road is the preferred mode of transport.
For attracting the tourists to the train, perhaps the trip time has to be reduced. Besides travel, the train should offer other attractions. Attaching a restaurant car selling tasty food items, a souvenir shop on board and better comfortable coaches could enhance the attraction.
Presently a steam hauled train runs a short trip from Darjeeling to Ghoom and back. This is able to attract tourists. Perhaps introducing one or two more such trips daily may be of help.
Some people, including a heritage lover have also suggested that only a small portion of DHR should be kept operational as a heritage railway and rest may be considered for closure. However I feel sad to see the decline in popularity of DHR amongst tourists.
RB: How do you spend your hours of leisure ; do you read fiction, listen to music, chat with friends...?
AJ: I am lucky to have cultivated a few hobbies. Pursuing my hobbies of stamps collection, photography, and listening to music keeps me sufficiently busy. I am fond of reading. Over the years I have been able to build a personal library of about eight to nine hundred books. Besides I keep writing articles. My reading and writing habits also keep me busy.
I travel as well. Visiting my sons, other relatives and seeing new places takes me out on travel frequently.
RB: Any parting words for the railwaymen of our country...
AJ: Take pride in your work and the organization. Our railways had a great past ; let there be even a greater future. Railways have been under threat on several occasions and have come out with flying colours every time. The poet Iqbal had said about India - "Kuchh baat hai ki hasti mitati nahin hamaari, sadiyon raha hai dushman daure zamaan hamara". The same is true of Indian Railways.
RB: Well observed. Thank you so much Jhingron Saab, it has been so nice having a chat with you. We wish you all success, and the best in health and happiness too.
AJ: Thank you Shri Bhalerao, I have enjoyed this chance to share my views. And thanks a lot for your best wishes.