The Indus Flotilla Company
By Owais Mughal, October 2009.
---
This article has appeared earlier on the website, All Things Pakistan.
See other articles by Owais Mughal on Pakistan.
---
Indus Flotilla was the name of a company which was established in 1859 and used steamers and barges to run cargo through the Rivers of present day Pakistan. In the absence of decent roads and railway, the rivers of Pakistan provided a means of transportation all the way from Arabian Sea to Northern Punjab city of Makhad (District Attock).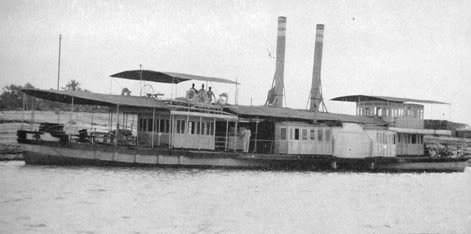 Shown above is an Indus Flotilla steamer moored in the Indus at Kotri in 1927.
The First Steamers on the Indus
The first ever steam boat that sailed in the River Indus was in the year 1835 and it was named as 'Indus'. In 1843, two more steamers were used and their names were Planet and Satellite and they took part in the British Military Operations associated with the conquest of Sindh province. After the occupation of Sindh was complete, a small flotilla was maintained at Kotri under the command of an officer of Indian Navy.
Postal Mail Via River Indus
From 1852 onwards a fortnightly postal mail service was started between Karachi and Multan using the above mentioned flotilla boats.
Oriental Inland Steam Company
In 1856 -- three years before Indus Flotilla was established -- another company called the Oriental Inland Steam Company obtained a yealry subsidy of Rs 50,000 annually from the Government. It started its business in 1858 with a capital of 250,000 British Pounds for the purpose of navigating main rivers of India with "steam Trains" consisting of trains of barges drawn by powerful steamers but this company collapsed due to mismanagement and all of its fleet was sold by 1869. It is said that river currents in the Indus also proved too strong for the lighghtly built steamers of Oriental Inland Steam Company and played a role in its fast demise.
Indus Steam Flotilla
In 1859, another flotilla was organized which later became to be known as Indus Steam Flotilla. Its charter was to cooperate with the railways which at that time were under construction between Karachi and Kotri. It had the same guaranteed rate of return as the other early guaranteed railways.
The Terminal at Jhirk
As the depth of the water channel was quite shallow in the Indus Delta, the terminal of Indus Flotilla was stationed at a small city called 'Jhirk'. This city is now a small blip on Pakistan's national highway N5 but in the days of Indus Flotilla Company, it was the most modern river navigation terminal of the day. Click on the map below to see the larger image and note the location of Jhirk (spelled as Jerruck) on the banks of River Indus.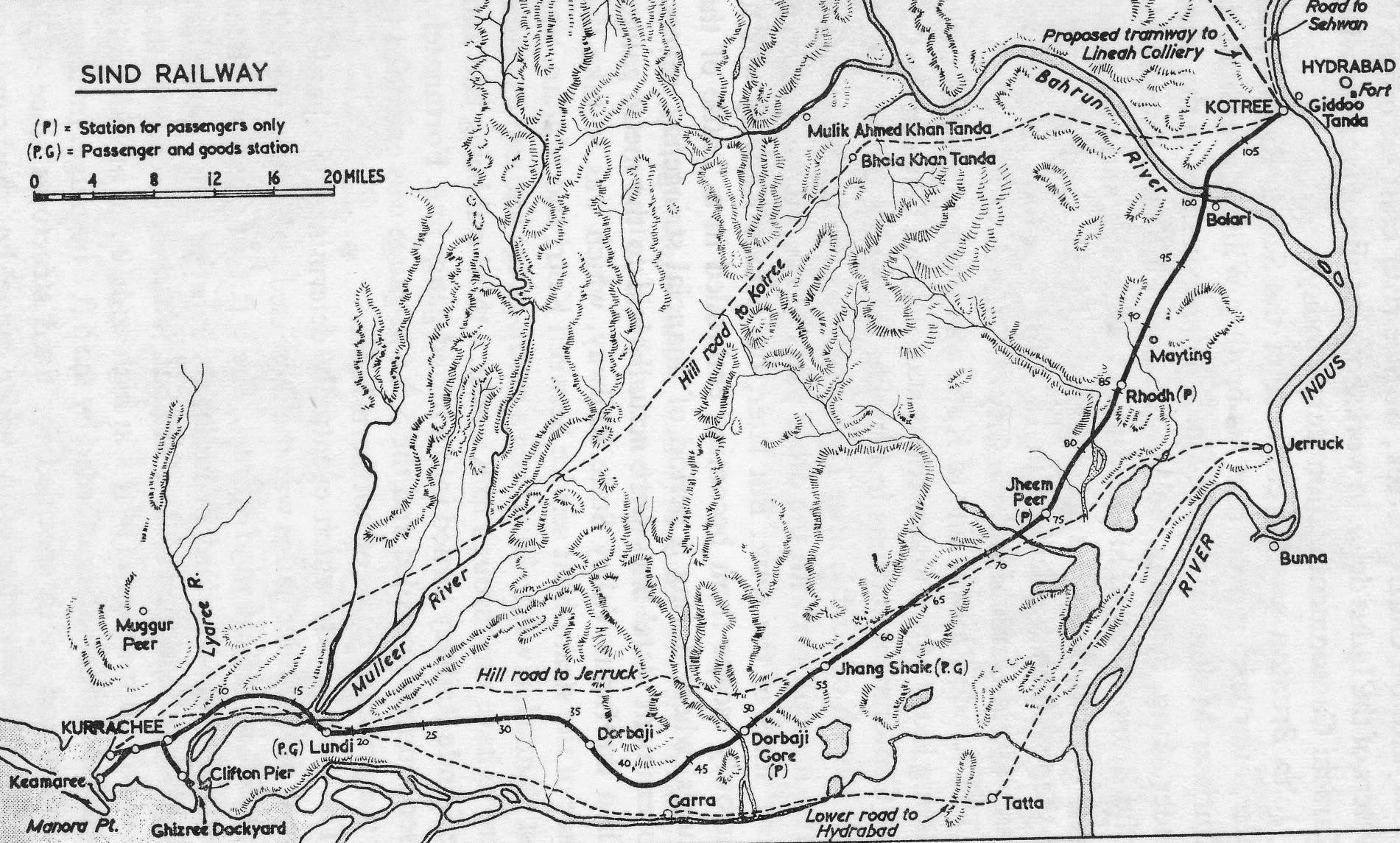 How the Indus Flotilla Moved Cargo
Cargo coming into Indian subcontinent was first unloaded at Karachi's kimari harbor and then loaded onto small boats. These boats then used to take a circuitous route through several channels of Indus River Delta to Jhirk terminal on the banks of Indus.
At Jhirk, cargo was transported to Indus Flotilla steamers, which took it upstream to Multan and Kalabagh in Northern Punjab/NWFP.
In 1859, a Railway Line was opened from Karachi harbor to present day Gizri Creek and it reduced the cargo journey of small boats by several kilometers.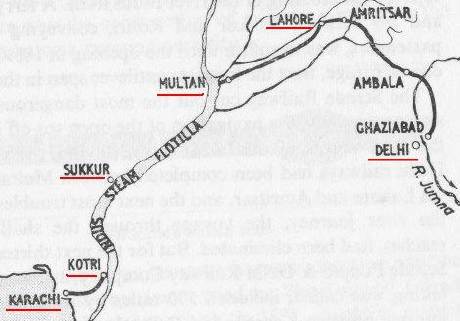 The map above shows the location of Kimari harbor (then spelled as Keamaree) and the railway route to Gizri Dockyard (then spelled as Ghizree). This Gizri dockyard was located at present day Marina CLub in Defense, Karachi.
Hassan Ali Effendi's Work at Indus Flotilla
While we may be digressing a bit from topic, it may still be worthwile to mention that for years the famous Sindhi educationist, Hassan Ali Effendi was employed at Indus Flotilla Company in Jhirk. Hassan Ali Effendi's job description included keeping track of incoming and outgoing boats as well as accounting for the firewood used by the boats. Firewood was used by the Indus Flotilla as a fuel for the steamers. In later years Hassan Eli Effendi founded the famous Sind Madrassa-tul-Islam in Karachi, where father of the Nation, Mohammad Ali Jinnah became a student in 1880s.
In 1861, after the Karachi-Kotri railway link opened, cargo was shipped by train to the banks of Indus at Kotri. The steamer terminal at Jhirk lost its importance as all the major cargo was shipped to transferred to Indus Flotilla at Kotri and this saved almost 250km of river travel.
By 1862, Indus Flotilla Steamers were running all the up to Makhad (a city downstream of Attock) along the Indus and their Punjab operation was called Punjab Flotilla for a while.
Around same year, the Indus Navy was abolished and its 2 steamers were handed over to the Indus Flotilla Company
By 1865, Railway Line had connected Multan with Delhi via Lahore and Amritsar. Look at the map below. The reason I want to share this map here is to show how the cargo was moved from Karachi to Delhi via rail and river. Trains brought cargo from Karachi (kimari) to Kotri. From Kotri, steamers took cargo to the banks of River Chenab near Multan and from there Railways took it all the way up to Delhi and the rest of India.
This was however a very inefficient way of transporting cargo, as it used to take 40 days to cover a distance of 945km between Karachi and Multan via river Indus. The river boat company that moved this cargo was called the Indus flotilla. Indus flotilla used boats built in Birkenhead and London and was run by an Englishman named John Brunton. Brunton later became the Chief Engineer of Karachi-Kotri railway line project too. He also got heavily involved with Karachi Tramway Project.
In 1870, The Indus Flotilla Company was amalgamated with the Railways and its management was transfered to Lahore
The Final Demise of Indus Flotilla
In 1878, Karachi was connected to Lahore via railways and Indus Flotilla lost its importance as the essantial means of coummunication. The railway-flotilla was abolished in 1882-83 but the steamers of Indus Flotilla continued to work for many years after that with diminshed business.
The 1907 Gazetteer of Sindh Province sates that:
The remains of the old Indus Steam Flotilla....are kept at Kotri, with other vessels required for operations connected with the Kotri Bridge, etc.
References
1. Gazetteer of the province of Sind by E.H.Aitken, 1907
2. Couplings to the Khyber, P.S.A. Berridge - 1962