Renaming of Stations
This material is from a presentation made by the author at the first IRFCA Convention at Pune, Feb. 26, 2006.
Also see Ajai Banerji's article on station code oddities. Other related pages include the FAQ page on stations and
Introduction
A large number of stations have been renamed in the last half-century or so. Here, we look at changes which have occurred since the 1930s. We concentrate on the changes in southern and western India, as they have seen more changes compared to the rest of the country.
Reasons for Change
In general, changes are made based on the requests from the state government. The Railways generally do not make changes on their own. Changes in names generally reflect the pronunciation in the local language which was not in the earlier spellings during British rule. Interestingly, there are some cases where the official name of the town has changed but the station name has not.
Andhra Pradesh
Old Name
New Name
Bezwada
Vijayawada
Chicacole Road
Srikakulam Road
Cocanada
Kakinada
Dronachellam
Dhone*
Gundrati Margoo
Gundratimadugu
Hyderabad MG
Kacheguda
Khammamett
Khammam
Kothapetta
Sirpur Kagaznagar
Masulipatnam
Machilipatnam
Oopal
Uppal
Waltair
Visakhapatnam
* Reverting to its old name
Goa
Old Name
New Name
Collem
Kulem
Margao
Madgaon
Sanvordem Curchorem
Kudchade (Sanvordem)*
* Station signboard changed, but timetable still shows the old name.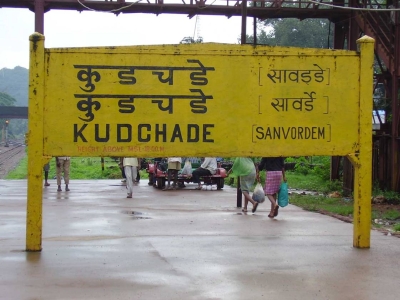 Photograph by Ashish Kuvelkar, © 2006.
Gujarat
Old Name
New Name
Baroda
Vadodara
Broach
Bharuch
Bulsar
Valsad
Cambay
Khambhat
Goya Gate
Vishvamitri
Mohamedabad & Kaira Road
Mehemadabad & Kheda Road
Karnataka
Old Name
New Name
Bowringpet
Bangarapet
Closepet
Ramanagaram
French Rocks
Yeliyur
Telgi
Basavana Bagewadi Road
Kerala
Old Name
New Name
Ernakulam North*
Ernakulam Town
Ernakulam South*
Ernakulam Jn
Olavakkot
Palghat
Vettikatiri
Vallathol Nagar
* No change in name of place, only the suffix for the station has changed.
Kerala - Stations Unchanged
(Towns that have changed names but where the station names have remained unchanged.)
Old Name
New Name
Alleppey
Alappuzha
Alwaye
Aluva
Badagara
Vadakara
Calicut
Kozhikode
Cannanore
Kannur
Cochin
Kochi
Quilon
Kollam
Shertallai
Cherthala
Tellicherry
Thalasseri
Trichur
Thrisshur
Trivandrum
Thiruvananthapuram
Maharashtra
Old Name
New Name
Bassein Road
Vasai Road
Bellasis Road
Mumbai Central(local)
Bombay
Mumbai
Bombay VT
Chhatrapati Shivaji Terminus, Mumbai
Dhond
Daund
Dhulia
Dhule
Ellichpur
Achalpur
Erandol Road
Dondaiche?
Kirkee
Khadki
Kolhapur
Chhatrapati Sahu Maharaj Terminus
Kolivada
Guru Teg Bahadur Nagar
Paunar
Seloo Road
Poona
Pune
Wardha East
Sevagram*
Sevagram*
Varud
Sholapur
Solapur
Shrirampur
Belapur
* An interesting case of a double name change!
Maharashtra - Stations Unchanged
(Towns that have changed names but where the station names have remained unchanged.)
Old Name
New Name
Aurangabad
Shambhajinagar
Tamil Nadu
Old Name
New Name
Arkonam
Arakkonam
Chingleput
Chengalpattu
Coleroon
Kollidam
Conjeevaram
Kanchipuram
Cuddalore New Town
Tiruppadiripuliyur*
Dalmiapuram
Kallakudi Palanganatham
Jalarpet
Jolarpettai
Madras
Chennai
Madras Chetpat
Chetpet
Madras Park
Park

Also see Ajai Banerji's article on station renaming.

Madura
Madurai
Maniyachi
Vanchi Maniyachchi**
Manur
Manavur
Mayavaram
Mayiladuturai***
McDonald's Choultry
Magudan Chavadi
Ootacamund
Udhagamandalam
Point Calimere
Kodikkarai
Porto Novo
Parangipettai
Ramnad
Ramanathapuram
Shencottah
Sengottai
Tanjore
Thanjavur
Tinnevelly
Tirunelveli
Tranquebar
Tarangambadi
Trichnopoly
Tiruchchirapalli
Trivellore
Tiruvallur
* In between, Tiruppapuliyur.
** Named for a freedom fighter.
*** In between, Mayuram.
Tamil Nadu - Stations Unchanged
(Towns that have changed names but where the station names have remained unchanged.)
Old Name
New Name
Tuticorin
Thootakudi